Nairobi
Some Sh5 billion will be spent on the NPS Border Police Training Campus.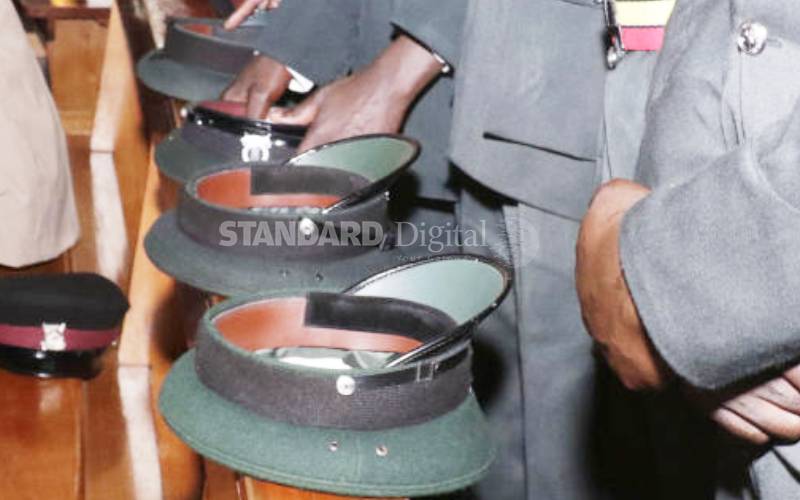 The National Police Service plans to spend Sh377.6 billion in five years to revamp its operations and modernise structures. The service has laid down seven objectives it intends to meet in the period as it implements the NPS Strategic plan 2018-22. The plan is set to be unveiled today in Nairobi, with Inspector General of Police Hilary Mutyambai hoping he will get the needed funding to drive his agenda.
SEE ALSO: Explainer: A look at locked-down Dadaab and Kakuma refugee camps
The National Police Service Commission is also set to unveil its plan at the event to be presided over by Interior Cabinet Secretary Fred Matiang'i. In his first objective, Mutyambai seeks to enhance logistical and operational capacity. He also intends to build capacity to combat crime and tackle negative influence on the National Police Service. The IG will also reorganise the structure and command of NPS operations for efficiency. In the plan, the police boss says he intends to improve institutional and technical capacity of the NPS.
SEE ALSO: 500,000 masks among donation from China to boost coronavirus fight
The service also intends to improve staff welfare, relations and development for increased productivity. In enhancing logistical, operational and investigative capacity the service will spend Sh214.3 billion up to 2023. According to plans, in 2019-20 the service intends to spend Sh47.9 billion and Sh44.3 billion in 2021. Some Sh42.8 billion will be spent in 2021-22 and Sh40.8 billion in 2022-23. The plan says the service will spend Sh5 billion to increase CCTV coverage in Nairobi and Mombasa and their metropolis.
SEE ALSO: Joho donates masks to be distributed to public at road blocks
Ten billion shillings will be spent on installing cameras in Kisumu, Eldoret and Nakuru and their environs. Some Sh8 billion will be spent on equipping the police forensic lab and Sh50.9 billion in acquisition of security equipment. A police referral hospital will be constructed and equipped at Sh20 billion, while Sh3 billion will be spent on upgrading the DCI academy. Some Sh5 billion will be spent on the NPS Border Police Training Campus. Police plan to acquire 6,000 assorted vehicles, 1,500 motorcycles and 20 boats in the period at Sh45 billion.
SEE ALSO: Police want more allowances during Covid-19 period
It will spend Sh500 million in titling its land. Construction, refurbishing and equipping of police stations, camps, posts, stores and residential buildings is projected to cost Sh18 billion. New structures for the Critical Infrastructure Police Unit and Border Patrol Unit will take up Sh600 million. Construction of a model police station in every county will cost Sh7 billion. The service plans to capacitate its airwing at Sh10.5 billion by acquiring new planes and choppers and recruiting new personnel.
SEE ALSO: Police training program suspended after an officer tests positive for virus
Installation of CCTV cameras at all police stations will cost Sh500 million while recruitment of 1,000 new investigators and forensic experts is expected to cost Sh5.5 billion. Police plan to develop and implement an intelligence model at Sh200 million, while mainstreaming of human rights and gender issues will cost Sh800 million. According to the plans, restructuring of the NPS into a seamless operational entity with distinct functions for the Kenya Police, Administration Police and Directorate of Criminal Investigations will cost Sh2.6 billion. Much of the money to be used in the plans will be from development partners and government budget. There are plans to decentralize the operations of police's Internal Affairs Unit and enhance relation between the service and other stakeholders. The service plans to recruit 45,605 officers at Sh5 billion in the period while determination of number of specialised technical staff requirement will cost Sh500 million.