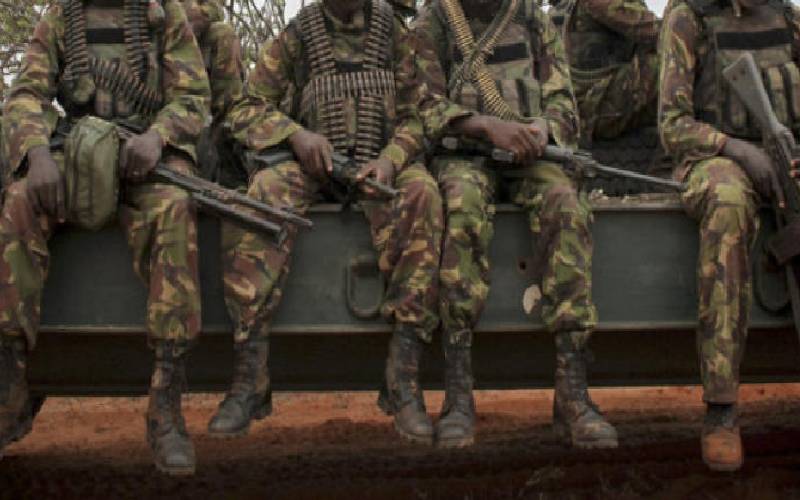 Editorial
The rampaging officers attacked people—men and women—indiscriminately to avenge the killing and to try and unmask the killers.
The gruesome killing of a KDF soldier and the torching of his body in Mtongwe, Mombasa County, early this week shocked the military and the general public as well. The killers must be brought to book as quickly as possible. However, Corporal David Mwangi's killing, heart-wrenching as it was, does not justify the brutal reaction of his colleagues, who terrorised Mtongwe residents for hours on Tuesday night. The rampaging officers attacked people—men and women—indiscriminately to avenge the killing and to try and unmask the killers. Juma Musa, a Kenya Wildlife Service officer was injured in the head and back with metal rods and clubs. Hassan Musa Bandari, an administration police officer, lost two teeth after he was hit with a gun butt. Monica Achieng' was battered as she prepared supper and left for the dead. Her crime? Telling the soldiers that she did not even know that a soldier had been killed after they asked her whether she knew the killer. In total, 19 people are reported to have been injured.
SEE ALSO: Mombasa sleuths probe student murder
This cowardly and barbaric attack deserves the strongest possible condemnation. It points to a dearth of professionalism in the military. It points to gross indiscipline. If the military has forgotten, Kenya is a constitutional democracy governed by the rule of law. The rampage was not only uncalled for, but also illegal. If the soldiers have forgotten, someone should remind them that unless decreed otherwise, their mandate is to protect the country against external aggression. The soldiers may have scant regard for police officers, but, unfortunately, investigation of Mwangi's killing is the duty of the police. The military police only come in when a crime is committed by military insiders. What happened in Mtongwe was a crime of immense proportions. To punish an entire community over the killing of one person is not only misguided, but also foolhardy. It is 100 per cent impossible for all residents of the sprawling slum to collectively kill a soldier or even conspire to commit a murder. The most rational angle is that the man was killed by a handful people, if not one. To hope that by meting out such brutality the military gain a confession or even arrest the killer/s, is to be delusional. In fact, the move might end up being counterproductive. It's likely to erode the public's trust in security agencies and thus corrode their relationship. Coming at a time when the Government is banking on the public for information to fight terrorism, drugs and marauding gangs at the Coast, the attack can only be unfortunate. It might hinder well-meaning people from volunteering information to police.
SEE ALSO: New military boss to sustain appetite for modern arms
By launching war against the same people they are supposed to protect, the military has undermined one of its core values to "...always subordinate itself to democratic Civil Authority and exemplify civility in all its dealings with the people of Kenya". They have just thrown civility and decorum out of the window.
Three trucks
In fact, by emulating police officers who are notorious for brutalising members of the public especially during protests, soldiers, who are held in high esteem for their sacrifices in Somalia, have dragged the good name of KDF through mud. Mtongwe attack was especially ugly because it appears to have been sanctioned by some senior military personnel—who ought to have known better. That the soldiers were driven in three trucks and some even bore guns, indicates the assault was premeditated and well planned and not a knee-jerk reaction by a few rogue troops which would have been more understandable. It is for this reason that we implore President Uhuru Kenyatta, Commander-In-Chief of Kenya Defence Forces and Samson Mwathethe, Chief of Defence Forces to intervene. They should apologise to Mtongwe residents and all Kenyans over the mindless orgy of violence.
SEE ALSO: Woman stops tourist lover from selling their holiday home
Importantly, they should salvage the dignity of KDF by ensuring that those who brutalised innocent people are punished as well. This is the only way to assure Kenyans that the Government cares for its people. The scorched-earth policy has no room at all in a peaceful, democratic nation.