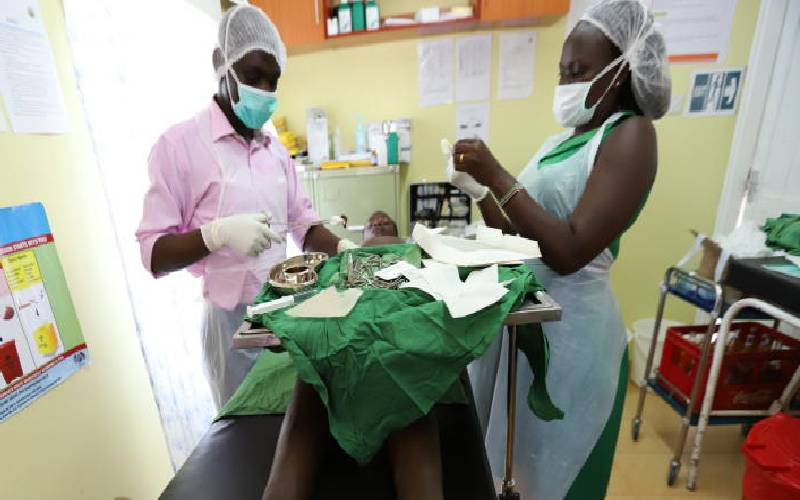 The county health department has expressed concern about low uptake of voluntary medical male circumcision for men aged 25 years and above. According to the World Health Organisation there is evidence that male circumcision reduces the risk HIV infection in men by approximately 60 per cent. This prompted a campaign to promote voluntary medical circumcision and HIV testing among men in Nyanza region. However, a mixture of culture and skepticism has seen men aged over 25, who were the main target of the campaign, steer clear of voluntary circumcision.
SEE ALSO: Kenya stares at return to lockdown
Last week, the county health department revealed that out of 285,572 people who went for circumcision between 2010 and June 2019, only 30 per cent were aged 25 and above. Majority, 70 per cent, were below 25. The Standard set out to know why men above 25 years were reluctant to embrace voluntary cut. Many cited culture and the nature of their work. "I am motorcycle rider, I have to work everyday to feed myself and my family.Where do I get the luxury to stay at home to heal after the circumcision? The only men of my age who can go for circumcision are those employed by the Government or private companies and can be be given paid leave to rest," said Kennedy Ochieng,40. Mike Otieno, 36, argued that most men of his age are still entrenched in traditional customs. This, he says, did not include circumcision which some regard as an alien culture. Changing some of these beliefs, he said, would take more than a campaign by the health department.
SEE ALSO: Africa won't miss out on vaccine, says WHO
"Traditionally, the Luo had their own rites of passage: the removal of six lower teeth. This died decades ago but there are those who still believe it was the right thing to do," he said. Others questioned the effectiveness of circumcision in combating the spread of HIV and Aids. Mzee Eliud Onyango, a resident of Alego in Siaya, dismissed the link between circumcision and HIV and Aids as a propaganda spread by health practitioners, pointing out that some of those who went through the process but led promiscuous lives ended up getting infected. Still, health workers are impressed with the number of men below 25 years who have embraced voluntary medical circumcision. Speaking in Siaya town, chief officer of health, Samwuel Omondi, attributed the success to peer educators and community health volunteers.