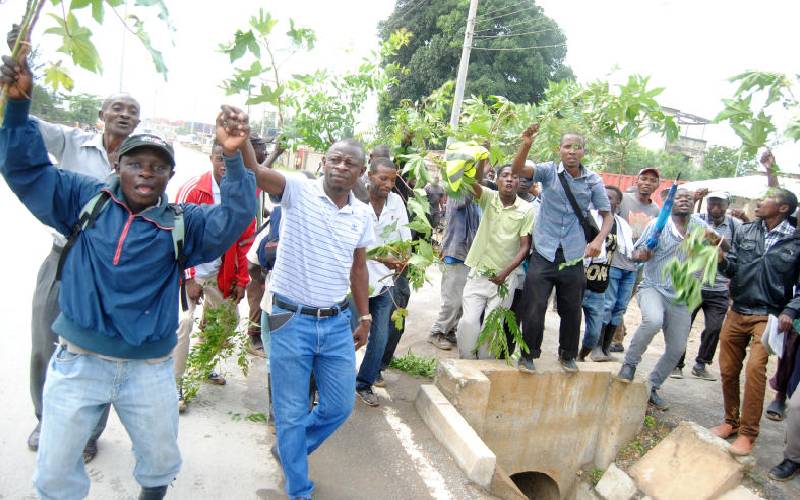 Seven million jobless Kenyans will benefit from government social protection scheme if a draft policy is adopted. The draft Social Protection Policy seeks to cushion jobless people aged between 15 and 65. This will bring to 7.3 million people who are covered under the cash transfer programme in the State Department for Social Protection. Currently, the government's social protection programmes cover 1.3 million people under four categories: the elderly, orphans and vulnerable children, people living with severe disabilities and those living in extreme hunger, under the Hunger Safety Net programme (HSNP).
SEE ALSO: Beat impostor syndrome
The government has allocated Sh27.9 billion this financial year to cover the four programmes. This constitutes Sh16.6 billion for cash transfer to the elderly, Sh7.9 billion for orphans and vulnerable children and Sh2.3 billion for HSNP. Some Sh1.1 billion will go to cash transfers for persons with severe disabilities. The policy if adopted, the government will have to release more funds to cushion jobless Kenyans. The policy suggests that such people be put on unemployment insurance, maternity cover, disability pension, and survivors pension schemes to cushion the bread winners and their families against shocks of losing their source of livelihood. The draft policy proposes a comprehensive model that seeks to expand coverage of national social protection sector to one that offers income security to all citizens throughout their life cycle.
SEE ALSO: Kuguru: What being in business for 47 years has taught me
Contributory system
"The vision for social protection is to help build an inclusive society in which all Kenyans enjoy income security, contribute to and share in the country's wealth," says the document in part. Data from Kenya National Bureau of statistics (KNBS) puts Kenya's working age population at 24.9 million with those under active employment at 17.9 million out of a population of approximately 49 million. Kenya's dependency ratio currently stands at 80.9 per cent, according to the 2018 World Economic Forum Report, meaning at least four Kenyans are dependent on one person in the working group. Kenya's non-working group has been categorised as those aged under 15 years and those above 65 years. The latest Economic Survey by KNBS shows that poverty rate is higher for children (41.5 per cent) and for the elderly (39 per cent) and tend to be lower for adults in the prime age at an average of 30 percent.
SEE ALSO: Did Blue Chip companies learn from Kenyan garages?
These statistics suggests that the small working population is hard pressed to support a bulging youthful population, mostly fresh graduates who find it hard to get jobs and catering for pension needs of the elderly. The new policy has reorganised the social protection system into four key pillars expected to address the country's dependency ratio and lift many households from poverty to sustainable livelihoods. The new pillars have been categorised as income security, social health insurance, shock-responsive social protection and complimentary programmes. But the income security pillar is a major highlight in the new proposal. The pillar suggests leveraging on contributory system where the working population will be required to contribute to a government social insurance programme that allows them to save and receive higher benefits when hit by shocks. The contributions will be complemented by the current non-contributory social assistance programmes that guarantees poor households a minimum cash transfer of Sh2,000 every month. "Pooling together the two branches of the social security sector shall enable Kenya to take decisive steps towards meeting the SDG target 1.3.1 related to social protection coverage," reads the document in part. The social insurance programme will cover children of the contributor against unemployment shocks, offer maternal relief for pregnant women who cannot afford hospital bills after a job loss and extend pension support to the elderly. In addition, target population will benefit from short-term income security like food. The social health insurance pillar will support current initiatives of increasing coverage of National Health Insurance Fund among informal sector workers and among beneficiary of social cash transfer.