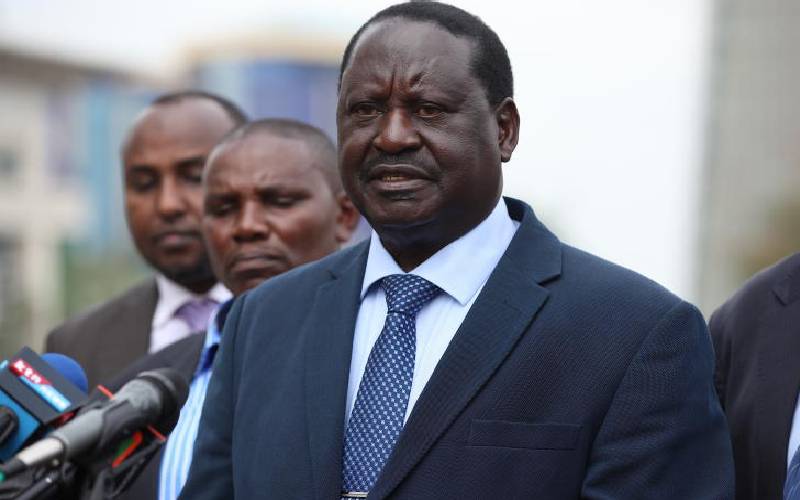 Orange Democratic Movement (ODM) leader Raila Odinga has said he was not working with President Uhuru Kenyatta's Jubilee government for personal gains, but for the benefit of all Kenyans. Raila hit out at those claiming he was deriving personal gains from the handshake he had with the President on Match 9 last year, saying they do not mean well for the country. The AU envoy said he was contented with his little resources and did not have to collaborate with the President to survive economically. The ODM leader said that he made little savings during his working years, which he claimed was enough to take care of him and his family.
SEE ALSO: Ida: Baba will be back home soon
"My political friendship with the President is not for my personal gain but for all Kenyans," said Raila. Raila who spoke in Gem, Siaya County on Friday at Church of Christ Africa function claimed that he was not the kind of politician who would kneel down before anyone to get favours. "What hurts me is the suffering of my people. Our children were born in this suffering, grew up in it and works in it. Our people are hardworking and they never want to beg. I do not want anything as Raila, I just want Kenyans to benefit, "he added. He maintained that historic handshake between him and President Uhuru was bearing fruits, adding that the peace prevailing across the country had created a conducive investment environment for both local and foreign investors. "It is not about Raila. It is not about the Luo or Kikuyu community, but for all Kenyans," he said.
SEE ALSO: Uhuru's tough balancing act as Jubilee, new allies demand key House seats
The Opposition Chief said his relationship with President Uhuru has also helped the government in the war against corruption. The ODM leader also told Kenyans to prepare for a referendum, saying constitutional amendments will bring political, social and Economic changes in the country. He said that the Building Bridges Initiative (BBI) had looked into the current Constitution and was collecting views from members of the public on how to amend it. "We must fight corruption because if we do not all our efforts will be in vain. A lot of taxpayers' money goes to individual pockets leaving the people poor, it is time to put a stop," he said.