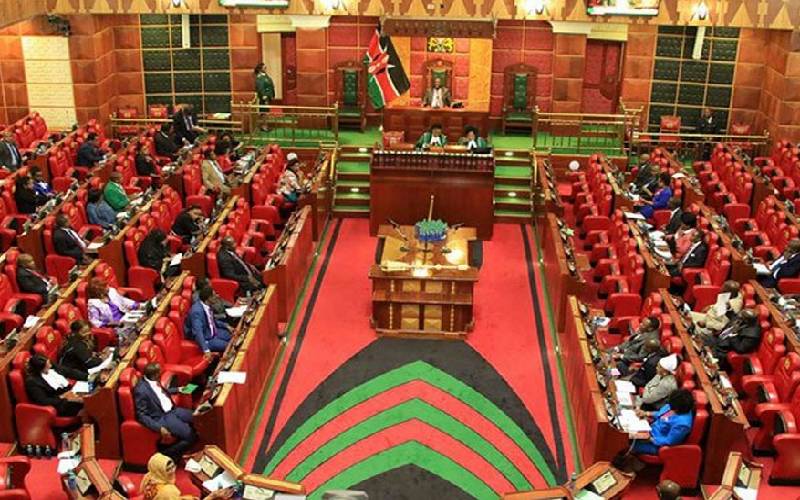 Commentary
Instead of arguing over Sh11 billion, MPs should pick on issues that change the lives of Kenyans forever.
Out of a budget of Sh3 trillion, Parliament has, for weeks, been unable to agree on whether to give counties an extra Sh11 billion or not. I may not be a genius in mathematics, but it seems absurd to me that a Parliament that boasts of less than 1,000 employees (including parliamentary staff) easily gobbles up Sh40 billion and then has the temerity to argue whether counties, which have millions of Kenyans each to serve, should each receive a paltry Sh7 billion on average. We must be mad as a nation to distribute Sh40 billion to Parliament and not realise that county governments are hardly scraping by with Nairobi receiving only Sh14 billion. Which means we assign Sh4,666 to every Nairobian, but assign Sh40 million per head in Parliament. The scales are heavily tipped in favour of waheshimiwa while they pretend to care about us and haggle over Sh11 billion. If indeed parliamentarians cared, there are a few things they would have done by now that would have changed our lives forever. Instead of arguing over Sh11 billion, Parliament should apply itself to transformative agendas. MPs should pick issues that change the lives of Kenyans forever. One of those things would be to invest more in devolution. Yes, our counties need more money even if it will be stolen. It is important to note that we cannot keep the people from the consequences of their democratic choices by use of budgets. If a governor is corrupt, no matter how little we give him, he will steal it. Let the people who chose him or her live with the consequences of that choice. We should, instead, make sure each county has enough resources to transform itself.
SEE ALSO: Today's Jubilee PG meeting could seal Duale's fate
The tenant
The value of devolution is not just in development, it is also in the reality that county residents will soon be aware there is a big difference made by who sits in the governor's mansion. Let them see other counties that made the right choices prosper and it will soon dawn on them choices have consequences. Only then will Kenya begin to enjoy the fruits of devolution. We must, therefore, allow devolution to thrive and let the people's choices be empowered to deliver to, or disappoint them. It is this process that will open the eyes of the people to the fact that the vote has consequences we cannot run away from. Speaking of the vote, we must also turn the lens on Parliament and ask it to begin to act on issues that affect this country, its economy and our well being. Parliament should, for example, take on the issues around housing. It is not enough that rents are sky high, it is also that to rent a unit one needs to pay 2 months deposit. Which not only makes access to housing difficult, but also ensures large sums of money are locked up by landlords for years for no reason. My query on deposits for houses has always been the same: a house is a permanent and immovable asset. The tenant cannot carry away your house and run away with it, so what is the deposit for? The argument that the house will need repainting and repairs after tenancy is a nonsensical argument.
SEE ALSO: Ruto allies in Nakuru change tune ahead of Jubilee's State House PG
Because even if you left the house empty for two years, it would still need to be repaired. That is the nature of things. Therefore the best solution is for landlords to keep part of the rent as money for repairs. Just like when one hires a car, he is not told that he will also repair the car if it is damaged. The risk of damage is covered in the price of hire, as it should be in housing as well.
Slowly abandoned
By passing a law that abolishes these deposits, Kenya would suddenly free up billions of shillings to the market, which would boost the economy overnight. We, however, don't need to stop there. There are two paths that Parliament should take on housing; number one, Parliament should make it compulsory for government to build a certain quota of low cost housing every year. If the government built 100,000 units per year and a three bedroom house was rented at less than Sh25,000, rental costs in Nairobi will also go down as the market adjusts to this reality. The fruit would be easy to reap; Kenyans from all walks of life would soon be living in decent housing, the ghettos we know will be slowly abandoned, and all of us would have more money in our pockets to spend on our dreams and ventures. The landlord would not lose out either, because the only thing that would change is how long it takes them to recoup the money they spent on building. This will also force landlords to build with cheaper technologies and look at their investments as long term investments. By enacting such laws, parliament would have added billions into the economy while alleviating the suffering of many a city dweller.
SEE ALSO: ODM to kick out 9 MPs for working with Ruto
My message to parliament is clear; stop arguing on whether to fund devolution more or not. The answer is always the same, that more funds should be given to the counties. Second, stop wasting our time on useless platitudes around 2022. Use the obscene amounts of money we give you to think of solutions that matter for the people. Instead of debating devolution, debate ideas that put more money in our pockets.
Mr Bichachi is a communication consultant. [email protected]