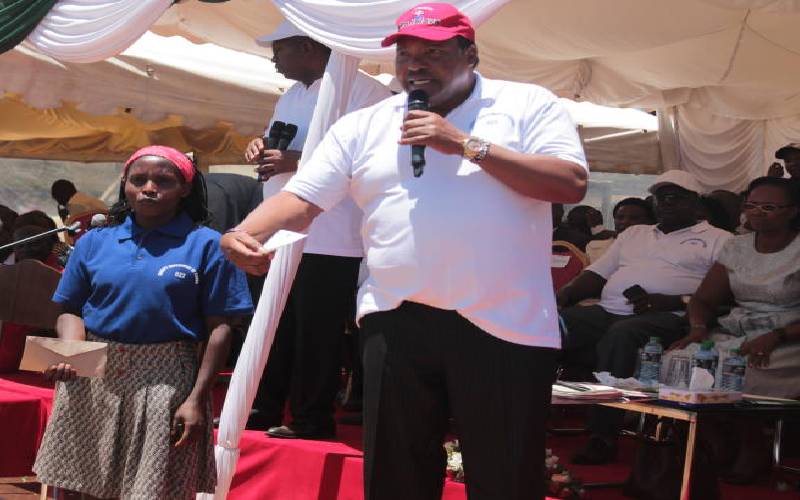 Central
Governor had been accused of disregarding President's directive on payments to suppliers, ordering officers to prioritise certain firms.
Kiambu Governor Ferdinand Waititu has reinstated finance officers who resigned last week in a huff reportedly after a fallout over payments to suppliers. Faith Harrison, the county's Chief Finance officer, four senior accountants and a procurement officer had resigned citing disagreements with the governor over the payment of pending bills. Yesterday, Ms Harrison confirmed she, together with the other officers, were back to work. She told The Standard they had resumed work under several conditions spelled out in a Memorandum of Understanding (MoU).
SEE ALSO: Kiambu County receives Sh135m from business community
"It is true we have all been reinstated on condition that the Finance Department will be let to work freely without interference and will not be dictated upon," said Harrison. Efforts to get Mr Waititu and County Secretary Martin Njogu to comment on the matter yesterday were futile, as they neither picked our calls nor responded to text messages. Harrison had at the weekend accused the governor of micro-managing the Finance department. She had claimed the governor had a preferred list of companies he wanted paid first, and which the officers had resisted. She said they could not agree with what the governor wanted since there were several suppliers that did business with the county government in 2014, 2015 and 2016, but were yet to be paid. "The President recently said all contractors and suppliers with pending bills be paid, but the governor wants to hear none of it. He only wants companies he prefers paid first, which we found inappropriate."
SEE ALSO: Two villages fight over dam in Kiambu
Their reinstatement followed a meeting on Sunday, which was attended by the governor and other senior county officials. The Ethics and Anti-Corruption Commission (EACC) is investigating the governor, some of his relatives and county officials on graft claims connected to payments to companies the EACC claims are associated with him.
Resigned on Thursday
Harrison resigned on Thursday after she was demoted and transferred to the Trade and Tourism docket as the Chief Officer. In a Press release signed by Mr Njogu on behalf of Waititu, the county chief had on Friday appointed William Kimani, who was the chief officer, administration as chief officer in-charge of Finance and Economic Planning.