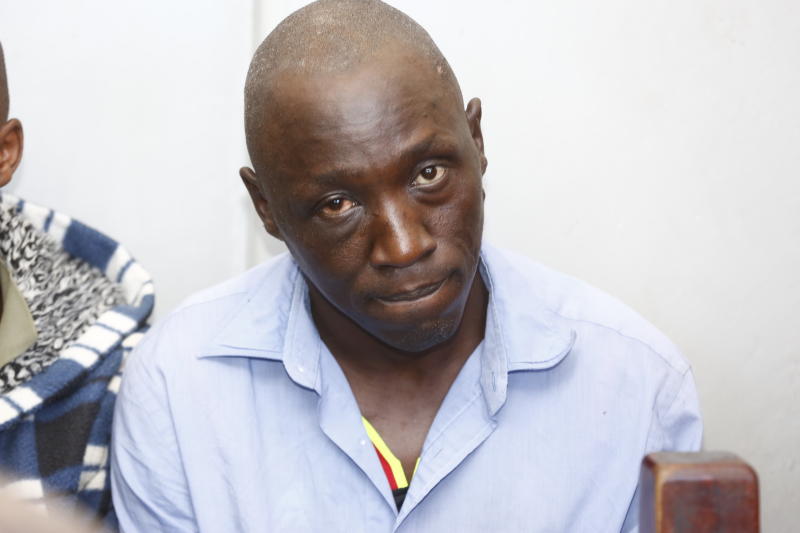 Rift Valley
The man is said to have raided the home on the night of February 12, 2019.
A suspect linked to the murder of a father and his daughter at Boror village, Rongai Sub-County in Nakuru County on Monday denied robbery with violence and defilement charges. Simon Sigei who last week declined to alight from police vehicle and take plea appeared before Principal Magistrate Bernard Mararo where he answered to charges of robbery with violence, handling stolen goods and two other charges of defiling two minors aged nine and 12. The charge sheet indicated that Sigei jointly with others while armed with machetes, rungus and hammer robbed Peter Bore of his HP laptop, mobile phone, identity card and money all valued at Sh68, 000. He allegedly in the process caused the death of Bore. On the same night, the accused is said to have attacked and robbed Judy Chepkorir of her laptop, gas cylinder and mobile phone valued at Sh72, 500 and in the event led to her death.
SEE ALSO: COVID-19: Nakuru MCAs risk lives to meet over Sh14,500 allowance
The man is said to have raided the home on the night of February 12, 2019. The court heard that the man was found in possession of HP laptops, a Hashi gas cylinder and Identity card belonging to Bore. The prosecution said it had not been notified on the need to oppose release of the man on bond, however owing to the charges the man faced it applied that he be denied bond. The charges of defilement and robbery with violence were serious. "Have not been informed on the need to oppose bond however we opposition his release. Two lives were lost, we not pre-empting the innocence of the accused person," said Prosecutor Bedan Kihara.
SEE ALSO: Farmers turn to mobile apps as traditional markets shut down
The man pleaded with the court that he be escorted to hospital as he is unwell. The court denied him bond. "We denying you bond but you can apply for at the trial court," ruled the court. The court ordered that he be escorted to Rift Valley Provincial General Hospital for medication. The case will be mentioned on May 9, 2019.
SEE ALSO: Nairobi gets new deputy police commander as 60 officers retire