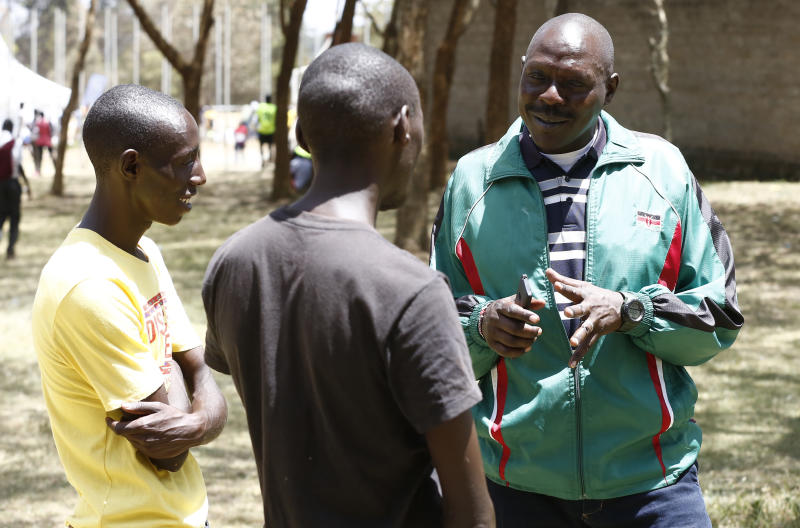 The Nakuru High School principal is restless. He moves from one end to another at the Mau Egerton Cross Country Competition, armed with a notebook and pen. Dressed in a green truck suit, Mike Yator keenly engages the participants, one after the other. He is interested to know their take on the competition. Mr Yator is here to identify upcoming athletes and nurture them to pursue their talents. He sure knows how to spot talent -- his hands have moulded some world beaters.
SEE ALSO: Shock as another Kenyan athlete banned for doping
"Teaching is my career, but identifying youth talents and nurturing them is what gives me satisfaction as a teacher. Success is not determined by academics only," he says.
Big talent
Born and raised at Metkei, Elgeyo Markwet County, Yator developed the interest of nurturing athletes after he discovered that a high number of his students at Sergoit secondary school were posting average academic results but could perform excellently in sports. Before picking up athletics in 1996, the teacher initially trained volleyball. "Life is not about grades, it is character. How could I concentrate on academics yet I could see talent among my students?" he asks.
SEE ALSO: Copenhagen Half Marathon is off
In his mission to nurture upcoming athletes, Yator works with sports teachers in various schools to identify talent. He attends primary and secondary schools athletic competitions to identify promising talents. "Seeing is believing. That is why I attend competitions to monitor and identify real talents," the teacher, who is the chairman of sports in secondary schools in Nakuru Town East, says. He then trains the young talents, visiting them in their respective schools and athletes camps in Iten, including Tambach Teachers Training College, Iten Sports ground, Lorna Kiplagat stadium and Kamariny. Besides teaching them the secrets to running best times, Yator helps upcoming athletes keep fit, develop their speed work, endurance, and tempo and how to keep themselves mentally fit. "Athletes easily tire, so I prepare them psychologically to concentrate in the races to the very end. That requires them to be fit," he says.
SEE ALSO: Athletics: AK to set up under 20 athletes camp in Mombasa
He discourages his students from consuming food rich in fats and cholesterol. "A balanced diet -- especially beans, milk and eggs -- is key for athletes. It doesn't need to be a special diet, but a balanced one," he says. He specialises in training middle distance and is currently studying sprint running. Yator is proud of having nurtured Stephen Cherono, who holds the 3,000-metre steeplechase record, and Florence Kiplagat, the 2009 IAAF World Cross Country champion. Ms Kiplagat also won the 2010 World Cross Country and the Chicago Marathon in 2015 and 2016. He identified Cherono, who later took a Qatari nationality and changed his name to Saif Saaeed Shaheen when he was a student at Seguit secondary school. Kiplagat was still a primary school student when Yator took her under his wings. "I was strict on Cherono and Kiplagat, now they are world champions," he says. Weldon Kipkirui, 19, from Tinet village in Kuresoi, is one of the many talents currently being mentored by Yator. Kipkirui won in the recent Mau Egerton Cross Country Competition junior men category held at Egerton University. The young athlete dreams of representing Kenya at the 3,000-metre steeplechase. "Yator is a great disciplinarian who has enabled me improve from one level to another and I am determined to become a steeplechase world champion," he says. Yator also helps identify managers for his mentees and encourages them to secure employment in disciplines that give talented employees room to grow, like the military and National Police Service. Yator compares his achievement to that of a teacher who helps his student attain an A in their final exams. He cites lack of discipline as the major problem afflicting young athletes.
Race money
"I insist on discipline because it shapes behavior and brings results. Unfortunately, young athletes are easily influenced by their friends and their performance is eventually affected," he says. Family pressure, he says, affects the training of young athletes when their kin force them to participate in numerous events abroad for money. Yator depends on goodwill from his friends and senior athletes for financial support. "Senior athletes visit upcoming ones and buy them required training gear. Produce from my farm helps provide food for them during training," says the teacher. His goal is to nurture more athletes and to venture into rugby.
[email protected]