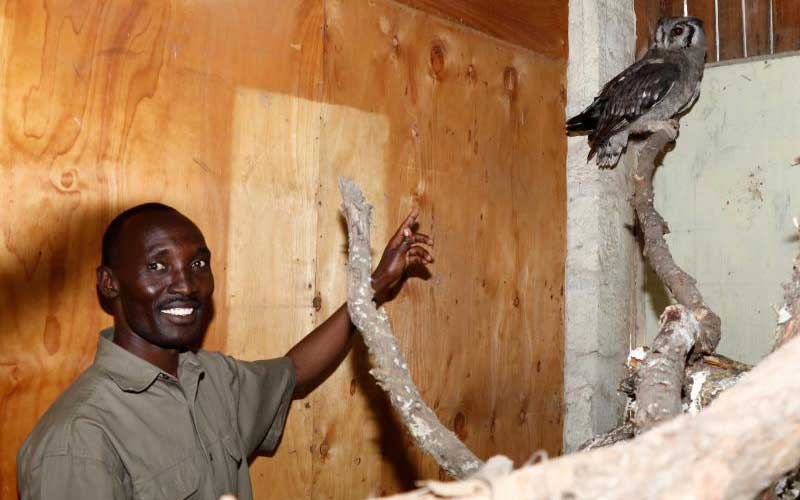 Rift Valley
Most of the birds being treated at conservancy were either injured while hunting or attacked by humans.
Distinct calls of a lone African Fish Eagle punctuate a sunny afternoon at Elsamere Conservation Centre in Naivasha. Other birds of the same species, perched on a tree 100m from its cage on the shores of Lake Naivasha, answer back to its chirping in unison. This perhaps to assure one of their own of their support. The bird, known locally as Baringo, is among the five species being nursed at the centre for various injuries. The bird is restless. It is recovering after surgery. Baringo was brought in with a broken wing. It has been at the centre for the past five months.
SEE ALSO: KRA to clear transit cargo in Naivasha
It was brought in from Lake Baringo where it was injured after it was caught in a fisherman's net. It got injured while trying to disentangle itself. "Baringo was brought here by members of the community. We have carried out surgery and fixed its wing. Once fully healed, the bird will be freed to rejoin others in their habitat in Lake Baringo," said Antony Karinge, a conservation officer at the centre.
Vibrant calls
African Fish Eagles are mainly found in lakes in the Rift Valley. They are known for their vibrant calls. While at the conservancy, Baringo only calms down when enjoying its favourite meal of fish. Next to Baringo's cage, is Jonah's, an injured Augur Buzzard. Just like Baringo, Johnah is also a bird of prey and is also nursing a broken wing. Birds of prey are those that feed on animal flesh, distinguished by a hooked bill and sharp talons.
SEE ALSO: All night activities in Lake Naivasha now banned
While some are attacked by human beings, most of the birds at the centre picked their injuries while hunting. Unlike Baringo, Jonah does not move much except the constant flapping of one wing. "Jonah's wing got broken. It was brought here by the residents. It is likely to stay longer. We want to ensure the wing is completely healed before we release it. Otherwise, its safety in the wild will be compromised," said Mr Karinge. "It is a procedure just like any other. We also increase food portions because the birds require more energy. And just like human beings and other animals, birds too heal according to the extent of the injury," he said. Experts start by analysing the extent of the injury and the health of the bird. They then schedule surgery and treatment follows. The bird is given time to heal before it is released back to the wild.
SEE ALSO: County treats wells to curb cholera
Anam Echakari, the operations manager at the conservancy, said most of the injured vertebrates are birds of prey. The common injuries are broken wings, legs and injured eyes. A few suffer poisoning. The centre also has three species of owls, all nursing various injuries. Six owls are nursing broken wings while one has an injured eye. "The owls face the most threats due to suspicions by most communities. Yet they are very important to the ecosystem. In Israel for instance, owls are useful to farmers as they kill rats. However, here, some communities believe they bring bad luck, which is just a myth," said Mr Echakari. Karinge said the birds are not allowed to reproduce while at the centre. "For one to set up such a rescue centre, there are procedures to follow. This includes getting clearance from the Kenya Wildlife Service. The agency gives specification on making the cages and makes followups on the well-being of the birds," he said.
SEE ALSO: Gangs rob marooned properties near Lake Naivasha
He added: "We must also inform KWS on any developments within the centre. The population of birds at the conservancy is also controlled to avoid crowding and other challenges that came with populations." The birds are fed three times a day, on prey they normally feed on. The owls and Augur Buzzard are fed on day old chicks and the African Fish Eagle on fish.
Local hatcheries
"Sometimes getting food for the birds is a challenge but we liaise with local hatcheries for supplies. We also purchase fish. We are, however, planning to have our own hatchery and fish pond for constant supply," said Echakari. He said they have also been attending to cases of poisoning. The most poisoned birds are the vultures.
SEE ALSO: Conservationist fears for life after group invades property
"Human-wildlife conflicts are rampant, especially in Maasai Mara where vultures have died in retaliatory attacks by pastoralists," said Echakari. Conservationists at Kenya Birds of Prey Trust said vultures were unintended casualties in the tension between livestock farmers and predators such as lions, hyenas and leopards. The populations of both African Fish Eagles and Augur Buzzards are stable, according to the International Union for Nature and Conservation (IUNC). Experts say the population of these species have steadily increased since 1966. Other than conservation, increase in the population of African Fish Eagles has also been attributed to introduction of a new breed of fish known as common carb. IUNC is an international organisation which focuses on conservation of nature and sustainable use of natural resources.