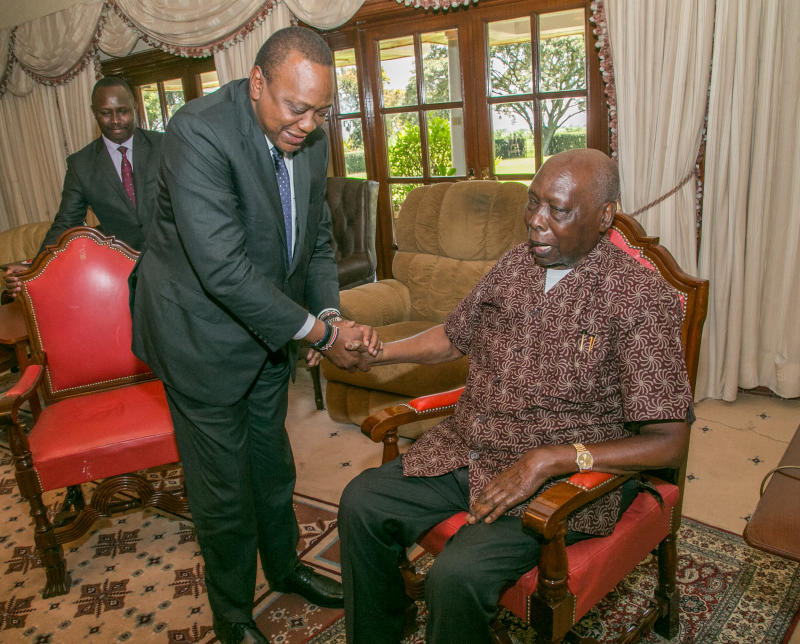 The next General Election might be four years away but President Uhuru Kenyatta's succession is gaining momentum by the day, with early political realignments seemingly shaping up. At the centre of this is former President Daniel arap Moi, whose home in Kabarak, Nakuru County, has played host to a number of key figures across the political divide. Analysts read more into the visits than just courtesy calls. Most of the visitors scrambling to meet the former President have either shown interest in the country's top job or are influential in their own right. Having served the country for 24 years and played a role in grooming most of the politicians, Moi is considered to be a factor that will shape the 2022 presidential contest.
SEE ALSO: Nakuru clerics reject age limit for worshipers
His son, Baringo Senator Gideon Moi, is yet to declare his intention to contest for the presidency. But the heightened political activities around his father's home could be a pointer that his name will either be on the ballot or he will play a pivotal role come 2022. President Kenyatta and Opposition leader Raila Odinga are among the key political figures who have met the former head of state in the recent past. Then recently Mombasa Governor Hassan Joho came calling. Raila's visit was symbolic, coming shortly after his May 9 handshake with President Kenyatta. And the significance of these visits were captured in the controversy that followed after Deputy President William Ruto failed to meet Moi when he visited Kabarak. Moi was undergoing a routine physiotherapy session with his doctors for the entire duration of the DP's visit.
SEE ALSO: Uhuru's balloon internet video call excites residents
Observers say the Moi factor will definitely play out in the 2022 presidential election and the visits are seen as early preparations. The fact that he mentored Uhuru speaks volumes about who he wants to lead the country next. "Former President Moi is still a very influential politician. He played a big role in Uhuru's political career when he picked him as his successor in 2002. He cannot be ignored even in his advanced age," says former Cabinet minister Franklin Bett.
Commands respect
Bett, who also served as State House Comptroller during the Moi regime, says Moi still commands respect among the current political class. He says the former President has a lot of friends and a strong political network that he built over the years through Kanu. "Such connections and political network is useful when reaching out to the masses. Some of them may be ageing but they have sons and daughters who can be activated during campaigns to mobilise masses," he says.
SEE ALSO: Mt Kenya bigwigs to support Kimunya after private 'lunch'
Political analysts say the visits to Kabarak are part of Senator Moi's plan to revive his father's connections and old political networks. But Philip Chebunet, a University of Eldoret lecturer, says political dynasties are also being assembled to support the Baringo senator's probable candidature. "Raila is the son of Kenya's first Vice President Jaramogi Odinga, Uhuru the son of first President Jomo Kenyatta, Abdulswamad Nassir, the Mvita MP, is the son of former Coast Kanu supremo Sharif Nassir. They have all come together for a reason," says Dr Chebunet. Nick Salat, the Kanu secretary general, is the son of the late Isaac Salat who was the Kipsigis political supremo and a close ally of the former President. During his 24-year presidency, Moi used the late Nassir, Salat, Mulu Mutisya, Burudi Nabwera, Moses Mudavadi, Kariuki Chotara, among others, whose friendship dated back more than 50 years ago to win him political support in their regions. Nassir's son, Abdulswamad, accompanied Raila during his visit. In 2001, Raila wound up his National Development Party (NDP) to join Kanu and was made the Independence party's secretary general. Before he died in 1994, Jaramogi had a close working relationship with Moi.
Political chess player
Patu Naikumi, a lecturer at Maasai Mara University, agrees that sons and daughters of founding fathers of Kenya will continue to determine the country's political path for a long time. "He has been a political chess player for many years. He also holds the country's economy in his hands. Those ruling out his role in determining who succeeds Uhuru are deluding themselves," says Naikumi. He says a majority of the current crop of leaders, including Ruto, at one time worked with Moi and there is no way they can openly rebel against him. Salat is cagey about the visits, only saying they are for the good of the country. "It is still early to say anything but good things are going to happen," he says. Ruto's supporters, led by Elgeyo-Marakwet Senator Kipchumba Murkomen, want Moi not to anoint anyone other than the DP to succeed Uhuru, saying the era of dynasties is gone.