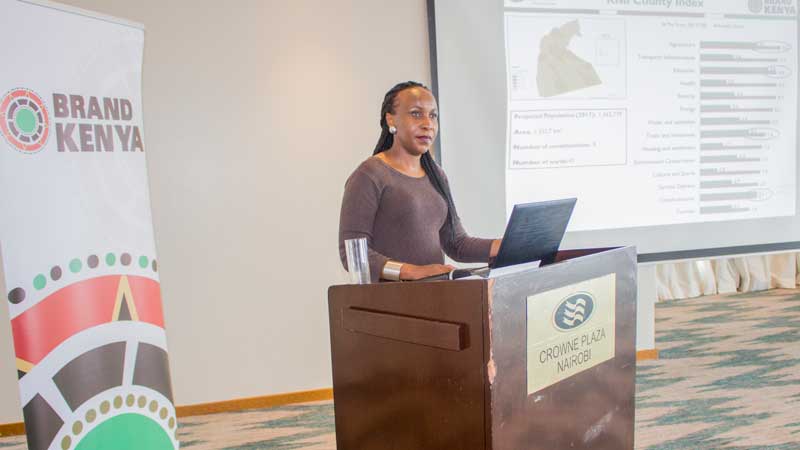 An index that counties can use to benchmark the strength of their brand and position themselves as trade, investment and tourism hubs was launched yesterday in Nairobi. The County Branding Index (CBI) was presented to County Executives in charge of tourism and trade and it is hoped that after adoption by the 47 counties branding will take a key role in the planning of county budgets. The CBI was developed by Brand Kenya through a survey done by consulting firm Infotrak. The CBI is also supposed to guide the policy framework at the county level and also help counties shrug off poor perceptions held by people from other counties.
SEE ALSO: Enact laws to question leaders' errant ways and not cover them
Brand Kenya Acting CEO Floice Mukabana said that counties would soon develop brands that would enable them to be competitive hence attract tourism and investments and overall improve service delivery to residents. "County Branding is a critical component of nation branding. It accelerates the level of growth of both County and National brands. A significant component in building a country brand is to focus on improving geographical hubs to make them centers of excellence in commerce and industry," she said. Infotrak CEO Angela Ombitho said that the CBI would also provide a status report on the branding of the counties. "The process of developing the branding index involved an assessment of each county's performance in 47 indicators and 115 sub-indicators spread across various sectors. The sectors were grouped into three pillars namely economic, political and social pillar," she said. The economic pillar includes analyzing sectors like energy, agriculture, transport /infrastructure, tourism and trade and investment while the social pillar involves sectors like healthcare, education, water and sanitation, environmental conservation, housing, sports and cultural activities.
SEE ALSO: Tourism chokes after Sh80b lost
Political pillars include security, county branding, service delivery and communication. The CBI grades counties against a designed model county dubbed the Frontier County using various indicators such as agriculture, tourism, housing, service delivery, security and energy. The index showed that an overall CBI is at 3.7 against a Frontier County score of 9.3. "The low branding score against the ideal frontier county score is an indicator that branding, which is a catalyst for growth of the rest of the sectors, has not been given as much weight as it should be" said Ms. Mukabana. Based on the CBI, the Frontier County scores highly on agriculture, county branding and transport/infrastructure while tourism, communication and service delivery posted the lowest scores.