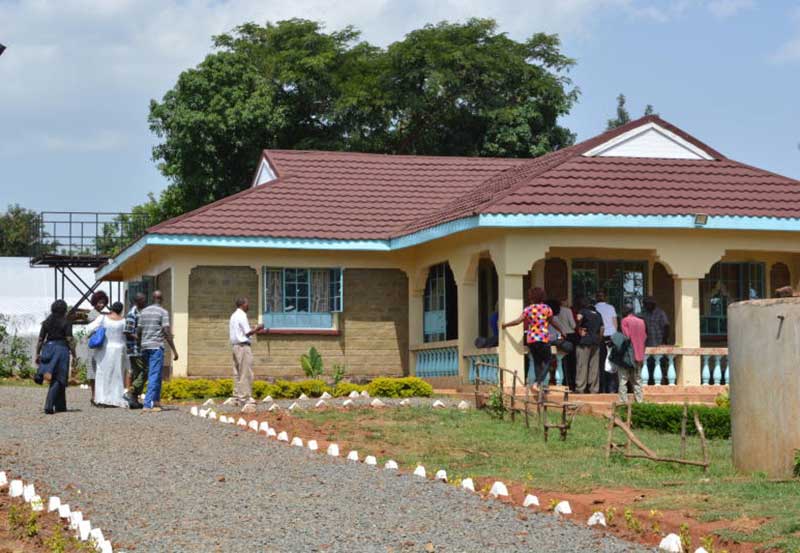 Former US President Barack Obama is likely to be in for a big shock when he visits Kogelo - his father's birth place, for the fifth time next week.
Amid huge expectations from locals and grumbling from some of his relatives over alleged exclusion from the visit, Barry, as the locals fondly call him, will find a spruced up village, complete with power connection, tarmacked roads, a towering hotel and a police post right at the gate of his grandmother Sarah Obama.
He is also likely to come face-to-face with his half-brother turned foe Malik Obama who vehemently opposed his presidency since 2008. In the recent US elections, Malik broke ranks with the Obamas who were supporting Democrat-Hillary Clinton and instead supported Donald Trump, who went ahead to win the elections.
Malik is a brother to Dr Auma Obama who has invited the former US President to Kogelo.
Obama last visited Kogelo in 2006 while serving as a Senator and the village has been bustling with activities since then.
Many things have changed in the once sleepy village now hauled into the international limelight by Obama's victory in the 2008 US presidential elections.
The piece of land near a river, where Dr Auma's Sauti Kuu Sports Complex sits and which Obama is set to inaugurate on July 16, was a bushy plot when he visited 16 years ago.
Mama Sarah's small house where he was served traditional vegetables and sat on a traditional stool in 2006, is now a glistening bungalow with a wall-to-wall carpet and sofa sets.
It is not yet clear whether the former US President will visit Mama Sarah at home or if they will meet at the Sauti Kuu function.
Obama will also likely marvel at the new tarmacked Ndori-Siaya road which was a dusty pot-holed stretch when he last visited.
Not invited
The village has been treated with priority and sensitivity ever since the son of Kogelo became the President of the world's most powerful country.
Because of Mama Sarah, Kogelo is under tight police surveillance while visits to the home where his father Barak Obama Snr was buried in 1982, are now controlled.
One of Obama's uncles, Saidi Obama said the villagers are upbeat about their son's visit.
"I know he will be busy, but it would good if he spared a few minutes to visit home, which is only 800 metres from the meeting venue," said Saidi who enjoys close relationship with the former US President.
He added: "We know this is a Sauti Kuu project, but it would also be prudent for our son to visit the two schools named after him."
The Sunday Standard has reliably learnt that Obama, while serving as Senator, gave written permission to rename Kogelo Mixed Secondary and Kogelo Primary schools after him. Indeed, he visited the two schools in 2006 and planted trees.
It was at Barack Obama Primary school where villagers slaughtered bulls and held night long celebrations for three days when he won the Presidency in 2008.
It is interesting that while Kogelo has changed face due to the tourists visiting the area to trace the former US President's roots, the two schools remain in poor state with nothing much to write home about.
Obama is expected to arrive in Kenya on July 15, then meet President Uhuru Kenyatta and Former Prime Minister Raila Odinga before flying to Kogelo the following day and later head to South Africa, according to his communication Director, Kate Hill.
But some of members of the extended Obama family have claimed that they have not invited for the function, which will be an invites only.
"Upto now, we have not been told what is happening. We have not met as a family to plan on how we will welcome our son back home. This worrying given the little time left a head," said a family member who requested anonymity.
But when contacted, Ms Lorna Irungu of Gina Din Public Relations- the company hired to handle the visit to Kogelo, declined to comment, saying the complaints were family issues.