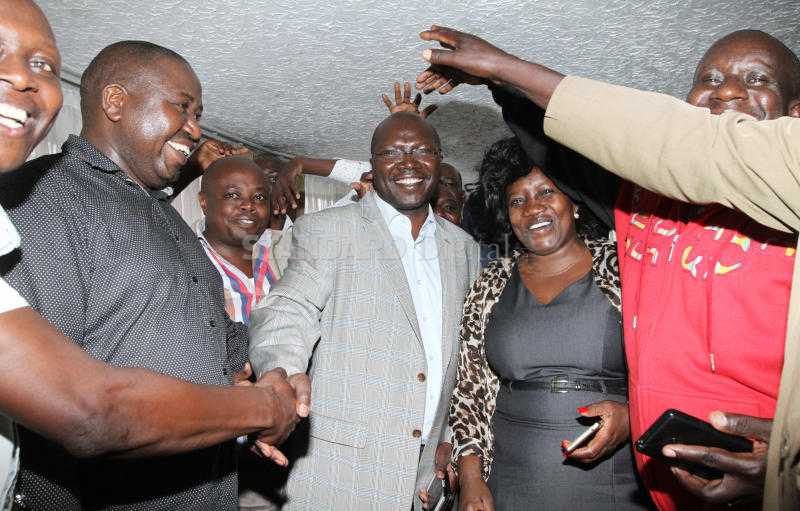 Jubilee Party politicians in South Rift have accused President Uhuru Kenyatta and his deputy William Ruto of rewarding 'defectors' with Cabinet posts instead of party loyalists. The leaders said they worked hard to deliver votes for Jubilee in the last election and thus deserved a huge stake in government. "We felt left out of this government after the appointments were made. We stood by Uhuru and Ruto throughout the campaigns. We delivered votes both in the August 8 and the October 26 polls but we were never appreciated," they said. "Those who joined Jubilee later after the first poll are a happy lot," said a Rift Valley politician, who sought anonymity for fear that he might be seen to be undermining the presidency.
SEE ALSO: Irrigation projects stall as floods, locusts strike
Withdraw petition
But political analysts said all was not lost for men and women who rallied residents behind Jubilee, as there were still several positions in the national government yet to be filled. Bomet Women Rep Joyce Korir said local politicians deserved to be nominated to Cabinet. "We are shocked that not even a single position of CS or PS was given to us" said Ms Korir. Leaders who were widely expected to have been appointed to Cabinet are Isaac Ruto, the former Bomet Governor of Chama Cha Mashionani (CCM) who defected from NASA where he was a co-principal, to back Uhuru's re-election in the October 26 polls. Former Kajiado Governor David Nkedianye (ODM) was prevailed upon to withdraw the election petition against Governor Joseph ole Lenku with a promise of a plum job. Bomet Governor Joyce Laboso urged the President and his deputy to consider her predecessor for a Cabinet position. Last week she described the former governor as a capable worker who deserves government appointment. "I will support him and ensure he gets something worthwhile. He is young, vibrant and a capable worker," she said. "Find something at least for him. We are not selfish people, we are not sadists to wish that anyone perishes. We want as many of Bomet people to get an opportunity wherever they can," said the governor. In Nakuru County a section of Jubilee leaders expressed disappointment saying the president has once again failed to appreciate the support he received from the region in the past elections. Nakuru Governor Lee Kinyanjui said residents were expecting Cabinet positions. "This is informed by many years of extreme marginalisation on key government appointments. Despite that, we shall support the team and build a strong network for the good of the nation," he said. In Narok, former Internal Security Minister Julius Sunkuli who vied for Kilgoris parliamentary seat on Kanu ticket was left out and instead Patrick Ntutu who unsuccessful vied for gubernatorial position on Chama Cha Mashinani (CCM) ticket was nominated to Cabinet. "CCM was in bed with NASA yet Kanu was cooperating with Jubilee Party. That among others are going to be costly judgement by the president," said Jackson Saika, the national chairman Masai Professionals Association. Of the 22 Cabinet positions, two communities that voted overwhelmingly for Uhuru and Ruto took 60 per cent of the positions, leaving others to share the spoils.
Rejected
The nomination of Simon Chelugui as Water Cabinet Secretary was seen as a slap in the face of those who rejected him in the Baringo senatorial race. "Gideon and his party campaigned for Kenyatta's reelection. His father is his political mentor. What message does the appointment of Chelugui as Water CS send to the people of Baringo where Moi enjoys fanatic support?"posed Ajwang. He said Mr Chelugui's appointment is likely to spark political wars between Gideon and the DP, which could hurt the DP's 2022 presidential bid. "It will deepen the division between the two heavyweight politicians of Rift Valley. It will force Gideon supporters to nudge him to offer himself for the top seat that year," he asserts. Kanu Secretary General Nick Salat lauded the president's efforts to form an all-inclusive government but regretted that the party was not rewarded as expected. "We will continue to engage the president for our members not to feel isolated and for their support in the General Election to count for something," he said. Philip Chebunet, a lecturer at University of Eldoret, said the South Rift region is well represented in government with two cabinet slots- Energy CS Charles Keter and Water CS nominee Chelugui. "The people of South Rift region should look at the bigger picture that William Ruto is the Deputy President and that there are still many more slots to be filled. They might get another slot, if their pleas are heard," Dr Chebunet said.