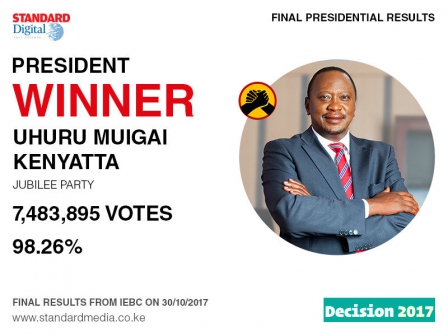 The Independent Electoral and Boundaries Commission (IEBC) chairman Wafula Chebukati has declared President Uhuru Kenyatta winner of the October 26 repeat presidential election. He ganered 7,483,895 votes out of the 7,616,217 valid votes cast.
While the IEBC verified results of the October 26 election, NASA has already said it will not recognize Kenyatta's victory and threatened to swear in Raila Odinga as the president should the president-elect be inaugurated.
NASA has also been pushing for a second repeat presidential poll in 90 days. Deputy President William Ruto has said no such thing will happen.
According to Jubilee party, 90 percent of the country voted. It blames NASA for disenfranchising those who did not vote when it asked supporters to stay away on election day.
Voting did not happen in 25 constituencies in Homa Bay, Siaya, Migori, and Kisumu where opposition supporters barred IEBC officials from delivering voting material and engaged police in running battles.
On October 10 Raila withdrew from the race citing a skewed playground. Raila said he did not withdraw from the election to create a political crisis to force a coalition government but took the decision because he did not want the culture of stolen elections to continue in the country.
Raila has explained that his withdrawal was meant to push for a free and fair electoral process in Kenya now and in future elections.
"I don't have to always be on the ballot, but I want my candidate or whoever will be on the ballot to participate in a free and fair contest. There is no need of going to an election whose outcome is already predetermined," said Raila.
NASA had given the electoral commission 11 irreducible minimum demands which it wanted to be addressed before agreeing to participate in the repeat presidential election.
The repeat election was called after the Supreme Court on September 1 annulled President Uhuru Kenyatta's win at the August 8 polls.
IEBC repeat presidential election process
Verification of results was still ongoing on the evening of Sunday 29 October. Chebukati asked Kenyans to be patient as his team verified the results from the 266 constituencies where the election was conducted. Chebukati said the results will be declared based on verified forms 34As and 34Bs that were delivered physically by IEBC returning officers.
Responding to the question of voter turnout that had stirred a controversy following his tweet that suggested the turnout was at 48 percent, but which he later revised to 33 percent, Chebukati explained that a total of 7.57 million voters had been identified through the Kenya Integrated Elections System (KIEMS) representing a 42.8 percent turnout.
On Sunday President Uhuru Kenyatta was leading with 7.3 million votes. That meant close to eight million out of the 19.6 million registered voters participated in the repeat election.
Chebukati explained that his initial tweet of a 48 percent turnout was based on 17,568 KIEMS kits that had transmitted their returns between 4 pm and 5 pm on Thursday 26 October. "A total of 4,457 458 registered voters were identified by the 17,568 KIEMS kits. A total of 9,200,411 voters are duly registered in the 17,568 polling stations which had transmitted returns between 4 pm and 5 pm on October 26. This translated to a voter turnout of 48 per cent," he tweeted.