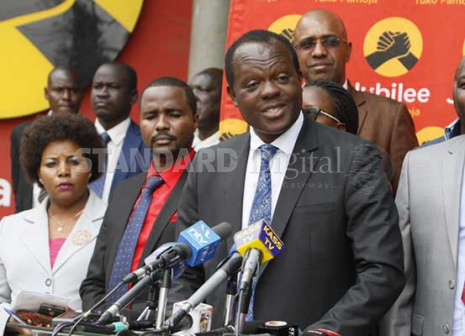 Jubilee Party has dared the Opposition to make good its threat to boycott the October 17 election.
Jubilee Secretary General Raphael Tuju said if the National Super Alliance (NASA) confirmed in writing that it would not participate in the repeat presidential poll, President Uhuru Kenyatta's swearing-in would go on as planned.
Tuju said there was no need for the country to spend Sh12 billion on an exercise that the Opposition was planning to boycott.
Accusing NASA of engaging in political brinkmanship and making demands designed to create anarchy in the country, Jubilee said the demands were signs that the alliance was not prepared to face Uhuru in the election.
"If they really mean what they say, let them show bravery and write to IEBC and say so," said JP Secretary General Raphael Tuju
The Opposition Alliance has spelt out conditions it calls "irreducible minimums" which it wants the Independent Electoral and Boundaries Commission (IEBC) to meet before it can participate in the repeat poll.
Demand list
The demands include kicking out IEBC Chief Executive Officer Ezra Chiloba plus other members of the secretariat as well as ensuring poll materials are not printed by Al Ghurair.
Opposition leaders have said they will not only boycott the polls if their demands are not met, but they will also ensure the election does not take place.
But Tuju said the ruling party would be happy if the Opposition made good its threat since Jubilee would have no competition, and consequently Uhuru would be sworn in for a second term unopposed.
He said there was no way the Opposition could stop the polls from taking place, asserting that NASA was scared of losing.
"What law or clause of the Constitution will they use to stop the country from holding the election? The Supreme Court was compliant with the Constitution that a fresh presidential election is held within 60 days," said Tuju.
He questioned why NASA was appealing for funds if it was not planning to participate in the repeat poll.
"The most obvious game of political conmanship is the threat by NASA leadership to boycott the elections on one hand while on the other hand they are raking in money from poor wananchi through an M-Pesa Paybill no," said Tuju.
Jubilee also hit out at the NASA MPs for skipping Parliament sittings after taking oath of office, accusing them of being more interested in ensuring their names were in the payroll than discharging their legislative role.
Tuju dared the MPs to skip eight consecutive sittings and have their seats declared vacant.
"It is amazing that NASA can even have a PG meeting and yet not recognise the legitimacy of that Parliament in the same breath,"he said.