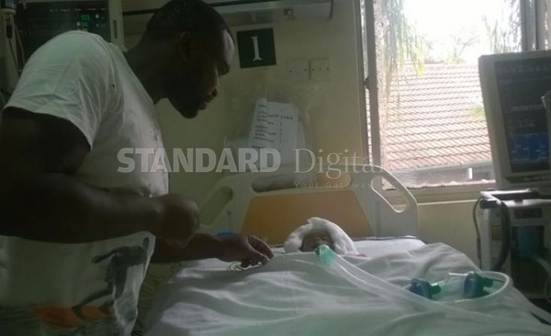 The six-month-old baby who has been the face of police brutality in Kisumu has died after being in a coma for five days. Baby Samantha Pendo passed on at Aga Khan Hospital shortly before 6 pm on Tuesday, throwing her parents and relatives into mourning. The baby was critically injured on the head by armed police officers who raided her parents' house in Nyalenda in Kisumu town during a door-door operation after demonstrations against the outcome of the presidential elections. Baby Pendo's parents, Joseph Abanja and his wife Lenser Achieng', were heartbroken and inconsolable after the doctors informed them that they had lost the baby.
SEE ALSO: KNCHR decries rights abuse and obstacles in access to justice
"My angel is gone," Ms Achieng' told Standard Digital, her voice filled with sadness. Her father sobbed as he spoke to reporters outside the hospital. He said they had Baby Pendo after the wife had suffered four miscarriages. "Between the first born and Samantha, my wife lost four pregnancies. We had decided that Samantha was going to be the last," Abanja said, adding that he did not know how he will settle the Sh 200,000 hospital bill. "We voted and returned home as directed by the Government. Why did the police follow us into the house?," Abanja posed. His sister, Treeza Uduny said: "The police said they were only beating and shooting criminals. Was the baby a criminal?"
SEE ALSO: Clobbered to death for not wearing a face mask
When the news of the baby's death filtered through the town, sadness engulfed the air and Kisumu residents said the Inspector General of Police Joseph Boinnet and acting Interior Cabinet Secretary Fred Matiang'i should take full responsibility for the child's death. "They defended the police who brutalised innocent people, including Baby Pendo. They said no one had been killed or brutalised even as the people here nursed wounds," said equal rights activist Audi Ogada. "I have never seen a Government that defends its officers who brutalise babies. I have never seen a Government that sets its officers on innocent people then calls them criminals," Ogada added. Abanja said police officers lobbed a teargas canister in their house on Friday night, forcing the couple to run outside with their baby to get fresh air. The officers started beating them with clubs and threatened to shoot them. "Three officers landed on my husband and two others came for me. They hit me on my left arm and hit the baby on the head," Achieng said.