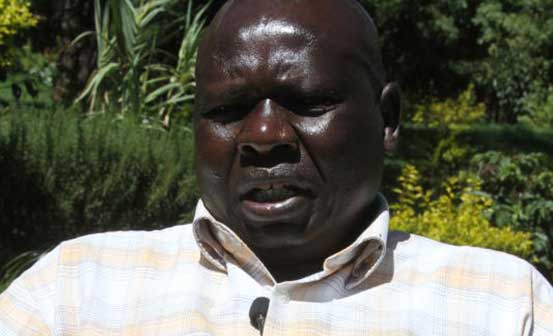 Former nominated MP and Assistant Minister for State Mark Too is dead. Confirming the incident in the presence of his family at St Lukes Orthopedics and Trauma Hospital in Eldoret, Dr Ahmed Faraj said Too, aged 60, was pronounced dead at 2pm yesterday after he was received at the facility at about noon.
Family members, including Too's widow Mary Too and his brother Clement Tirop said they could not disclose further information about the cause of the death until all family members meet.
"I was called in the afternoon and told that my brother is sick. I rushed here but I found him already dead. As a family we are still in shock and cannot say much at the moment," said Tirop. However, Dr Faraj, who attended to the late Too said the late had been unwell on Christmas Day and had sought treatment at the facility.
"He visited the hospital feeling uncomfortable due to food poisoning. I asked that he stay overnight but he refused, saying that he wanted to go home. He completed the infusion the following day," said Dr Faraj. Dr Faraj said that his client was unconscious when he was brought to the facility.
"According to one of his workers, Too woke up in an upbeat mood and chatted with his employees at his Maziwa farm. He however took long in the house and efforts to call him failed. They then raised family members and together they broke into the house, only to find him unconscious," said Dr Faraj.
Kapseret MP Oscar Sudi, the first local leader to arrive at the hospital, said that he too had been notified of Too's illness. "It is painful and we have lost a leader, who not only served Nandi and Uasin Gishu people but the entire country. It is confirmed that he is dead and the family needs to notify other relatives before we can say much," said Mr Sudi. The MP described Too as his political mentor and friend who worked tirelessly to ensure that there was peace among the country's leaders.
"I would call him whenever I needed counsel because he could humorously give me a solution. Many leaders looked up to him. It is sad that he died still full of energy," added Sudi.
Too served as an assistant minister during former President Daniel Moi's regime.
The last time the humorous Too, popularly referred to as Bwana Dawa appeared in public in Uasin Gishu County was last year on December 12, during the Jamhuri Day celebrations at the historic 64 Stadium. During the event, Too called on the county's administration to put signage on the streets in Eldoret to enable people navigate the town easily.
"Street names are no longer there and people cannot easily find their way to intended destinations hence unnecessary traffic jam. People from cities across the region need to know they have arrived in Eldoret," said Too. Too also cautioned politicians against using the youth to perpetrate violence during campaign rallies, saying Kenya must retain its brand as a peaceful nation.
The deceased's body was taken to the Eldoret Hospital Mortuary.