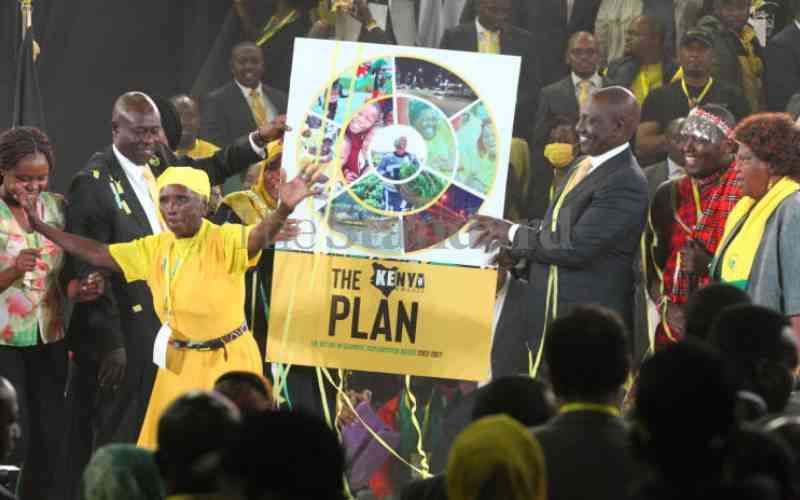 After suffering embarrassing backlash from the folly of attaching a date and number to a campaign promise few expected William Ruto, the Kenya Kwanza presidential candidate, would stake his candidature on a plethora of pledges.
Yet that is what he did at the launch of Kenya Kwanza's manifesto. And it is what many of his diehard supporters - and the undecided-find enticing about The Plan. The reason why people hold Dr Ruto to his word (over the Jubilee manifesto in 2017) is because it committed to the number - of stadiums to be built, how much money to spend and by when.
In last week's article, I expressed my frustrations at the lack of radical ideas in the blueprints from the two leading camps. Most of it pointed to business-as-usual scenarios. Fairly speaking, Kenya Kwanza surprised with their intent to disrupt the status quo which chimes with the sentiments of a majority and in great detail to boot.
Health and education which are enablers of progress get a good mention just like in the Azimio manifesto. Many Kenyans are pushed into extreme poverty each year because of out-of-pocket spending on health and education and so a proposal to lessen that burden is great relief.
The proposal to regenerate and invigorate the agricultural and manufacturing sectors is a game-changer. By combining the two, one sees a strategy of not just having a foot on the industrial ladder, but a deliberate effort to climb it beyond the first rung.
It makes great sense - logically and economically - to devote more resources to agriculture (leather/textile/dairy/horticulture) because of the value chains it creates.
The thinking is; more factories ought to be opened up else, we will find a Made in Germany machine that does a better job at slashing the thicket and unclogging blocked drainage as well after spending so much on Kazi Mtaani. Far better to build factories to absorb that idle labour.
Harvard Business School scholars Clayton Christensen, Efosa Ejomo and Karren Dillon term this "market-creating innovations". Market-creating innovations "are less about the actual product being sold and more about the value network and business model an innovator develops," they argue in 'The prosperity paradox: How innovation can lift nations out of poverty'.
Japan, South Korea rose up from debilitating wars to dominate the world through innovation in electronics and motor vehicles. In Sony, Samsung, Toyota, Kia, Honda and Nissan, Japan and South Korea have market-creating innovations that impact the world in big ways. India is doing that with the medical-tourism and travel.
In a nutshell, Kenya will profit from a government that leverages more on "pull" and less on "push" strategies. Pull strategies "are far more effective at triggering sustainable prosperity," the scholars say.
Take infrastructure, for example. The scholars caution that only "when infrastructure projects are connected to market-creating innovations, do they become more viable." Think of the Sh300b SGR and the Sh80b Nairobi Expressway. Rings a bell, right?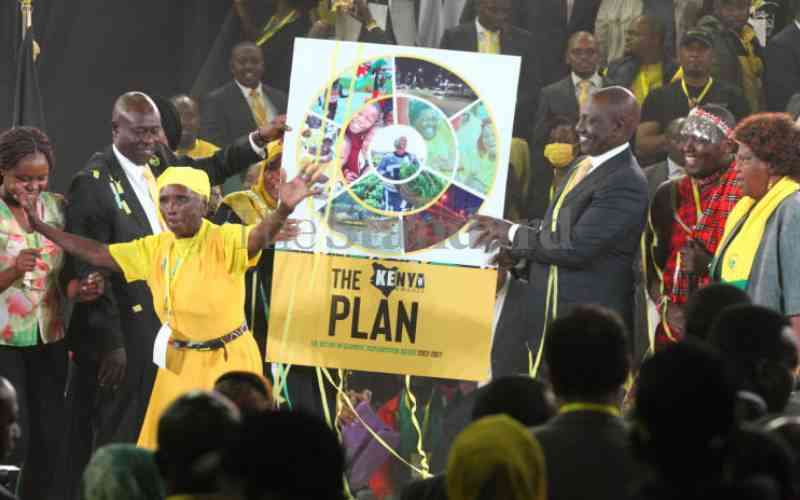 Dr Ruto has been lambasted for seemingly going easy on corruption. But history, the scholars argue, "shows that successful economies develop in spite of widespread corruption." Their view (from widespread research) is that corruption "is not the problem but a solution."
They warn that "a corruption-fighting strategy that focuses primarily on instituting new laws… is likely to make things worse as a premium is placed on finding ways to work around laws that get in people's ways of making progress."
Their point is development is usually followed by "the enforcement of laws against corruption." So, focus more on development.
Yet despite that, Kenya Kwanza's – and to a large extent, Azimio's blueprint - suffers from some flaws one of which is the refusal to trim government. An unwieldy government is expensive and breeds inefficiency and corruption.
That little was mentioned of how to appropriate more value from the capital, Nairobi, is a disappointment. Because of its position, Kenya is arguably the Switzerland of Africa.
Thanks to its advanced financial services sector, better technology, a well-educated, skilled human capital, impressive infrastructure, capital flow into Nairobi is quite incredible that it should attract a premium.
Put another way, by making the costs of running business cheaper in the capital, a lot of what Kenya Kwanza (and even Azimio) has mooted will be achieved.
-Mr Kipkemboi is Partnerships and Special Projects Editor, Standard Group