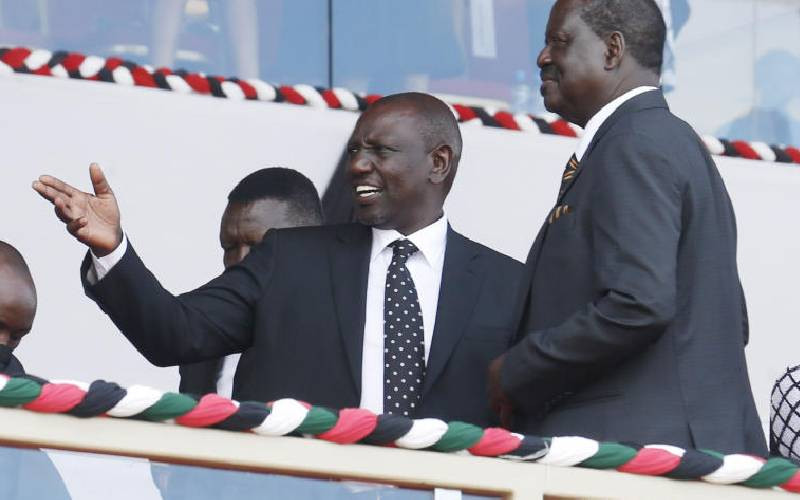 "We must fix this country; fix its systems; fix its politics then fix its economy," declared former PM Raila Odinga in Nakuru in August last year as he launched the Azimio la Umoja caravan.
Deputy President William Ruto's idea of fixing things and getting the economy working is through the now famous bottom-up economic model. Finally, the political class has come down to the level of the people that matter.
Though to a large extent, this campaign has been devoid of the usual hypocrisy and subterfuge, the two front-runners are inundating us with a deluge of tried-and-tested initiatives without the critical how-to or the stop-start-continue technique.
A politics that generates so much heat and little light soon breeds disillusionment. At a glance, both Mr Odinga and Dr Ruto are liberal democrats. They believe society can change gradually from the bottom up. Both subscribe to the same ideals; their campaign blueprints are a mark of political courage and policy ingenuity.
The proponents of Hustler Nation relish the idea of toppling down the status quo by offering a chance and opportunity to millions on the fringes of the economy, topped up with Sh100 million fund for SMES in each of the 390 constituencies;
Mr Odinga has mooted a social welfare system that will distribute a Sh6,000 cash-transfer to those at the bottom of the pyramid. After all, similar initiatives have proved workable in other places. In India for example, a staggering 950 million people have benefitted from $200 billion stipends in the last five years.
India has demonstrated (like it did most recently with Chile and Brazil) that it is not so much about reinventing the wheel; actual growth generates more wealth to be spread around as much as investing in public good utilities like health, roads and schools.
India's turbo-charged growth (projected to grow at 8 per cent GDP in 2022) is down to three things. Millions of Indians have been moved from a largely informal cash-based economy into a formal economy that runs on digital platforms and incorporates identity, payments and tax remission.
Its cluster of IT-services is a magnet for global conglomerates keen to make savings on abundant cheap labour. This is killing two birds using one stone. Thirdly, and perhaps most importantly, is the stipend programme. This cash-transfer programme has helped bring about a huge drop in poverty thereby reducing age-old extreme income disparities.
But without much else. In both cases, the means is clear not the end. The conundrum therefore is how to move the parts and grow the economy. And that ought to be a deal breaker for anyone examining the two sides objectively.
There is no shortage of ideas on how to undo the grim prospects many face. But looked at keenly, the Azimio and Kenya Kwanza blueprints suffer from the same shortcomings a frightening lack of mettle and strategic thinking. That is bound to limit fresh thinking and groundbreaking policy formulation.
The common thread so far is mostly a case of government doing big things rather than as an enabler of private enterprise – which are comparatively more innovative, agile and nimble - like India has showed.
Under Narendra Modi, India has undertaken bold reforms that have freed up money for public services and business.
None of the blueprints comes close to this Indian miracle. The one who will change Kenya must grasp the nettle and offer a radicle shift to cause a disruption in how things are done. Doing the same things - half-hearted attempts at fixing the old, ossified bureaucracy that corruption feeds on won't get us anywhere.
To put it another way; mixing politics with development don't offer tangible results. A bold proposition like for example, initiating budget cuts on recurring expenditure like imprest and per diem (at the Executive and Legislature) would free up money for development that creates impact.
There are also enduring lessons from the Singaporean model that its leader Lee Kuan Yew adopted. They kept government small, the economy open and regulation simple, transparent and effective.
The lesson is; government ought not spend so much on itself. Public resources should be used on Kenyans.
Most importantly; the tax system has to be decoded and simplified - and KRA retooled and reskilled on customer care - so as to expand the tax base in a regime where tax compliance is weak.
Mr Kipkemboi is Partnerships and Special Projects Editor, Standard Group