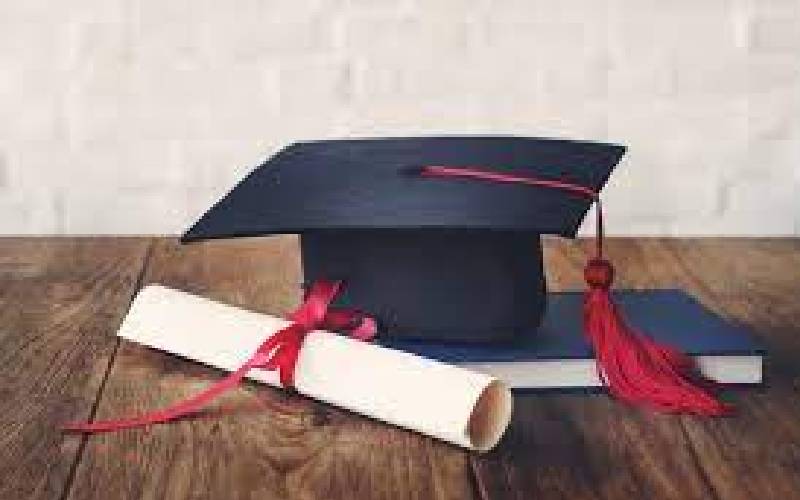 It has been two torrid weeks for contenders with contestable academic credentials. Nairobi Senator survived the governor's race by the skin of his teeth.
His opponents must look on gleefully because of the distraction caused to his campaign at a point when most pundits thought the seat was his to lose.
It is not clear what inadequacy the framers of the 2010 Constitution sought to cure when they made a Bachelor's degree mandatory requirement for those seeking to be president, governor and until recently, MP.
But the obsession with academic qualification dates back to the 1980s/90s during the agitation for the Second Liberation. Civil activists, pro-democracy and change proponents – themselves A-list graduates- often mocked former President Daniel Moi and attributed the country's worsening economic woes - not to the strangulation by the Western donors and systemic corruption and mismanagement - but to President Moi's modest academic qualification.
Mr Moi shot into national leadership against all odds. He was a primary school teacher before he plunged into politics in the 1957 Legco elections rising to vice president and then president in 1978. President Moi's closest confidants Mulu Mutisya, Shariff Nassir, Ezekiel Barngétuny, Mayor Philemon Chelagat were fodder for political sketchers - a cynical way of getting back at Mr Moi. Yet behind the scenes, it is known that President Moi consulted widely and surrounded himself with A-list civil servants most of them Alliance School alumni.
Previously, you only had to be 55 and above to qualify to be president. That ruled out a lot of people including the so-called Young Turks. Did the framers of the Constitution consider that past? May be, may be not.
Would Kenya's prospects have been better had Mr Moi been a university graduate?
And now - like in the 1980s/90s - education; the great equaliser; the great leveller; the door opener is a bother a divider and a false pretence, a distraction for what is wrong with society. There is no question about it; as a public good, education has a multiplier effect on society. The essence of a good education is not just about drilling into one basic competences of literacy and numeracy skills. Lifelong lessons actually start at school - hard work, honesty, common courtesy, decency, reward and sanction, adventure, tolerance.
Seymour Lipset, an American Sociologist wrote in 1959 that "education presumably broadens men's outlooks, enables them to understand the need for norms of tolerance, restrains them from adhering to extremist and monistic doctrines, and increases their capacity to make rational electoral choices."
In other words, more than imparting in the pupil knowledge, self-discipline and basic survival skills, education plays a great deal in the democratisation process.
Yet it is true also that education, like a rising tide, lifts all boats, but not by equal amounts.
Is the mere accumulation of academic credentials the best yardstick for a good leader? Is man merely defined by his educational prowess?
Did more of the educated occupying the benches in Parliament after the introduction of multi-party politics in 1992 end the crashing group-think or of decisions taken on account of "party position" and less out of principle? Did they perform optimally the functions of Parliament?
According to Symour, the higher one's education is, the more likely they are to believe in and support democratic processes. Most importantly, the capacity to make rational choices.
In spite or because of the above, our politics is plagued by ethnic hatred, cultural prejudice and to an extent, religious intolerance. Isn't it foolhardy then to imagine that education will, of its own, provide the enlightenment needed to change society?
Education is a necessary condition for leadership, but not a sufficient one. What we need are strong institutions; independent and speedy courts; a media that barks and bites hard; a responsive political class and an effective Executive that gets the job done.
Earnest Bevin, a renowned British Foreign Secretary and statesman who despite minimal formal education, was known more for his adroit skills in negotiation that bore NATO. Microsoft founder Bill Gates possesses no degree. Look at how his invention has profoundly transformed the world. The lesson from Mr Bevin, Mr Gates and others like Winston Churchil and Benjamin Disraeli is to focus more on achievements in policy than academics.
Mr Kipkemboi is Partnerships and Special Projects Editor, Standard Group