Why happy ending in UhuRuto feud is good for Uhuru, Raila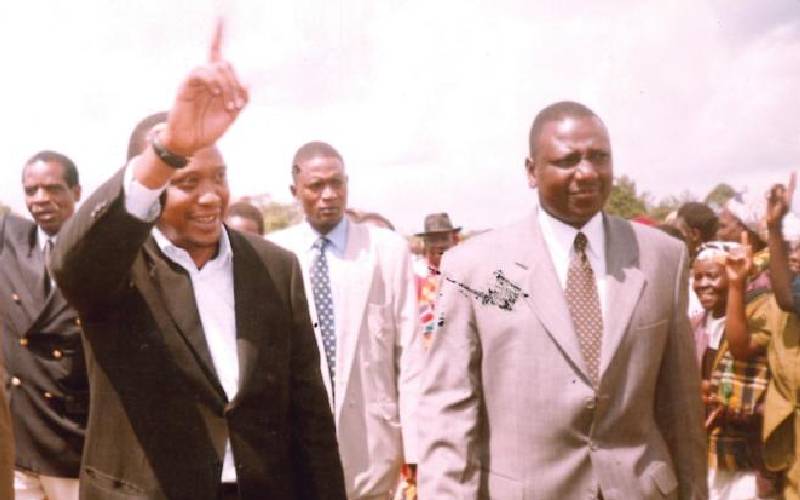 As if it was bound to happen, Kalonzo Musyoka let the cat out of the bag. In a moment of candour, Mr Musyoka predicted that former Prime Minister Raila Odinga would betray President Uhuru Kenyatta once he is in office. Many were aghast. How dare he?
But by speaking candidly, he most likely spoke what was in the minds of many in the president's corner. He projected the fears of those who, taking cognizance of the receding power of incumbency, wanted a foolproof deal post-August 2022, especially because the exit strategy does not look clear and also to comfort many who feel the president has fallen under the spell of Mr Odinga.
For as long as the feud between President Kenyatta and his estranged deputy William Ruto has gone on, Mr Odinga has reaped handsomely. And why not? The handshake had cured President Kenyatta's flawed mandate after the 2017 repeat presidential election. President Kenyatta's men easily believed that with Tinga on their side, they would then "pluck the chicken" as they bid their time away. Alas, the efforts have not paid off quite as expected.
Dr Ruto remains a front runner in the race to succeed President Kenyatta. And so with time running out and as the departure of President Kenyatta comes close, one wonders what the future holds for him, his deputy and Mr Odinga. Of significance is how the four-year feud between President Kenyatta and Dr Ruto ends. Will we witness a happy ending?
One does not miss the heavy sense of foreboding.
President Kenyatta ought to listen more to his gut than his advisers who still want to project him as invincible even though the odds are increasingly stack against him.
With a ruling party atrophying and his Mount Kenya bedrock adrift and time slipping away, President Kenyatta will be hard-pressed to stake his worthiness on a "has-been" status. Because soon after August 9, the law of diminishing returns will kick in.
Even in his lame duck status, President Kenyatta increasingly finds himself at bay. His fortunes will be grimmer when he leaves office.
As things stand now, the Kalonzo Musyoka-led One Kenya Alliance (OKA) is the only bulwark against that besides the new Political Parties Act. But supposing Mr Musyoka fears come true and the dams burst open?
So, President Kenyatta must set out how he will limit the danger ahead. The benefit of incumbency is not limitless. As the imminence of departure sinks in and as power slips away, factions within his circle will turn on each other in a spiral of blame for the missteps. There is no time to share the accolades.
And so he needs to spread his risks not just because his estranged deputy could succeed him, but also because the political calculus is bound to change once we cross over. That will include perhaps getting back together with his estranged deputy.
Once sworn in, a president – even the most altruistic – will focus on their agenda, the most pressing needs and demands of the people. Mr Odinga is not an exception.
For a start, Mr Odinga will be worried about legacy much less about inheritance. With an eye on 2027, he will want to gather all and not wish to scatter none.
Would he be eager to reach out to Dr Ruto for a handshake "to bring peace to the country" and wean himself off President Kenyatta's influence, considering the 30%+ presidency power matrix?
Consider that Dr Ruto will come "loaded". With the DP on board, Mr Odinga will have the advantage of pushing his agenda without much hindrance. And Dr Ruto will be glad to sit out the five years.
Dr Ruto's advantage, in part, has been that he was contemplative of the future and decided to work backwards. Mr Odinga could learn a lot from that.
Supposing Mr Odinga pulls another trick from the "handshake manual" and signs in Dr Ruto? Politicians do things reflexively to survive after all.
Consider also that were he to lose in the August elections, Dr Ruto would still need a way back to fold.
All indications are that Mr Kenyatta at 61 will (or wants) to stick around a little bit longer. The thawing of relations with his deputy could hand back the Central Kenya vote to him.
After all the DP still has a balance to draw from the social capital he expended there.
Mr Kipkemboi is Partnerships and Special Projects Editor, Standard Group