Matiang'i's grilling and shame of sham parliamentary probes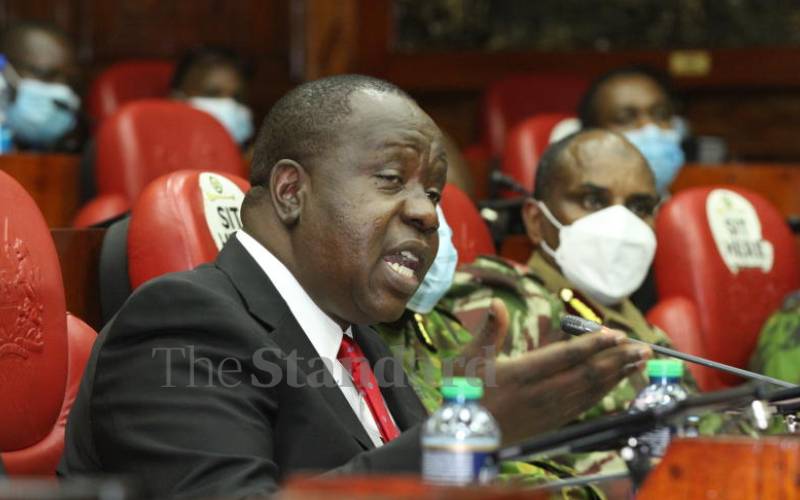 Fred Matiang'i's testimony before Parliament last week was revealing, but not for what he told us which was merely the wealth portfolio of one of Kenya's wealthiest men - Deputy President William Ruto.
Yet for all the hoopla the hearing caused, if proof of a captured Legislature and the inherent risks this poses to society was needed, the session before the parliamentary Committee on Security provided it. The truth is an unquestioning MP soon becomes a danger even to the institution of Parliament.
On show were the hallmarks of a hapless, acquiescent Legislature and an overbearing Executive that has ridden roughshod and sought to delegitimise other institutions.
The MPs prostrated before the Interior CS - a no less powerful man - too careful not to ask the tough questions. They chimed with whatever the CS said. And Dr Matiang'i - who taught me critical thinking at University of Nairobi - did not disappoint.
He should recall lessons from one of his favourite course texts; A man of the People, one of Chinua Achebe's masterpieces.
Yet, stunts such as those in which Matiang'i appeared abases Parliament, erodes faith in government and its institutions and emboldens the shrill voices badmouthing parliamentary democracy.
Many would have loved to see Matiang'i and his entourage pressed about police welfare, insecurity, the time-bomb presented by the boda boda gangs, extra-judicial killings, VIPs besieging other motorists on the road and in their neighbourhoods and so forth. The MPs just sat there obviously hoping that the rest of us will take the charade seriously. For indeed it was.
It should concern many that MPs' main preoccupation is "grilling" public officials rather than making good laws - including one that would limit the number of guards assigned to VIPs, for example. Parliament readily staged a charade rather a quest to get answers from Matiang'i.
Another round of wasteful, meaningless wild goose chase by MPs. Because the MPs are ill-prepared or out of depth in the matters at hand and are there simply for the drama, these probes emit too much heat and little light. Public offices are often bullied to appear before parliamentary committees where they face "tough" questions after which reports are drafted and which are never acted on.
"The question is why am I even here?" wondered David Murathe, the Jubilee vice chairman recently when he appeared before another committee probing a tender scam at Kemsa. How Matiang'i and the entire OP crew - complete with their communication strategists and bloggers, who gave real time social media updates on proceedings including pdf documents - found time to appear within a short notice, is a story for another day. Remember, he has skipped many summonses and complained before that MPs were manhandling the Executive. This time, it seems as though the red carpet was laid out for him.
In other democracies, Parliament offers stability and is a foundation for progress. Besides strengthening democracy Parliament ought to improve the government's ability to get things done.
The MPs have displayed profound disdain for traditions that sustain parliamentary democracy.
The MPs – and most of our leaders - have deprived our society of such virtues as trust, shared truths, common decency and self-restraint.
That is a sure path to anarchy. It must offend many therefore that Justin Muturi the current Speaker of the National Assembly is seeking higher office in life after Parliament. In the premier league of laziness and incompetence, cronyism and crushing group-think, his charges are top of the table.
For those dutiful wonks at the Executive, they could pick some wisdom in this anonymous poem:
"Take a bucket, fill it with water,
put your hand in clear up to the wrist.
Now pull it out; the hole that remains
is a measure of how much you'll be missed…
Dwight Eisenhower (the 34th President of the US and one of the most accomplished holders of the office) carried around a piece of paper with this poem.
Mr Kipkemboi is Partnerships and Special Projects Editor, Standard Group