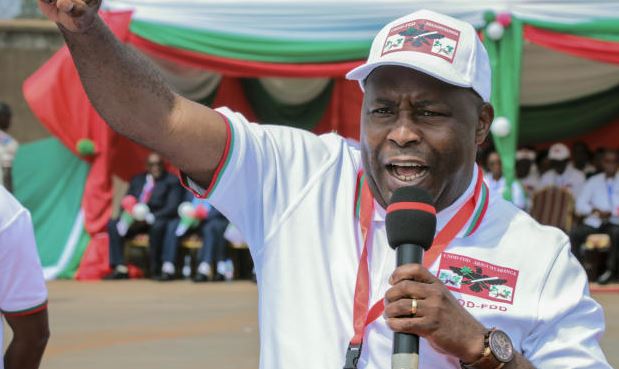 Burundi's constitutional court has rejected an opposition bid to overturn the results of last month's contested election, declaring the ruling party's presidential candidate Evariste Ndayishimiye (right) the victor.
The opposition National Freedom Council (CNL), led by Agathon Rwasa, claimed the May 20 general election was riddled with fraud and irregularities, including intimidation of voters, arrest of opposition polling agents, ballot stuffing and proxy voting.
However, on Thursday, the panel of judges said CNL had failed to provide sufficient evidence and ruled complaints were "null and void", validating Ndayishimiye's victory with 68.7 percent of the vote.
Rwasa's share of the vote was given at 24.18 per cent while opposition party UPRONA won 1.63 per cent. The ruling CNDD-FDD won 86 seats in parliament and the CNL 32, while UPRONA won two. Three seats are constitutionally reserved for the minority Twa ethnic group.
Read More
The ruling party's information secretary Nancy Ninette Mutoni on Twitter hailed a turnout of 87.71 per cent of 5.1 million registered voters.
Heavily armed police officers were deployed around the country's main city Bujumbura for the court's ruling.
The CNL appeared resigned to an outcome it had predicted.
"We were not expecting a miracle, despite massive fraud and irregularities that we presented to the court and despite the Catholic Church's report," party secretary-general Simon Bizimungu said. "We are not surprised, because the court system is not independent in Burundi."
Burundi's Catholic Church said last week its observers at polling centres also witnessed ballot box tampering, officials harassing and intimidating voters, and proxies registered "in place of dead people and refugees". Foreign observers were not allowed to oversee the elections.