How dispute at SPLM meeting set off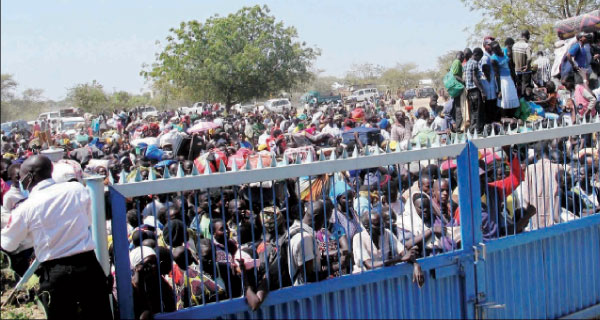 Civilians seek refuge at United Nations Mission in Bor, South Sudan, yesterday.
By TIMOTHY MACHI
A botched SPLM meeting set off the violence in South Sudan on Sunday evening, sources within the continent's youngest independent State told The Standard yesterday.
Details pieced and corroborated by The Standard from different people within and out of the SPLM government said failure to reach a consensus on party issues at National Liberation Council, the second ranked meeting in the party hierarchy, at which several resolutions were confirmed including passing the party constitution and the manifesto, sparked off violence in Juba.
According to various sources, it was disagreements over the structure and composition of the National Convention on the agenda that drove a wedge between parties that have been drifting apart for close to a year now. In the meeting, Machar opposed the manner of picking officials to the National Convention which he felt was designed to lock him out of party leadership.
Level of illiteracy
The National Convention is SPLM's highest decision-making organ and among other things, decides the flag bearer — understandably the reason why each side wanted to control it. Party elections are slated for April next year and whomever takes control of the National Convention is sure to earn ticket to run in the General Election in 2016.
At the Saturday meeting, Riek Machar, who had in July declared to challenge President Salva Kiir for the leadership of the ruling party so that he can run for president in the 2015 election, wanted the party chairman of the National Convention elected by secret ballot, a move that was rejected outright by Kiir's team.
"There is no way we would accept a move to elect a party chairman by secret ballot given the high level of illiteracy even among politicians," a source who is also a member of the National Liberation Council told The Standard. There then followed a series of setbacks for Machar including a failure to push through a proposal to elect the two deputy chairmen and Secretary General of the National Convention.
Kiir's side shot the proposal down and in place handed the responsibility of choosing the two deputies to the chairman to the National Convention of SPLM while the Secretary General would be appointed by the chairman. Reading a narrative of calculated political exclusion, Machar marshalled his team, composed largely of commanders that served in John Garang's government of 2005 and who have since been sacked by Kiir to boycott the Sunday afternoon session of the National Liberation Council.
Witch-hunt
Prior to the meeting, Kiir had been infuriated by a series of public statements criticising his 'increasingly dictatorial tendencies and a political witch-hunt fuelled by paranoia and rumour'.
In what discounts the coup theory, the source says the boycott and a move to hold a parallel meeting provided Kiir a perfect excuse to exact his revenge on an ally turned-foe.
"When Machar walked out on Kiir, the President felt slighted and ordered for his arrest on Sunday at 6.30pm — a move that was resisted by Machar's security detail — setting off a shoot out that has now snowballed out of control," the source said.
By last evening, the UN estimated the total number of the dead at 700 but unofficial accounts put the figure much higher as violence spreads beyond Juba. By Thursday, and on Government's own admission, Jonglei State, 190km north of Juba had already fallen to military loyal to ousted Vice President Riek Machar.
In what is threatening to slide into ethnic cleansing, parts of Unity State yesterday suffered morning sporadic attacks targeted at the Dinka even as the Government dismissed the assertion as 'falsehoods'.
"We condemn in the strongest possible terms any attempt to depict the coup as ethnic strife. Those who divide people on tribal lines are enemies of peace," the Government said on its Twitter handle.
The violence has left a country yet on its mend devastated and a region shaken. By last evening, a delegation of Inter Governmental Authority on Development (Igad) led by Ethiopian Minister of Foreign Affairs and current Chairman of Igad, Dr Tedros Adhanom had arrived in South Sudan to seek an end to days of fighting and bloodletting.
Non-essential staff
This is even as countries and Non Governmental Organisations evacuate their staff and citizens from a country that only knew the taste of peace from decades of blistering war in 2005 when John Garang signed a Comprehensive Peace Agreement with the Khartoum granting the south semi-autonomy.
Yesterday evening, two UN planes landed at Jomo Kenyatta International Airport carrying US citizens and hundreds of citizens of other countries including Kenyans. Some NGOs have also commenced the process of relocating their non-essential staff from Juba to Nairobi and Lokichoggio.
On Wednesday, President Kiir sued for peace when he called for talks with his former deputy who has in his corner the widely popular Rebecca Nyandeng Garang.
And while it is not clear whether Machar is keen on peace, Rebecca, also Garang's widow expressed willingness to talk with Kiir on condition that arrested MPs are released and that Kiir stops killing civilians.