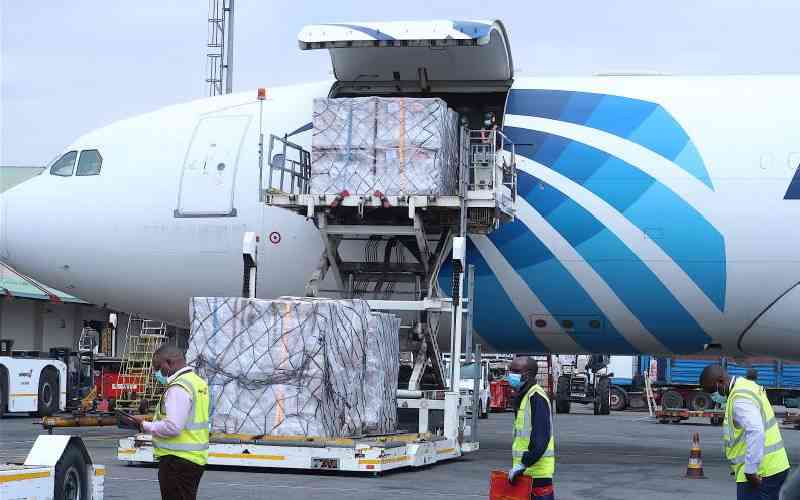 A delegation from Kenya had to fly to Greece to witness the printing of ballot papers, and another to the UK to witness the printing of exam papers for primary and secondary schools.
Unless there is a dispute, the ballot paper has no use beyond the voting day.
The same applies to exam papers. Why spend so much money printing these papers abroad?
Going by the quality of posters used by politicians, books, pamphlets, and other printed materials, there is no doubt we can print those papers. It's not about technology or raw materials; it's about trust.
The fact that we don't trust our institutions like Independent Electoral and Boundaries Commission (IEBC), government, our schools, courts, Parliament and our neighbours is perplexing.
Why do we queue to vote at 4am for a government we end up not trusting?
Maybe we do not trust ourselves! It is not just the institutions we mistrust.
We mistrust professionals too such as doctors, lawyers, accountants, and engineers among others. Noted how Waganga have taken advantage of this mistrust?
Seen their posters everywhere? They seem to know our problems very well.
And why do they claim to come from neighbouring countries?
Why mistrust?
We mistrust institutions, professions and individuals that are not open.
A good example, teachers are trusted because we see what they do - from talking to marking. The same applies to hair salonists and barbers.
We can't tell what doctors and pharmacists do! And unless you have been caught on the wrong side of the law, you rarely know what judges or lawyers do.
Beyond asking you to buy a spare part, few know what mechanics do.
It seems one way to build trust is to let the service recipients have an idea of what you do. Why I am told to take one tablet twice a day and another once by a pharmacist? Why do lawyers and judges wear wigs? What happens below the bonnet of the car when you press the accelerator? History has also driven this mistrust.
The institutions, professions and individuals have not lived up to their expectations. Once bitten twice shy. It is no wonder trust takes time to build and old developed countries have built a repertoire of trust.
This has been costly to the country. Think of the cost of mistrusting IEBC when violence broke out in 2007/2008. But there was high noon when we trusted Supreme Court to resolve the electoral dispute in 2017.
Authenticity of a degree
The curious output of mistrust is a Constitution of over 200 pages while the US one is about 30 pages and the Chinese constitution (1982) is only 54 pages in English. Our colonial master has no written Constitution; they trust their judges and lawyers. Long constitutions constrain us and stifle innovations in governance and other sectors. More so when they are so hard to change.
Without trusting our people, we have turned to imports for goods and services. We trust them more. And we are willing to pay a premium.
Have you noted the surge in adverts for studying abroad just when a case over the authenticity of a degree certificate was in the headlines?
Noted the surges in medical trips to India? Note the adverts for ex-UK items like bicycles? Remember the political spurts over mitumba?
Even our names are imported. Seen of higher quality and "cooler". Call me Kate not Wanjiku. Call me Chrisantus not Makhoha, Call me Urbanus, not Mutisya.
But in politics, we can't import. Our MCAs, MPs, women reps, senators and president must be one of our own. We even forbid them from being dual citizens. That makes it very hard to break the cycle of mistrust.
We have no choices
Maybe it's time we opened our political space and got an Obama or Sunak.
President Obama's father was born in Kenya and so was Rishi Sunak's father. Rishi could become the next UK prime minister if he defeats Lyzz Truss.
But my bet is that he will not; not in the Conservative Party.
Beyond imports, we have to invest in keeping off mistrust. We hire fraud detectors, witnesses, security features in documents, and lie detectors among others.
We even build new layers of institutions to stop mistrust. There is the Ethics and Anti-Corruption Commission while we have the Directorate of Criminal Investigations.
We have to see another doctor for a second opinion, we have to wed and get a certificate, yet you are in love!
It's paradoxical that mistrust is so high when religion has done so well and the level of literacy has gone up.
Should more religious and enlightened people not be more trustworthy? What's the missing link?
Next week, we go to the polls with the economy as the biggest issue. Trust should also be on the ballot box.
Who can we trust with this country for five years? Who can we trust to build trust in our institutions, our professions, ourselves and our country?
Hope you trust what I have written...