Was devolution the jewel in 2010 constitution?
XN IRAKI
By XN Iraki | November 23rd 2021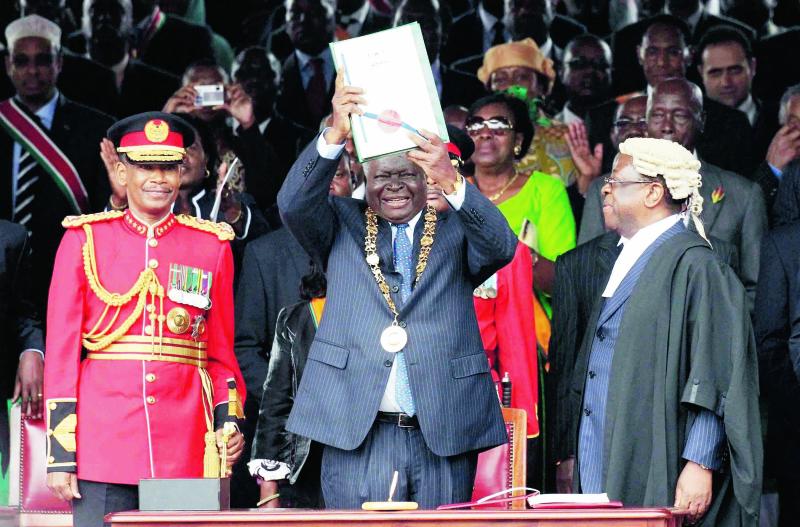 One of the most highlighted topics in the 2010 constitution is devolution.
This change was purported as the silver bullet that would cure all the economic and social problems that have bedeviled the rural areas, read counties, since uhuru and a carry-over from the colonial period. It was welcomed with open arms, so much so that even the hustler movement or BBI could not tamper with it. The promise of money to counties unconditionally is simply too alluring.
Curiously, the rural areas prospered during the colonial period, with profitable plantations that made money from cheap labour. A few of those plantations still exist. The big mansions that once dotted rural areas when mzungu reigned show it was not always gloomy there.
This could be explained by the fact that farming was seen as an honorable profession and the mzungu farmers benefited from economies of scale, using machinery and other technologies. There was parity between rural and urban areas. Graduates of Eton and Oxbridge farmed in the white highlands. Would our graduates do the same?
After uhuru, some government policies favored some areas that were close to political power. The 2010 Constitution, with devolution as the linchpin, was seen as the solution to this problem. We have had 10 years to test devolution. Has it worked? Why was it so? What is its future?
The framers of the Constitution were too idealistic. One, they assumed that since devolution had worked elsewhere, from USA to India or Germany, it would work in Kenya. They forgot our uniqueness.
Noted how we imported USA system with governors and senators without America's Protestant work ethic? One reason why devolution was so popular is getting money without commensurate work, the antithesis of Protestant work ethic, which I have not found in our syllabuses.
Two, they assumed that devolved power would attract economic power. That was informed by the fact that growth of Nairobi was driven by political power. Government employees are few but they are the nucleus of an ecosystem. They create demand for housing, food, rental houses and other services.
They also decide where resources will go. It was assumed that county government employees would do the same. But having 47 counties meant that the few county employees would not have a noticeable effect like Nairobi.
Think again, most of the economic power is in private hands. Who owns most of the businesses or assets in Nairobi? Would they follow political power to the counties? They are unlikely. The opposite has in fact happened; the money that goes to the counties eventuality gets back to Nairobi. It is simple economics; the returns are higher in Nairobi. That is why devolution has not diminished our fascination with the city.
Three, from the founding of the republic, Nairobi was the epicenter of the Kenya's political and economic power and all systems supported that notion. Think of the roads, rails and airport. You cannot devolve that. That is why shifting capital cities is so hard. Visitors were fascinated by Nairobi and wanted their Nairobi. But they forgot that the city has been built over 100 years, with capital from all over the country and world.
Four, devolution is not just about money and political power, it is also about thinking. Nairobians think differently from other counties. In Nairobi, we value you based on your economic clout. We care less about your race or tribe. In the counties, your tribe might matter more than your skills. Nairobi skims all the brains and skills from the counties, making it more attractive and competitive. Can that thinking be devolved?
It will take time before county pride grows and start attracting brains and assets like California or New York. A few counties are trying. I can name a few like Nakuru, Laikipia, Mombasa, Kajiado and Machakos, which attract all tribes and races. Watch their growth trajectory.

One curious observation is that the governor's seat has become attractive because of the resources at the occupant's disposal, sadly given by the national government. Unnecessary competition between the national and county government is another problem in devolution, yet both are voted in by the same voters. While the former local governments were subservient to national government, with a minister in charge, the county governments are more independent but without enough resources.
"Free money" was devolution's greatest attraction, but weakest link. Counties could now get their money and decide what do with it. But this entitlement can make counties relax. Work is devalued; why work when you can get the money. What is the incentive given to counties to generate more money beyond parking fees? Counties fight for more money from central government. One wishes they fought as hard in generating revenue.
Devolution has had another unintended consequence. It has distracted us from international arena, from globalisation, which has been slowed by Covid-19. Did you notice the attempt to devolve to wards in the failed BBI? When did you last hear our political leaders talk about East African Community, African Union or United Nations? Beyond Chinese debt what else beyond our borders preoccupy us?
Let's be blunt, devolution is a silver bullet but will shoot in the future. When that time comes, we shall hate being given "free money" and prefer to generate our own resources. Today counties rejoice in getting money from the national government, not giving it. When that time comes, we shall value diversity like California, attracting brains, skills and investors. We shall seek such brains wherever they can be found. We could even give green cards!
The framers of the constitution thought that by devolving power, the locals would take care of their problems better, after all they know them better. But we still think the big government would do better. Remember Covid-19 pandemic? We wrongly assumed that running county governments is easy. Remember we have had 50 years of running the national government, not counties. Worse, not the best talent wants to leave Nairobi for the counties. Having money and putting it into good use is another story. Does it surprise you that absorption of the given money is such a big issue in counties? And who watches over the devolved money? Voters were supposed to do that. They have other pressing issues. That is why stories of corruption are common in the counties.
They also overestimated the power of the government in catalysing economic growth. Most growth is driven by private sector. Check Nairobi's skyline; what is owned by the public sector? Our counties should be busy attracting the private sector not begging more money from the national government. We can celebrate devolution; but it is full potential is yet to be realised. Voting was the easier part; attracting the key economic players, the entrepreneurs is the harder part. When will countries become better known for their economic clout like California and Silicon Valley or Shenzhen in China? As long as devolution is seen through political and not economic lense, its success will be limited. It may be called a jewel in the 2010 constitution, but we are yet to see it shine, we are yet to polish it with an economic brush.