Our current obsession with the scarecrow is frightening
XN IRAKI
By XN Iraki | September 26th 2021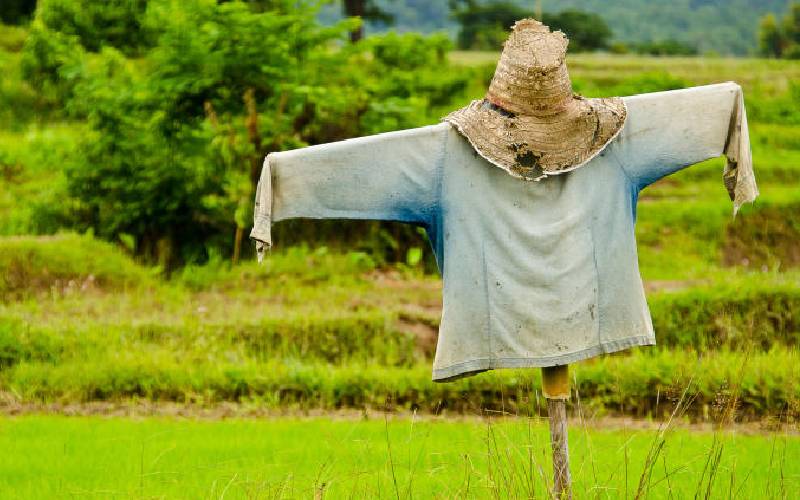 We made scarecrows as children out of necessity. Rabbits, antelopes and other related wild animals made our food crops their dinner, we had to look for ways to keep them off the farms while we slept.
Long day's work in the farms or grazing fields made sleep necessary. For the urbanites, the alternative to scarecrows was to physically chase the animals like early man.
Some animals such as elephants are not easily frightened by scarecrows. Our artworks initially worked but, as any behavioural scientist will tell you, with time the wild animals got used to them and we had to get more innovative scarecrows. Have we not slowly got used to Covid-19?
But why the current obsession with the scarecrow when there are no animals to scare? When human population growth has reduced their numbers, with national parks and conservancies as their last refuge?
Maybe the younger generation has not seen a scarecrow, so much that it ended up trending in the media including BBC. But it's more than that.
The obsession with the scarecrow demonstrates our liking for sideshows; our reluctance to deal with real issues. It's not unique to the competence-based curriculum (CBC).
Instead of complaining that students are making scarecrows, without suggesting what else they should be making, we should be asking some hard and more relevant questions.
We could realise that making a scarecrow is a serious learning business. (I have not independently confirmed that CBC kids are actually making scarecrows).
When we were young and innocent, we made more than scarecrows. We made toy cars, repaired fences, made lamps from oil cans with wicks from pieces of blankets, jikos, mwikos, cut trees and turned them into firewood, milked cows, and lots of other manual activities that are scaring the CBC generation.
Why not focus on the process of making the scarecrow? What materials do we need? Where should it be located in the shamba? How should a scarecrow design change with moonlight? What is the effect of wind? Can we remotely control the scarecrow to perform stunts like clapping and shadow-boxing to scare animals? Can the scarecrow roar like a lion?
Should a scarecrow be male or female? Believe me, wild animals react differently to human gender. Noted that monkeys do not fear women? Should we hide the scarecrow during the day to reduce its familiarity and therefore increase its effectiveness?
We can be even bolder. Why not start a factory to make scarecrows at industrial level, just like toys or Halloween paraphernalia? We could even start exporting scarecrows! Learning how to make effective scarecrows is as important as the scaring itself. And what are the alternatives to scarecrows?
Any topic in business or related areas can be taught using a scarecrow, from management to entrepreneurship, operations management, strategy and quality management. Remember scarecrows are 'entertaining' and children will learn more. Why else do they love cartoons?
We can extrapolate the 'scarecrow effect' to other sectors beyond education. In politics, we look at the tribe of the politician, not his character or potential to lead. Do we ask why someone wants to be a leader? Is he after public or personal interest? Noted how leaders like scaring us with big offices, cars and titles?
Camouflaging personal interest as public interest is at the heart of 'scaremongery' or 'scarecrowing'. Voters find whoever they voted for is not what they thought. They find scarecrows.
Let's give credit where it's due, some leaders in corporate and public sectors are not scarecrows and we see their results. Will you identify scarecrows as we vote in 2022?
In relationships we focus on nonentities like dressing, hairstyle, how closely one resembles movie or music stars. We focus on body figures and youthfulness - what can scare us briefly. We forget the character of our friends, their backgrounds or motivations in life.
What happens when their scaring effect ends? When we discover that beyond appearances, they are scarecrows, empty? This explains why friends fall out of love or even divorce.
The scarecrow effect is at the heart of showing off, wanting to scare. The problem is that often no one gets scared. You end up being the real scarecrow.
Firms use interviews to find out if you are a scarecrow. But it's only while working that we can confirm you are not a scarecrow. I am sure you have seen enough scarecrows at your workplace, men and women who pretend to work but have nothing to show for it. They are just there.
Scarecrows are found at both management and non-management levels in all organisations. Over-delegating and giving orders, with no time to listen, are some of the symptoms of being a scarecrow. Incompetence is the pedestal on which scarecrowing stands, particularly in leadership.
I must add, there could be more scarecrows in the public sector than in private firms. Prove me wrong.
Some suggest Covid-19 exposed the extent of scarecrowing in our economy. We found lots of workers were not needed, they were just scarecrows. Heard of ghost workers? Can they be classified as scarecrows? Crises often unearth scarecrows.
The popularity of scarecrows in CBC and to the general public could be out of a realisation that many of us have at one time or other participated in scarecrowing. How else do you explain the current popularity of scarecrows as the fourth industrial revolution rages? As we try to get back to the moon and beyond? When no one wants to be a farmer?
Why the popularity when most Kenyans have not seen a real scarecrow? Don't tell me that we have become a nation that laughs at itself.