Disappearing tractor should sound alarm bell on agriculture
XN IRAKI
By XN Iraki | January 13th 2019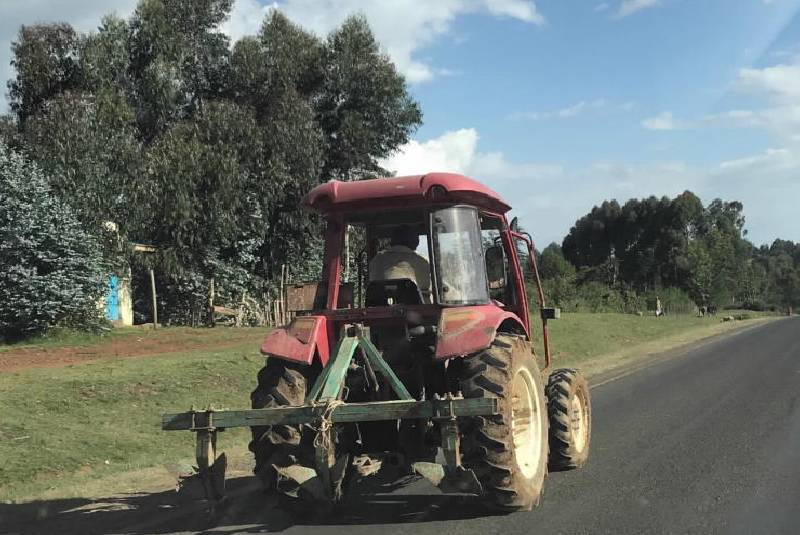 Long before we got the mobile phone, the flat screen TV and other fancy devices, another bigger and uglier machine had captured our attention but not to the extent of a cult like the modern gadgets. The tractor.
It was the only machine that most rural folks saw regularly and admired for its stamina and ability to solve rural transport and other problems. It was used to run posho mills and saw mills that made timber out of trees. It ploughed the land and gathered the harvest. There has never been a more versatile machine in the countryside. Hard working men and women were compared with it.
The tractor seems to have come earlier than the car with origins in America's Midwest. It reigned supreme particularly in the countryside but urbanites felt its presence too; they used it to cut grass and collect garbage. But it never got much glamour in the cities because it competed with the car. And unlike cars, it did not evolve as fast in shape and technology. By-laws in most towns treat the tractor as a nuisance.
Endangered
Today that machine is joining the cheetah, leopard, rhino, Rothschild giraffe and other animals among the endangered species. When did you last see a tractor? How many brands of tractors can you name? Ever heard of New Holland, Case or Massey Ferguson?
The slow death of the tractor is an economic paradox at its best. While all other facets of our lives are getting more mechanised or automated, agriculture is getting de-mechanised. I last saw a tractor in my dad's shamba 30 years ago. Most youngsters have never seen a tractor at work. They are also rare in movies or video games.
While artificial intelligence and its fears is creeping into our lives, it is slipping away from agriculture. The most ambitious and brightest keep off agriculture - we are still debating GMOs.
The paradox is not hard to explain. As we subdivide our land into small pieces, they become uneconomical to use any machines like a tractor. You can't hire a tractor to plough half an acre of land.
Yet, as the population grows, we need more food which can be grown using modern methods including mechanisation. This reduces the labour costs and makes agriculture a worthwhile occupation. In Kenya, most farmers are waiting for the next job. There is little pride in this occupation though we all must eat. If anyone gives you a business card with job description "farmer", please give me a call.
In other parts of the world, agriculture is highly mechanised. Even grapes, of all things, are picked using a machine. But we don't want machines to pick tea, we think they will destroy tea picking jobs. Why not move up the value chain?
Food security is part of the Big Four agenda, the lynchpin of President Uhuru Kenyatta's legacy. It faces this paradox. The most productive parts of Kenya are the least likely to be mechanised because of the small holdings. Just visit parts of Murang'a or Kisii. Irrigating large pieces of land is the suggested solution. This could make mechanisation viable. Reclaiming land is expensive as experience in California or Israel has shown.
In the meantime, lack of mechanisation or automation in agriculture has made it unattractive to the younger generation which is hooked to technology. Schools of agriculture and even agricultural engineering have few first choice takers at the university. The latter has even tried to be cool by changing the name to "biosystems engineering."
The stagnation of mechanisation is best espoused by the sight of farmers holding phones in one hand and jembes with the other. From planting to weeding and harvesting, farming is a labour-intensive occupation that few wish to inherit from their parents. Leaving the farm is every youth's dream.
It has been argued almost to the point of conviction that Kenyan agriculture has not been technology intensive for the simple reason that labour has always been cheap. British settlers were attracted to Kenya by cheap labour, among other things, despite their large farms being mechanisable.
Cheap labour
In Kenya, labour is cheap, maybe because a fast population growth has created a large pool of workers and depressed the wages. A day's wage in the rural areas can be Sh300 and can reach Sh1,000 a day in urban areas. Yet in the USA it is about 10 dollars (Sh1,000) an hour. I once bought a car spare part for seven dollars but it cost me 40 dollars to fix it.
With such low wages there are no incentives to mechanise agriculture. The high cost of harvesting tea is driving mechanisation. Tea farmers even import pickers from neighbouring countries.
One could argue that the use of greenhouses is part of mechanisation of agriculture. The truth is that greenhouses are labour-intensive and few of their activities can be mechanised or automated. That is why flower farms are great job creators. Why else has Naivasha boomed, attracting Kenyans from every part of the country and investors across the globe?
The success of flower growing with no flower board like the National Cereals and Produce Board should leave economists and policy makers thinking.
Lack of automation has shifted farmers to invest in poultry, which needs less mechanisation. Chicken rearing needs less land and technology. Packing eggs is often the most advanced technology in poultry rearing. Quail rearing was popular for the same reason.
The economic tragedy is that with small acreage, farmers are driven to chicken rearing which pulls down the price of eggs, while raising the cost of chicken feed. The lack of good transport network and a vibrant market for chicken adds to their woes.
Why are cheaper eggs flooding the Kenyan market? Our eggs might be pricier because of expensive feeds. Maybe our farmers should move up the value chain and add value to eggs or chicken meat. If fish is imported from China frozen, we can export frozen chicken. Farmers could even shift to more exotic meat such as turkey.
Where do we go from here ?
In the mid-1950s, land consolidation took place in central Kenya. If one owned several pieces of land scattered all over, they were consolidated into one piece of land. Could such a consolidation bring back mechanisation? Families can be encouraged to put their land together to make it easier to mechanise. What of setting the minimum size land can be subdivided into? That is likely to go against ingrained belief in privatisation.
Reforming our land use system with all the emotions attached to it is one of the hardest policy issues, yet it would unlock lots of economic potential. The amount of imported food in Kenya leaves no doubt there is a missing link in agriculture. It's still too traditional. We can suggest that food is still cheap in Kenya and there are no policy incentives for such radical reforms.
Innovations like mini tractors are trying to mechanise the small holdings but that is not enough. Add the conversion of once fertile agricultural land to real estate and it is not hard to see food insecurity. Interestingly, Chinese build elevated highways and rails to protect valuable agricultural land. We think it's a design style.
Agriculture in Kenya has defied Schumpeter's gale of creative destruction. Instead of new technologies replacing old technologies, we are moving from new technology to no technology.
Earn living
After 55 years of independence and 124 since Kenya became a protectorate, we are yet to come to terms with agriculture where most Kenyans earn their living. This may surprise you but if I were to start my life all over again, I would become a farmer. Enjoy the peace as you sing to the rhythms of nature and seasons. You never quarrel with crops or cows the way you quarrel with co-workers or bosses. Cows or maize never deny you their milk or seeds.
The death of the tractor is a clear indicator that agriculture needs a rebirth, a renaissance. Who will be the midwife? Who will make the hard decisions and bear the political consequences? Could rising food prices one day force us to take bold decisions? Will Big Four make farming cool again?
If you look at the Constitution, farmers are rarely consulted in selecting representatives to commissions or when other major decisions are made. Looking at the strategic importance of farming, there should be a farmers commission just like Teachers Service Commission.
- The writer teaches at the University of Nairobi