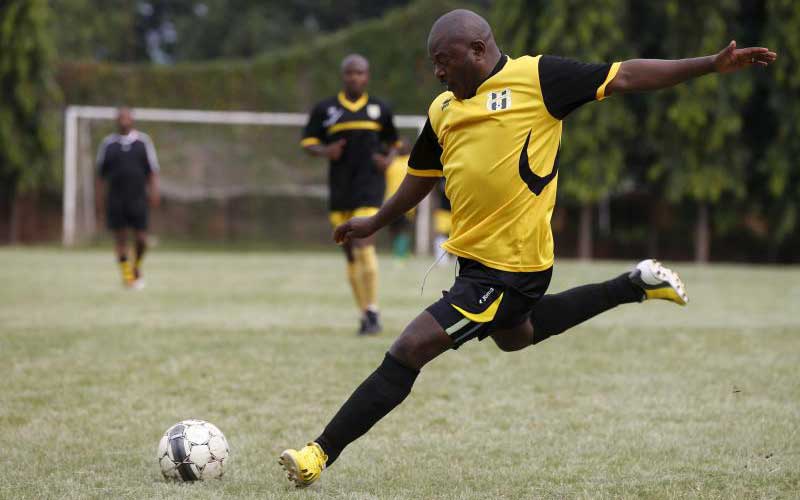 Pierre Nkurunziza was elected president of Burundi in 2005 largely thanks to a rare and unifying charisma that surrounded him.
But 15 years later, his presidency, though feared, had come to represent the absurdity of the lengths he went to, to preserve an iron fist rule, ruthlessly dealing with dissenting voices while juggling a near fanatical twin love for football and evangelism.
Unfortunately, as president, his later years were underlined by a stubbornness that turned him blind to not only current political winds, but also most recently to the dangers of an ongoing global pandemic.
From the onset of Covid-19, Nkurunziza and his government long denied the existence of the disease in the country. Even when neighbouring nations reported positive tests of Burundian nationals with recent travel history to Bujumbura, the president remained adamant that they really suffered no cases.
More than once, Nkurunziza, a highly religious person in public, married to an evangelist, invoked the name of God as the country's first line of defence against the disease. Recently, one of his spokespersons said although the country may be hit by the pandemic, "Burundi… has signed a special covenant with God, whether you believe it or not."
Burundi refused to follow most other African nations in imposing a lockdown and expelled the World Health Organisation's expert team working on coronavirus.
Nkurunziza was forced to step aside after 15 years in power by opponents within the country's ruling CNDD-FDD party, but was to become 'supreme guide' with wide knowledge of un-defined power. As former leader he was also entitled to a Sh50 million gift from the nation along with a luxury villa.
Amid the challenges facing the nation, Nkurunziza maintained an open defiance to dissenting voices, cracking down on dissent and often deporting journalists critical of his regime.
For instance, between January and March, Ligue Iteka, an exiled Burundian human rights organisation, documented 67 killings, including 14 extrajudicial executions, six disappearances, 15 cases of gender-based violence, 23 cases of torture, and 204 arbitrary arrests in the country of 11 million people. There was also some violence directed against ruling party members and youths – including killings – but at much lower levels.
All these chaos he could cause from a football pitch while fully kitted or during a hike dressed in polyester tracksuits. One of his favourite local teams was FC Haleluya, a name that underlined a spirituality he hoped would rub off on the general population.
As the world was turning to science to contain the coronavirus, suspect low numbers within the republic were attributed to "God's Protection".
"Do not be afraid. God loves Burundi and if there are people who have tested positive, it is so that God may manifest his power in Burundi," said President-elect Gen Évariste Ndayishimiye in April at a political gathering, to a hearty applause.
While strict lockdowns have brought life to a halt in cities across Africa and the world, restaurants and bars remain open in Burundi, with authorities ruling out similar curbs on citizens' freedoms. Weddings and funerals are proceeding, thousands of faithful are flocking to churches and mosques, and bustling markets remain open.
Burundi remains one of the few countries on earth to keep its first and second division football leagues running -- just with spectators required to wash their hands and subject to a temperature check.
Nkurunziza leaves behind a widow, five children and a country that will for the first time start a life away from the larger than life shadow of their supreme leader.
The resource-poor country with an underdeveloped manufacturing sector greatly depends on agriculture, which accounts for over 40 per cent of its GDP and employs more than 90 per cent of the country.
According to the CIA world fact book, Burundi faces several underlying weaknesses – low governmental capacity, corruption, a high poverty rate, poor educational levels, a weak legal system, a poor transportation network, and overburdened utilities – that have prevented the implementation of planned economic reforms.
The purchasing power of most Burundians has decreased as wage increases have not kept pace with inflation, which reached approximately 18 per cent in 2017. Years of orchestrated violence as a result of partisan politics left the country amongst the poorest of the continent.
In 2015, at the height of a push by the president and his apologists to change the constitution so that he could run for a third term, a section of his army, led by Maj Gen Godefroid Niyombare, announced that they had removed Nkurunziza from power.
At the time, Nkurunziza had travelled to Dar-es-Salaam, Tanzania, to attend a summit of the East African Community (EAC) that had ironically been convened by regional heads of state to discuss an ongoing political crisis in Burundi after three weeks of street protests in the capital city against Nkurunziza's candidacy for the next election.
Gen Niyombare, the chief coup plotter, was a former army chief of staff, a former ambassador to Kenya and a former intelligence service head. Although he was not the only plotter, he was the most visible. Prior to the attempted coup, he had, in February of that year, sent a personal note to Nkurunziza advising him not to run for a third presidential term. He was summarily dismissed.
After this, Nkurunziza only ever left the country officially once, and it was by road, again to Dar-es-Salaam.
Despite his flaws on the international stage, large sections of his country adored him. When the former rebel leader took office in 2005, at the age of 40, the country had been brutally torn apart by an ethnic conflict that had killed about 300,000 over a decade.
Young, optimistic and charismatic, he managed to live up to everyone's expectations by uniting people and rebuilding the economy. Between 2006 and 2011, the president received seven international awards for his peace-building efforts.
But after a decade in power, his reputation took a nosedive and the unity he had built collapsed when he organised the referendum to allow him stand for a third term.
To others, he was in every sense one of them. Before the bloody 12-year civil war, Nkurunziza was a teacher and an assistant lecturer at the University of Burundi. He survived the killings of 1993 when ethnic Hutus were targeted and joined the Forces for the Defence of Democracy (FDD) rebel group.
He emerged as its leader and after the 2003 peace deal, Nkurunziza was named minister of interior before Parliament elected him president in August 2005.