Nurse who struggled with Covid-19 trauma found dead in his car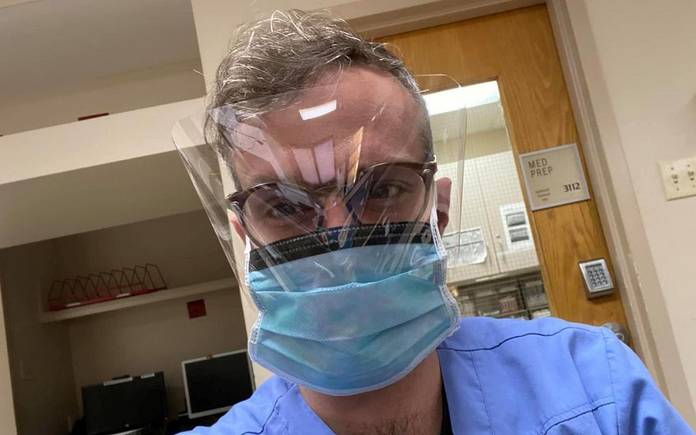 Becoming a nurse in 2018 was a dream come true for William Coddington.
He loved helping people and feeling needed at his West Palm Beach, Florida hospital. The 32-year-old was on the upswing of a decade-long battle with opioid addiction and other substance abuse, according to friends and family, who said he was committed to his recovery.
It all started to unravel in March, as fatally ill Covid-19 patients showed up in his intensive care unit.
It rattled Coddington to see patients his age die, his mother Carolyn said. He could no longer attend his 12-step recovery meetings in person. He was scared about how little personal protective equipment he had. He had nightmares about alarms going off on ventilators in the ICU.
On the night of April 24, he spoke by phone to his best friend Robert Marks and sounded distraught, Marks said. Coddington was caught between the war zone at work and his confinement at home.
"Don't take unnecessary risks but hang in there," Marks texted him.
The next morning, Coddington was found dead in his car in a hotel parking lot in Deerfield Beach, Florida.
His family suspects a drug overdose. A spokeswoman for the Broward County Medical Examiner's office said the case is pending. The Broward County Sheriff's Office said it is still investigating but does not suspect foul play.
Reuters reconstructed Coddington's last weeks through some of his text messages, Facebook posts and interviews with his parents, brother and two close friends. Reuters could not independently verify Coddington's cause of death.
Frontline healthcare workers are trying to cope with the trauma of treating the novel coronavirus, which has inundated U.S. hospitals with desperately ill patients and killed more than 90,000 Americans in less than three months.
Healthcare workers with histories of substance abuse may have more difficulty coping with fear, isolation and witnessing so much death during the pandemic, psychiatrists told Reuters. Those factors could provoke relapses in workers recovering from addiction, they said.
"Patients who are being treated for opioid use disorder have reported increased stress and opioid craving since this pandemic began," said Kelly Dunn, a psychiatrist at Johns Hopkins University who researches opioid use.
Scared, but committed
Coddington grew up living with his mother, an executive assistant at a healthcare company, in Deerfield Beach, after his parents got divorced in 2001.
Coddington's family said he was addicted to opioids from a young age. It started with painkillers he received after a leg surgery, Coddington told his friend Skye Alexander, whom he met in nursing school.
Coddington entered inpatient rehabilitation at age 21, his mother said. When he emerged, he joined 12-step fellowships, self-help healing groups and therapy.
"He was always trying different things to find the stability to interact with the world," said Marks, a resident of Miami Beach who knew Coddington for 10 years.
When COVID-19 patients in March started arriving at JFK Medical Center's North campus, where Coddington worked for 3 months, he volunteered for the coronavirus unit.
He did it because he was younger than some of his colleagues, and so potentially less likely to become severely ill, and because he was not a parent, said his friend Alexander.
"That was the type of person Will was," she said.
Still, Coddington was scared, his friends said. He risked exposure and infecting his 65-year-old mother, with whom he still lived.
Palm Beach County ranks third in Florida behind Miami-Dade and Broward counties for confirmed coronavirus cases; nearly 300 people have died of Covid-19 there.