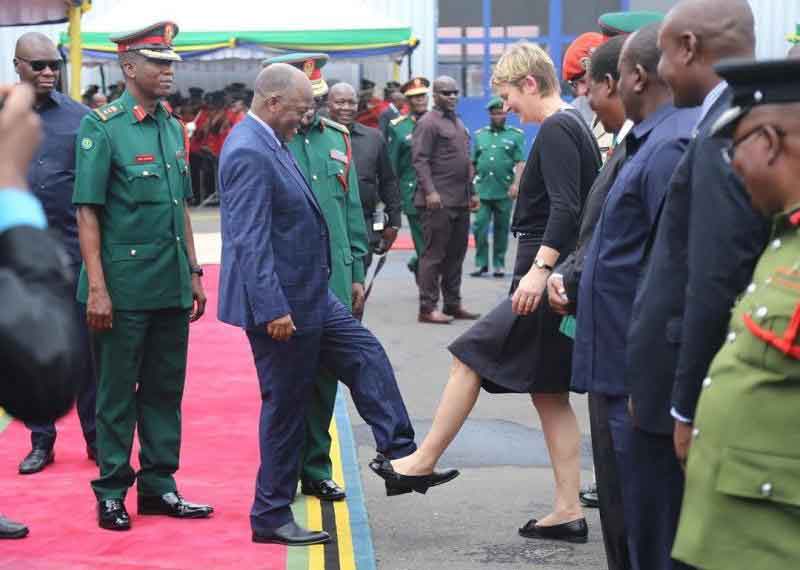 As the Coronavirus ravages the world, changing life as we know it, some presidents have turned into hard-nosed Covid-19 deniers blithely ignoring recommendations by the World Health Organization.
Such leaders have either failed to enforce the safety recommendations of social distancing or staying at home. Some have chosen to deny the existence of the virus altogether.
Nicaragua
The poor South American country has been a major outlier from the start. The country of 6.4 million people has continued to encourage professional sporting events, festivals with hundreds of people and beach tourism even as neighbouring states turn to strict measures of quarantines and lockdowns in order to contain the contagion.
Read More
Businesses, borders and stadia are still open in Nicaragua while the authorities attribute all infections to foreign travel and deny the possibility of community transmission. However, the reality contrast that of authorities. Families have been concerned about their relatives in hospitals as hearses continue carrying dead bodies while express burials have become increasingly common as captured in videos on social media.
A group of 600 Nicaraguan doctors and other health professionals has called for the government to impose social distancing, suspend classes in schools and provide protective equipment for health personnel through an official letter directed to the authorities. However, no response has come from the president Daniel Ortega and his wife, Vice President Rosario Murillo. Interestingly, the power couple has not made any public appearances since April.
Meanwhile, the hospitals are filling up with mysterious cases of severe respiratory disease. According to the Independent Nicaraguan medical Unit, 67 health workers have contracted Covid-19. The results are based out of symptoms and lung x-rays because tests are scarce and controlled by the government. According to the government, only 25 people have contracted covid-19 and only eight have succumbed to the virus. This number according to medical personnel is being downplayed.
Tanzania
The East African country is at loggerheads with its neighbours who fear that the country's casual treatment of the pandemic might put them at risk of Covid-19.
On May 17, its populist President John Pombe Magufuli told worshippers in his home town of Chato that keeping the economy afloat was more important than addressing the threat posed by Covid-19.
"Our economy must come first. It must not sleep. If we allow it to sleep then we will not receive salaries. Life must move on," said Magufuli.
Even though the Tanzanian government has put in place social distancing, the president has remained adamant that the Tanzanian borders will remain open but on Monday, Dar closed its borders to Kenyan truckers but left them wide open to other countries as a Covid-19 testing row with Kenya threatens spiral out of control.
Tanzanians are claiming that its citizens are being denied entry into Kenya on results based on a faulty testing process only to be declared Covid-19 negative when on their side of the border.
Magufuli has also urged the people to use natural remedies and have faith in prayers in order to fight Covid-19.
He recently his son had contracted the virus; that "he locked himself in his room and took a lemon and ginger solution before getting well. He is now well and can even do push-ups."
As an additional measure to the use of natural remedies, the Tanzanian government has also imported the Covid organics- an herbal remedy from Madagascar which is believed to cure and prevent Covid-19 according to the Madagascar President Andry Rajoelina.
Since Tanzania's first known case of Covid-19 was detected in Arusha in March, the government has officially registered 509 positive cases and 21 deaths. But the last update was more than two weeks ago on 29 April.
As of May 18, 51 Tanzanian truck drivers entering Kenyan had tested positive for Covid-19 which forced Kenya to close its borders on May 16.
Belarus
While participating in an amateur Ice Hockey game last month, the leader of Belarus, Aleksandr G. Lukashenko brushed-off Journalist saying that "there is no virus here."
The Eastern European country unlike its neighbours in Germany and Denmark that initially put in place strict measures to contain the virus, Belarus has taken a different stand on the other side of the fence with no measures put in place since to contain the pandemic.
Restaurants, theatre halls, coffee shops are open as usual while churches were fully-packed over orthodox Easter. Even though the government has made no statement about the threat of the virus sweeping across the world, the previously crowded stadiums for the professional football leagues (the only one still playing in Europe) have continued thinning as some citizens adopt personal measures to protect themselves.
The country had 30,572 positive cases and 171 deaths as of 19 May. In April Lukashenko saw the pandemic as seasonal flu and attributed the deaths to the underlying health conditions of the dearly departed.
Burundi
With voters set to elect a new president on Wednesday, May 20, there is a fear of a surge of infection as millions of people will converge at polling stations.
According to rights groups, the Burundian government is pushing for elections irresponsibly even though a coronavirus storm looms over the country which has an official record of 42 positive cases and one death with on 284 tests having been done since the first case on April 1.
The election comes just eight days after the government expelled the World Health Organization's expert team supporting the country's response to the coronavirus pandemic for "interfering with the management of the pandemic in the country".
Centres for Disease Control expressed its disappointment in the move especially at a time when the continent needed to work together with other stakeholders to contain the virus.
Government officials have been recorded saying that the low numbers in the country are a result of divine protection and citizens are urged to go on with their lives without fear.
The government spokesman has been quoted saying "Burundi … has signed a special covenant with God, whether you believe it or not."
With such sanguine statements being made by authorities, the low tests being done in the country put a veil on the true extent of infection in the country.
Burundi will hold national elections on May 20 and elections observers will be put on 14-day quarantine after which they will probably observe the aftermath!
Brazil
Brazil has the third-highest number of Covid-19 infections soaring to a high of 255, 000 and 16,856 deaths which is the sixth-highest in the world as we posted this story. The exploding numbers come as a result of a tug of war between the president and local leaders on how to deal with the virus.
Radical President Jair Bolsonaro compares the virus to a "little flu," condemns the "panic" surrounding it and is of the opinion that the country should get back to work to avoid an economic crash. He has continued to push governors to ease lockdowns and open the economy.
Health Minister Nelson Teich resigned on Friday, May 15 after continued disagreements and pressure from Bolsonaro on how to deal with the pandemic.
Bolsonaro insists that although the hydroxychloroquine antimalarial drug has not yet been proven effective against Covid-19, it should be used, even to patients with mild symptoms, while Teich only authorized it, as did previous Health Minister Luiz Henrique Mandetta, for patients in an acute or terminal condition.
The increased number of cases in Brazil has forced neighbouring countries such as Colombia to militarise their borders while Venezuelan President Nicolas Maduro called Bolsonaro's handling of the pandemic as "irresponsible".