Malaysia's Anwar Ibrahim walks free, says will not join cabinet any time soon
WORLD
By Reuters | May 17th 2018 | 3 min read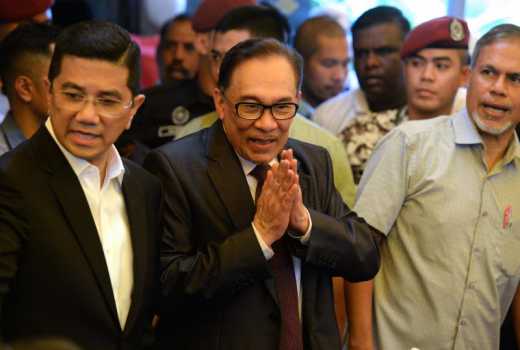 Jailed Malaysian reformist Anwar Ibrahim was granted a full pardon and freed yesterday, capping dramatic changes in the South-east Asian country since the government was ousted in an election upset last week.
The question for Malaysia now is how Anwar will get along with Prime Minister Mahathir Mohamad, his ally-turned-foe-turned-ally, and what role he will play in the new government.
Mr Anwar, 70, said he would like to take time off with his family and did not intend to join the cabinet any time soon. He said he would support the government led by Mahathir and Deputy Prime Minister Wan Azizah Wan Ismail, who is Anwar's wife.
"I've told Tun Mahathir, I don't need to serve in the cabinet for now," Anwar said, using an honorific for the prime minister.
Anwar has been in hospital for some months, for surgery on a shoulder. But he looked in fine fettle as he walked free for the first time in three years, dressed in a black suit and tie, his hair neatly swept back.
Supporters chanted "Reformasi" (Reform), the movement he launched two decades ago to challenge diverse Malaysia's race- and patronage-based politics.
Anwar was sentenced in 2015 to a five-year term for sodomy, a charge he says was trumped up by the Government of ousted Prime Minister Najib Razak.
Mahathir, with whom Anwar joined forces to win last Wednesday's election, greeted him at the palace where they both met the king.
Anwar was Mahathir's deputy in the 1990s but fell out with his mentor during the Asian financial crisis.
He was sacked from the ruling party and founded the Reformasi movement, challenging Mahathir's government. Within weeks, he was arrested and jailed on charges of sodomy and corruption. Images at the time of a goateed, bespectacled Anwar in court with a black eye and bruises brought condemnation of Mahathir from around the world.
Anwar's trial became a spectacle, with prosecutors at one stage bringing out what they said was a semen-stained mattress allegedly used when he had sex with two male aides.
After being freed in 2004, Anwar was jailed a second time. Both times, he and his supporters have said the charges were politically motivated.
Anwar later told a news conference at his home he had forgiven the veteran leader, who was a pugnacious, uncompromising prime minister for 22 years from 1981.
"I and Mahathir have buried the hatchet already, it was a long time ago," Anwar said as he sat at a table under a marquee set up in the driveway of his home, his tie and jacket off and sleeves rolled up, after returning from the palace. "I have forgiven him, he has proved his mettle. Why should I harbour any malice towards him?" Anwar said, speaking above supporters sounding their car horns and a tropical downpour.
The pardon, which enables Anwar to re-enter politics immediately, was granted on the grounds that there had been a miscarriage of justice. Under a pre-election pact, Mahathir, 92, had vowed to enable Anwar's release and eventually step aside for him to become prime minister.
On Tuesday, Mahathir said he expected to be prime minister for one or two more years, setting off talk of fresh differences between the two.
"Seeing him walk free makes me emotional, but the fight is not over," said Ridzuan Ismail, an Anwar supporter.