Canada's scorched oil lands have some evacuation orders lifted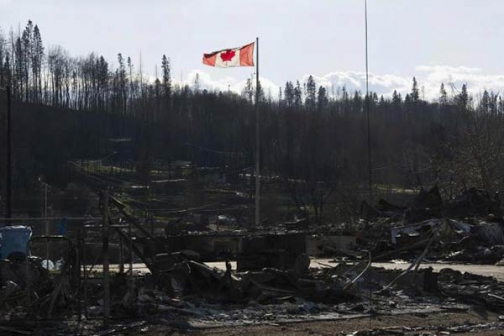 CANADA: Authorities in Canada's wildfire-ravaged energy heartland have lifted evacuation orders on Suncor Energy Inc and Syncrude oil sites after rain and cold weather helped dampen the flames.
Municipal authorities in the oil town of Fort McMurray lifted the mandatory evacuation orders on Suncor's base plant and Syncrude's Mildred Lake facility, as well as nearby camps that house oil workers, late on Friday.
Meanwhile, Suncor said on Facebook that a limited crew will be back at some of its sites on Monday at the earliest.
Syncrude, majority-owned by Suncor, has not publicly announced a remobilization timeline, and it is not immediately clear when either company will restart production.
Fort McMurray itself still sits largely empty, after its entire population of nearly 90,000 was evacuated in the northern Alberta fire that has blackened more than 500,000 hectares (1.2 million acres) since it began earlier this month.
The fire also triggered a prolonged shutdown that has cut Canadian oil output by a million barrels a day.
The blaze forced the evacuation of Suncor and Syncrude facilities after it jumped a critical firebreak late Monday, moving north of Fort McMurray into oil sand camp areas. Some 8,000 workers were evacuated.
Producers have since signaled a gradual increase in operations.
The fire did not grow overnight, and remains at the same size Saturday morning and has not had additional impact on oil facilities, said Alberta wildfire information officer Laura Stewart.
Some of the evacuees from Fort McMurray may be allowed to return as soon as June 1, if air quality improves and other safety conditions are met.
Suncor and Syncrude did not immediately respond to requests for comment.