Dr Gatonga: From humble background to head of Kenya's biggest health insurance firm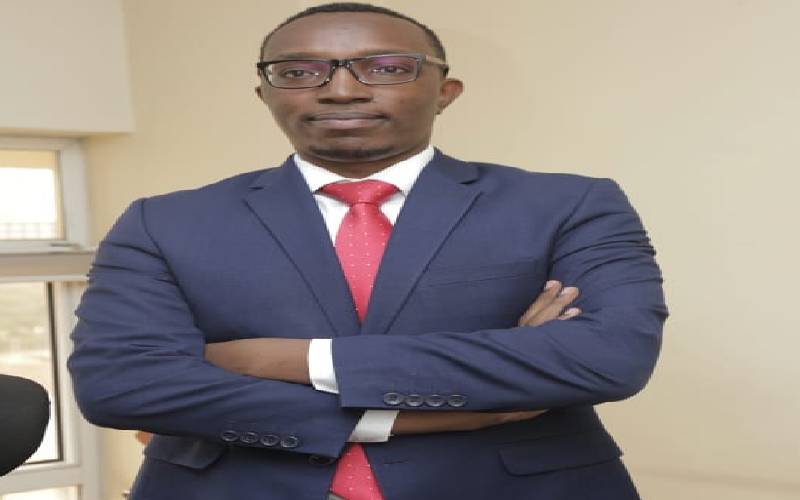 From Being Idle in Med School to the helm of one of Kenya's biggest Health Insurances, Dr PATRICK GATONGA, CEO Jubilee Health Insurance opens up to Dr Mercy Korir on his journey and purpose.
The 34-year-old is married with a three-year-old son. He comes from a family of four boys, brought up in Maasailand by his parents who were peasant farmers.
Dr Gatonga (pictured) had refused to go to school when younger, missing nursery school but eventually skipping some classes to catch up with his age mates at Naromoru Primary School.
A well-wisher came in when he was in Class Seven, and sponsored him to a local private school from where he excelled, getting 602 out of 700 marks in KCPE.
Settled on medicine
At the age of 13, he recalls a conversation with his mother who asked him what he wanted to do in future. Dr Gatonga opted to pursue medicine and cardiology having seen his mother's condition change from a hardworking woman to being bedridden for six months due to rheumatic heart disease.
She had moved from hospital to hospital in search of a solution before eventually landing at KNH.
He joined Starehe Boys Centre, a school that he says transformed his life within the four years that he was there. His inspiration was Dr Geoffrey William Griffin OBE, the school's director.
He picked up the piano which he says was something that came naturally to him, and after some time he needed more experienced tutors. He learnt classical music which he enjoys playing, conducting and teaching from time to time.
He turned down two lucrative scholarships to study music in Japan and Sweden to do medicine. He had also toyed with the idea of doing medicine abroad but eventually settled for UoN, something that seems to have worked out for him.
In UoN's medical school, he did a BSc in Human Anatomy the first year of medical school during which time he joined the school's faculty.
He felt idle after this degree, having come from an intense pressure environment to continue with his degree in medicine and surgery. He enrolled to do an MBA at the same time.
"I would be in med school during the day and in MBA in the evening. It was a rough ride, but it worked out ok," he says.
He took up teaching music by running a music school at the same time to pay for his masters' degree. With some friends, they tried running a media company that would solely focus on breaking news on the continent.
"That didn't work out obviously," he says chuckling "but it was a good learning experience."
At his graduation in 2011, he has conferred both a Bachelor in Medicine and Bachelor in Surgery (MBChB) and a Masters in Business Administration. Earlier, in 2007 he had earned his Bachelor of Science in Human Anatomy.
Business interests
He went on to work at Kenyatta National Hospital, AMREF, McKinsey & Company then based in South Africa, UAP-Old Mutual and now Jubilee Health Insurance.
His keen interest in business and business enterprises have grown over time, to what he says was his most memorable entrepreneurial adventure.
"We were a team of four who set up the McKinsey & Company office in Kenya. It has now grown to a regional office and I am proud of that."
He has had a passion for healthcare, particularly health as an economic driver. His focus is on developing sustainable health solutions that would guarantee easy access to healthcare services.
"I have a different view of jobs, I see them as platforms to do something. It is more than just the role."
Gatonga sees his assignments and roles as serving a greater purpose in life, not just a job or a title for the sake of it.
"To whom much is given, much is expected," he says, reminiscing on the many people that have sacrificed in taking him through school and his sense of duty to pull himself up and not disappoint them.