She is jobless, rolls on a state of art high performance SUV, lives in one of Nairobi's leafy suburbs and has four children attending private international schools.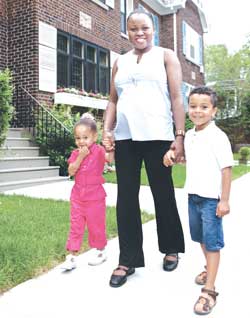 An expectant mother with her children.[PHOTOS: MARTIN MUKANGU/STANDARD AND COURTESY]
Meet a new cadre of women who lazy about by the day, but are seen frequenting high-end shopping malls after children are from school. They assert that they do not engage in fraud scams to finance their luxurious lives. Well, this is a clear indication that the traditional standards of marriage and child bearing in society are changing and evolving.
"No, it is the child support funds from each of my children's fathers that support my luxurious life, which also include two holidays every year and a high performance car," says Brenda.
Brenda has four children with different fathers. Each man pays child maintenance of Sh25,000 and her house rent in an apartment in Kileleshwa worth Sh75,000, totalling Sh95,000 per child.
As if this is not enough, she still dates all the four men. With her financial needs as a parent and her emotional need as a woman catered for, one wonders how best she can raise her children in such a complicated arrangement.
Read More
Counselling psychologist Grace Kimani of Harmony Counselling Centre, Nairobi acknowledges that raising children on your own is already stressful in itself, leave alone those fathered by different men.
"It can also be challenging, treacherous and even overwhelming. A mistake here and lack of attention there, can turn your children into someone you can not relate with," she says.
Just showing a little care and in the right direction will enable you raise happy, well adjusted, bright and perfectly normal children who share a brilliant and uncomplicated relationship with you.
First, begin by understanding and maybe internalising the fact that a family is complete only when a child grows up with both parents.
Once you accept this, you are ready to go that extra mile to ensure that not only do you act as a two-in-one parent, but you also double as your children's best friend.
By doing so, says Grace, you will be in a position to cope with the pressure, find support and nurture your children psychologically and emotionally.
The down side
Child rearing can be difficult under any circumstance and this is compounded by the lack of a partner's support.
Then again there is the juggling of the different needs and demands of fathers in at least four households, five pairs of grandparents, and the four children create a huge set of chronic stressors that families have to deal with for decades.
"As a single parent, you have sole responsibility for all aspects of day-to-day child care. This can result to added pressure, fatigue, and stress," says Grace.
Such instability may distract you from offering emotional support to your children or even lacking the time to discipline them and as a result, behavioural problems may set in.
In Brenda's situation, for instance, there are special challenges by virtue of her having to deal with four different baby daddies. Juggling all of them may prove a hard nut to crack, especially when you want a male role model for your children or to just have the children borrow some values from them.
"Every father may want to apply different tactics for their own child. And once the children re-unite in the same household, finding a balance from all the four may be difficult," explains Grace, adding, "Talking to the children openly about their fathers at the risk of them judging your morality will also be an up hill task," she adds.
Deal with the challenges?
First of all, as Grace explains, show your love. You can do this by praising your children every time they do something good. Show them through actions, your unconditional love and support.
Let them know that whatever happens and however things change, your love for them remains constant.
Prioritise family time and time away with your children. Schedule time each day for you to play with them or even talk to them to understand what they are going through in school or even at the neighbourhood as they play with other children.
If need be, have a one-on-one with every child every so often to understand each of them as you listen to their concerns.
You can also work at formulating rules and regulations that are reasonable. Take time to explain them to your children before carefully enforcing them.
Lead by example in enforcing the rules. This way, the children can pick after you.
"Work with respective fathers to harmonise the rules and to ensure you are providing consistent discipline, especially if the children sometimes have to go for visitations at their fathers. This is where things like 'time out' may come in handy," states Grace.
Again, do not fall into the temptation of spoiling your children to cover up for the guilt you may be feeling from having to raise four children you sired with different men. Just be yourself and bring them up like a normal family.
Take good care of yourself. Your children's well-being depends on you. The emotional need may be satisfied by the baby daddies, but remember you need to be healthy physically and mentally too, to be able to take care of the children.
Enlist the assistance of relatives or friends to provide the children an opportunity to learn from adults. For instance, if you have boys, send them to a male relative who can be their role model. Interact with other single parents.
Stay positive because your moods and attitude can easily affect your children. It is okay to be honest with them if you are going through a difficult time, but reassure them that all will be well.
Honesty may also require you to explain to the children why they have different fathers. As you do this, listen to their feelings and try to answer any questions candidly.
Avoid unnecessary details or talking negatively about the other fathers to your other children.
The good that comes out
According to an online research by talk show host Dr Phil McGraw, some of the things you will enjoy in an arrangement like Brenda's include closer bond with your children.
This is because; you are always there to understand your children. The bond that you end up building can be stronger than any built by a regular set of parents.
Also, since you are the only source of support, the children will tend to be closer to you.
There is also a degree of maturity, independence, self-confidence and learning to stand for themselves that both you and your children acquire.
Children will also gain self-reliance as well as resilience and determination, which may give them a high level of self-esteem and competency.
"Children reared by a single parent look at life differently. They mostly treat every moment as a teaching experience, which makes them more confident and independent," concludes Grace.