Kenyan beauty flying Africa's flag
By Caroline Nyanga
The moment a friend sent US-based Kenyan, Hilda Nyaboke Mauya, an application form for Miss Africa USA competition via Facebook, the Minnesota based beauty decided to give it a shot.
She however downplayed the thought of ever being considered for the competition, let alone making it in the contest. Hilda, who is also a registered nurse and works at Bethel Hospital, Minnesota, since 2006, was used to snide remarks about her dark complexion but that did not deter her from going after her dream. She chose to see it as her Alek Wek look.
Boot camp
All she was required to do was send a picture and her curriculum vitae. The requirements were: Be aged between 19 and 30, be single with no children, be in school and be based in America. Luckily for her, two weeks down the line she received a call informing her that she was among the chosen few.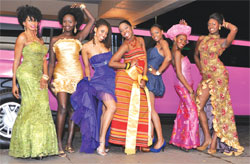 Hilda poses with fellow contestants. The Kenyan beauty has sailed through to the finals.
The pageant has made her more confident and presentable.

Says she: "I was overwhelmed by the news. For me this was a dream come true. The fact that I was the shortest of the 346 girls with a height of 5 feet 7 inches beside being dark skinned didn't disqualify me. I knew that brains counted a great deal."

Without wasting time Hilda flew down to Philadelphia, Atlanta for the auditions. There were four Kenyans, one of whom was eliminated at the preliminary stage. Eventually, the contestants were thinned to a list of 72 semifinalists.

Some of the countries involved in the competition include Nigeria, Namibia, Uganda, Liberia, Senegal, Sierra Leone, Malawi, Ghana, Zimbabwe, Ethiopia and Rwanda.

The next stage for them was the Miss Africa Boot Camp where they were trained for four days in platform presentation, mission for one's country and public speaking.

Other activities involved Valentine's Day training during which a confident Hilda emerged at the top by scooping a Diva Award for Valentine's Day balls.

"I knew I had a good chance of winning at the Red Carpet Diva Awards considering I was good with the judges and connected with the crowd," she says in retrospect.

Finals in July

With lady luck on her side, there was no stopping the young Kenyan beauty that was determined to prove beyond reasonable doubt that brains do count a great deal when she went through to be among the 34 contestants who are now vying for Miss Africa USA.

The event set to take place on July 24, at Claris Performing Art Centre in Maryland, is the epitome of African glamour, a parade of the nations, and a show of talent.

She enthuses: "It will be a do or die for us. Ambassadors from the each of the represented countries will be present to witness who walks away with $25,000 (Sh2,000,000) and bags a study scholarship.

But then what happens if she doesn't win?

She says: "Although I hope to win, I would not be a sore loser. I have a new project called Vision for African Foundation aimed at creating awareness on the importance of education and enlightening people on matters pertaining to FGM and HIV and Aids in Kenya. I will throw my weight behind that."

Hilda has started off by opening a community health centre in Kisii that aims at educating the layman on the aforementioned issues.

The beauty queen is partnering with organisations such as FIDA and Cradle to gain access to the community. The challenge is dealing with the elderly who shun her as having little knowledge when it comes to traditional cultural practices.

Comfortable in my skin

On some of the challenges facing her Hilda says that finance is a major one.

She says: "We have to buy our own gowns and so need sponsors. Also balancing my work as a nurse with my modelling hobby is a challenge, as is convincing people that I take both seriously."

Hilda also gets uncomfortable when old friends treat her differently, thanks to her newfound fame.

She adds: "I have had to learn to be comfortable in my skin. Being different from the other girls has made me a stronger, not weaker competitor. But it was really hard at first because I thought light-skinned girls have a higher chance of winning than we coffee berries."

Hilda grew up in Kisii, but witnessed her parents' divorce at a tender age.

She remembers: "Life was good until my parent's divorced while I was still in school. This left my mother with the sole responsibility of fending for all of us with her meager income. Seeing what she went through just to be able to mould us into who we are today inspired me a great deal."

Hilda says despite leading a difficult life she managed to finish school and later joined her elder brother who worked as an engineer in the US.

"Although I was meant to do law I decided to switch to nursing having been inspired by my mother who had a clinic in Kisii that solely catered for the underprivileged," she explains.

Hilda is a board member of Kenya Society of Academic Advancement that has already funded 15 high school students in Kenya.

The beauty's dream is to become a goodwill ambassador with a vision to empower young women within the country and beyond.

Beside showcasing the beauty of African women, she intends to put women in their rightful place within the society by helping them realise how important their roles are.

All is possible

She says in closing "I work 16 hours a day and spend four hours in school, and still find time for my beauty regimen and humanitarian projects. It's all about determination, hard work and perseverance."

And for Kenyan beauties who have not been discovered yet, who have second thoughts about trying for such pageants, she urges them not to give up but go for it.

Local fans can vote for Hilda online at www.missafricaunitedstates.com. She is gunning for People's African Princess title.
Tug of foreskin
If men who naturally do not have a womb can be allowed to speak the loudest on the abortion debate, then women too deserve a say when it comes to what happens to their men's members.