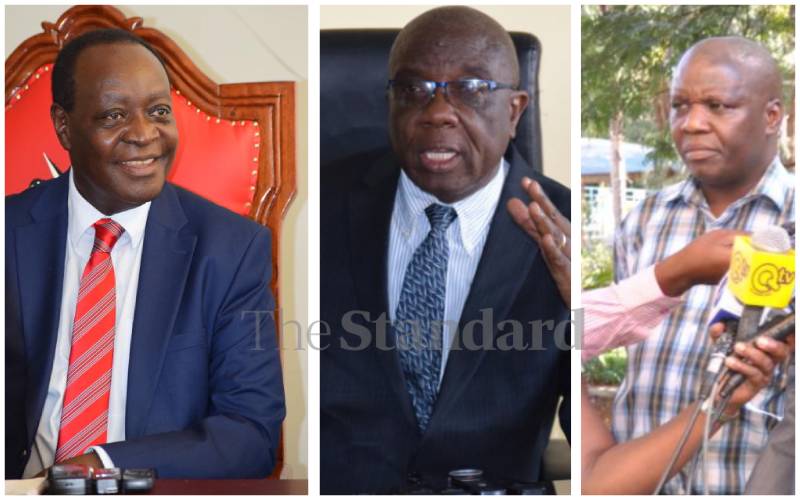 Corruption, bloated public wage bill, and poor health services dominated the Vihiga governor debate on Friday night.
Three candidates participated in the tense encounter at the Kaimosi University College auditorium. They were governor Wilber Ottichilo (ODM), his predecessor Moses Akaranga (PPOK) and Francis Ominde of the Federal Party of Kenya (FPK).
Conspicuously missing were senator George Khaniri of UDP and Sabatia MP Alfred Agoi of Amani National Congress (ANC). Among those who attended the debate, Mr Ottichilo and Mr Akaranga have tasted the county leadership.
The debate was organised by the National Council of Churches (NCCK) in collaboration with the Kenya National Chambers of Commerce Institute (KNCCI) and a local radio station.
All the five candidates were invited but only three honoured the invite.
Dr Ottichilo and Rev Akaranga were at pains to explain what they will do differently if elected again. Mr Ominde tasked them to lay bare their vision and explain why they were not able to steer Vihiga to greater heights in terms of economic development during their tenure between 2013 and 2022.
He poked holes in his competitors' manifesto and accused them of being part of the county's development challenges.
"My competitors are on record saying the county government has ghost workers but they want the people to trust and elect them again," Mr Ominde said, adding that governor Ottichilo failed to address the issue of ghost workers and continued to blame his predecessor for the problem that caused the wage bill to balloon.
"The current governor's administration ranks poorly compared to the first regime."
He will be taking his first stab at the governor's seat and says he will deal with runaway corruption and provide quality health care, early childhood education, water and food security.
Mr Akaranga, who lost to Mr Ottichilo in 2017, said he is focused on completing all development projects he initiated. According to him, the projects were abandoned by his successor. "I am here to rescue our people. I am here to finish the good job I started."
The former governor faulted the current administration for allegedly sleeping on the job. Mr Akaranga cited a lack of proper health services and high cases of unemployment as Dr Ottichilo's major undoing.
"The elevation of the Vihiga County Referral Hospital to level six status was not actualised as earlier anticipated and this has subjected our people to untold sufferings because they are forced to seek services in neighbouring counties," Mr Akaranga said.
Both Mr Akaranga and Dr Ottichilo steered clear of the thorny issue of ghost workers choosing to focus on other matters.
Governor Ottichilo defended his administration, accusing the Kenya Medical Services Authority (Kemsa) of contributing to the county's health problems.
"Counties should be given the go-ahead to purchase drugs from available private entities to address delayed disbursement."
The governor cited the setting up of a cancer centre, more health facilities, and an ICU at the Vihiga County Referral Hospital.