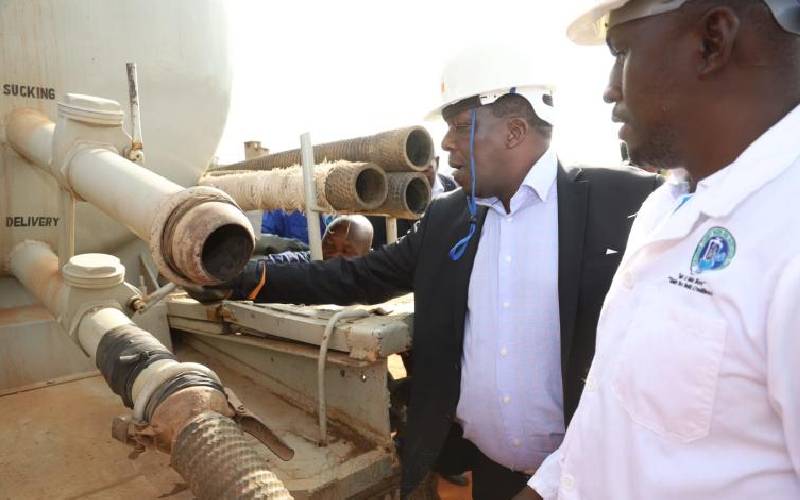 The county government of Kakamega is constructing a Sh17.2 million wastewater treatment plant in Mumias town.
The new plant will cut the amount of wastewater released to the environment, Governor Wycliffe Oparanya said on Friday when he launched the project.
The project funded by the county government and Water Sector Trust Fund (WSTF) is expected to serve at least 2,300 households in the municipality and its environs, Mr Oparanya said.
"The residents have been lamenting about the poor state of sewerage system in Mumias town, which has exposed them to diseases," said Mr Oparanya.
The new facility will guarantee effective management of wastewater. "I thank WSTF for their support that will ensure the facility is completed within stipulated timelines and help address the challenge of wastewater and waste disposal," said the governor.
He added: "Building a sewerage system can be expensive. It will require the county to source more funds. The facility is nevertheless worth every effort we are making."
Mr Oparanya said they would need three more facilities of that kind across the county to effectively deal with the problem of wastewater.
In collaboration with WSTF, the county government has also constructed 200 modern toilets in Mumias town under a programme called Upscaling Basic Sanitation for Urban Poor (UBSUP).
Mr Oparanya said the project would complement the county government's affordable housing project that will see 3,000 units built in Mumias and Kakamega towns.
County Housing Executive Mr Kenneth Indusa had earlier indicated that the development of the affordable houses must adhere to the Sewerage System Management Act, which Kakamega is yet to enact.
"For any town to be a city, it must have the sewerage system management Act in place. The housing project goes beyond Kakamega town, yet we do not have an act in place," said Indusa during the launch of the affordable housing project by the governor last month.
Mr Indusa said the Mumias municipality had been allocated Sh86 million while Kakamega will get Sh45 million in the 2022/2023 financial year budget for the management and maintenance of sewerage systems.
WSTF chief executive Willis Ombayi said that the organisation is committed to working with counties in enhancing the supply of clean water and improvement of sanitation.
"We are committed to ensuring we have a clean and healthy environment that has clean water and proper sanitation. Recently, we signed a partnership with Kakamega County Water and Sanitation Company to fund Malava water project at the cost of Sh20 million."