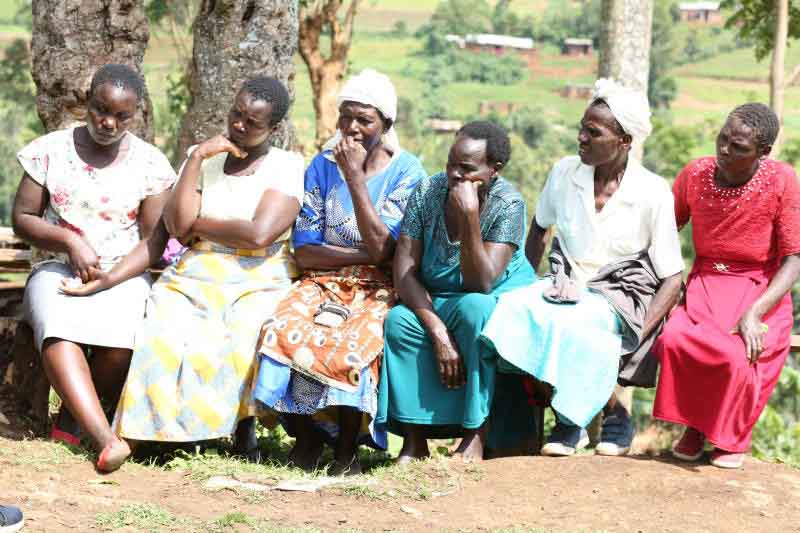 Memories of the April 16, 2008 events at Kabero village in Mount Elgon are still fresh in Eunice Chesori's mind.
From forceful arrests, torture, rape and murder, Sabaot Land Defence Forces (SLDF) rebels, under the leadership of Wycliffe Matwakwei Komol, committed an array of atrocities that left a trail of destruction in Mt Elgon.
By the time the Kenya Defence Forces (KDF) was deployed in the area, at least 600 people had been killed and hundreds displaced.
Chesori says on the day the operation to flush out the militiamen began was the last that she saw her husband, Jackson Chesori, alive.
She became a widow when she turned 30 and has struggled to raise their 10 children single-handedly since.
"The fighting was going on in Chepyuk Settlement Scheme, and when the military set their base at Kapkota area in Cheptais, we were happy that we would be protected against SLDF rebels. But their presence in the mountain rendered us widows at a tender age," said Chesori.
"All men from Kabero village were ordered to surrender at Chesikaki police station, but my husband and his brothers never came back after that day."
Chesori, 43, claimed that after two days, their husbands were taken to a military camp at Kapkota and a day later they got news that the men were dead. She suspects that her husband and the other victims could have been tortured and killed by the soldiers and their bodies disposed at Kamorong Meza (flat area) in the middle of Mt Elgon Forest.
Chesori claims the army used to wrap corpses in white polythene bags before throwing them deep inside the forest from a chopper.
"Many men from Kabero and Chebwee villages were killed. The two villages were attacked and our young girls, food stuffs from our galleries and animals taken away. After the operation, we were left on our own," Chesori told The Standard.
Lenah Cheboi, 59, was left to take care of 10 children by her husband Sospeter Cherop. Cherop was arrested on April 16, 2008. He died a day later. His body was also dumped in the forest.
"SLDF was killing people, but during the military operation, many innocent people died in the hands of the military officers. Any male creature in this area was not spared. That explains why it is rare to see a man in this area," said Cheboi. "We were not given the opportunity to bury our husbands; their bodies were thrown in the forest. It pains more when our children demand to know where their fathers are. When you tell them they were killed, the children demand to see their graves, which do not exist."
Like many other women at Kabero, Cheboi could not process the certificate of death for her husband, because there was no burial permit or body to bury in the first place.
"It is not possible to get any kind of help from the government or charitable organisation because we lack proof to show that we are indeed widows, the death certificate and graves could have been proof enough," says Cheboi.
She said whenever they applied for bursary for their children, they were not considered because they (children) could not prove that they were orphans. Efforts to reach local administration for help, she said, have been fruitless.
"Some people have taken advantage of our situation and posed as widows from Kabero, but they are not. They are from other areas. In fact, those women are not widows," claimed Cheboi.
Cheboi said at the time their husbands died, they were still young and energetic, but the Sabaot cultural norms prohibited them from getting married elsewhere or getting inherited. "You cannot bring someone's husband in your house. It is a dangerous move. He will either be killed or the widow will be killed for going against the cultural norms. The clan cannot allow that to happen," said Cheboi.
Esther Chebet was three months pregnant with her ninth son when her husband, Simon Miti, was arrested on March 13, 2008. He was later killed.
According to Chebet, now 44, their house is dilapidated.
"We have no place to run to for help. My children and myself live in constant fear. We don't know what could happen the next minute. I wish someone could help us put up a new house," said Chebet.
She appealed to the government to process and hand over their husbands' certificates of death to help them reach out to well-wishers for help since the documents are enough proof that they are widows.
"Our chiefs and their assistants have not helped us in getting the death certificates. They told us to go to court. Where is the money to file court cases and yet we cannot even fend for our families," lamented Chebet. "The United Nations Human Rights Commission wanted to come and investigate the killings, but to our surprise, the military came back on July 23, 2009, took away the bones of our dead husbands and went away with them. Evidence was destroyed."
A spot check by The Standard established that in Kabero village within Chesikaki Ward, there are no men. Households there are headed by widows. The only men you can find in this village are young boys that were spared by the military during the operation.
Overwhelmed by the pressures of life, the more than 400 widows came together and founded Kabero Widows Community Empowerment Club. They farm. The widows have divided themselves into 13 groups, each comprising 30 members. They meet every fortnight.
Each of the women contributes Sh150 at the meetings, and the money helps them to run small businesses. They mostly sell vegetables, onions and cereals in small quantities.
"The profits we get go into buying food and paying school fees for our children," said Mary Temko.
Her husband, James Kirui, died on March 13, 2008, after he was allegedly arrested by the military.
According to her, whenever one of them has a child in need of school fees, the women pool resources and ensure that the learners get at least a secondary education.
Temko said many of those that completed secondary education had not been able to proceed to university and middle level colleges, for lack of tuition and accommodation fees.
Rasoa Chematai, 67, echoed Temko's sentiments, saying educating the children left behind by their husbands was the only way to ensure that generation does not become extinct.
Chematai, who was left with eight children, appealed to the government to compensate affected families for the atrocities meted on them by the police and the military.
Former councillor
Nathan Wasama Masai, then a councillor representing Sasuri Ward, survived the military operation.
He confirmed to have been arrested at some point on suspicion of being an SLDF sympathiser by virtue of being the first cousin to Matakwei.
"I spent 16 months in a police remand in Kimilili without trial, until media came to my rescue by highlighting my plight. My arrest came earlier, before the military set foot in my ward, and that is why I am still alive today.
"The government should help us get back the remains of our people so that we can bury them and close the chapter," said Wasama.
Job Bwonya, a member of the Mwatikho Torture Survivors group, appealed to the government to help the widows by rebuilding their houses, sponsoring their children's education and compensating them for their husbands' deaths.
Bungoma County Commissioner Samuel Kimiti was reluctant to comment on the plight of the widows when The Standard visited his office.