Kuvasali residents plant trees to avert landslides that killed 18 in 2007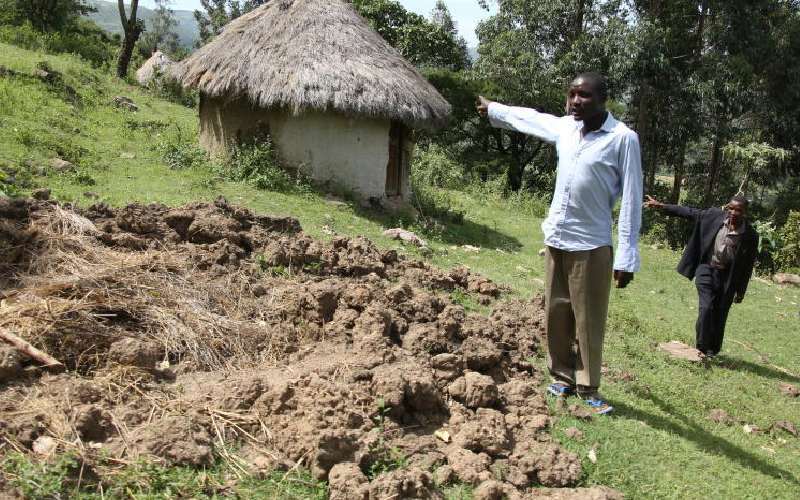 In August 2007, residents of Kuvasali village in Kakamega North were awakened by a loud noise followed by flows of debris.
Alfred Mutonyi,61, vividly remembers the horrifying events of the night mudslides claimed the lives of three members of his family.
And he is not alone. About 30 other families were affected.
At least 18 people lost their lives and scores were injured. Property of unknown value was also destroyed as homes were submerged in the mud.
"It was on August 11, 2007, around 4 am. I was sleeping when I heard a loud sound. My wife and I rushed out to check what was happening. We were shocked....my brother's house had been submerged in mud. We were confused and we felt so helpless," said Mutonyi.
He said called for help to rescue his brother, sister-in-law, and a niece.
At least eight people died on the night the landslide rocked the village.
The landslide hit again the following day, burying ten more villagers alive, including children.
"The mudslide struck again at around 1 pm, killing more people, as the rescue mission was going on. More than 300 people were seriously injured," he said.
Mutonyi was left to take care of his late brother's four children.
"The children had just begun school when the vagaries of weather robbed them of their parents. Since we have no safer place to go, we have been forced to stay here where we still face the risk. We always get the sad memories of the fateful night whenever it rains," he said.
Mutonyi appealed to the government to help residents get alternative land.
He spoke even as residents embarked on tree planting to avert similar disasters in the future.
"We lost everything as the mudslide covered maize, banana, sugarcane and vegetables on about 70 acres of land. We also lost livestock and poultry. Since there is still the risk of landslides here, it is important for the government to relocate us to safer grounds," Mutonyi said.
Naomi Mukulo, another resident, said she is still shocked by the events of that fateful night.
"My sisters and I managed to escape. However, we lost our father who died trying to help rescue victims after the landslide struck for a second time," Mukulo said.
She added: "Residents may have moved on. However, we need a lasting solution to this problem. We also urge the government to relocate us to avert a similar disaster."
Meshack Mutonyi, who was injured in the tragedy, said the memories of that day are still fresh in his mind.
"I was injured while rescuing my family members who had been buried in the mud. It is more than ten years since the incident took place but the events of that day keep flashing in my mind," he said.
He said they have nowhere to go despite the imminent threat posed by the hilly terrain in the area.
"If the government can allocate us an alternative land, we can donate this one so it can be used for tree planting," said Meshack.
Residents have embarked on a mission to plant thousands of trees around the hills.
"As a community, we decided to plant indigenous trees to avert landslides in the future. We hope the trees will hold the soil to avert similar disasters," said Meshack.
But the residents also said that the Meteorological Department had asked them to move out of the area it said is susceptible to floods.
"We have nowhere to go. We hope efforts to plant trees will fix the problem," said Meshack.
According to Meshack, the national government promised to allocate the affected families land but this is yet to happen. "They (government) should honour their promises."
But Kakamega North Deputy County Commissioner Daniel Katei told The Standard on Tuesday that the government has already resettled families that were affected.
"The affected families were compensated and other victims relocated to safer grounds," said Katei.
Mr Katei said they have asked residents occupying land on the Kuvasali-Nandi escarpment to conserve vegetation on the hills.
"We have been encouraging residents to plant indigenous trees to conserve the soils and avert disasters similar to one witnessed in 2007," he said.