Fear of dying culture as popular drum beats fade
Drums play a critical role in the Luhya culture. They also come in different shapes and sizes.
Some drums are played on particular occasions.
"Amabwi, for or instance, is one of the revered Luhya cultural drums that has a unique and deep symbolic meaning and could only be played during special occasions," says 72-year-old Absom Atakha.
Amabwi comprises three drums representing a typical African family of a father, mother and children.
The smaller drum is nicknamed mutiti (tiny), medium (itumba) and the largest is mukali (leader).
Amabwi was played in the dead of the night whenever a respectable old man died. "The elders would only assign men with skill to play the drums," says Atakha.
The drumbeats could be heard from miles away. "The idea behind it was to alert kinsmen that all was not well back home."
Sometimes, amabwi would be played at night to usher in the planting or harvesting seasons. "The type of sound produced varied so that people would not misconstrue the message relayed," he said.
"Our forefathers would also play amabwi during shilemba, a unique ritual performed in remembering departed kinsmen."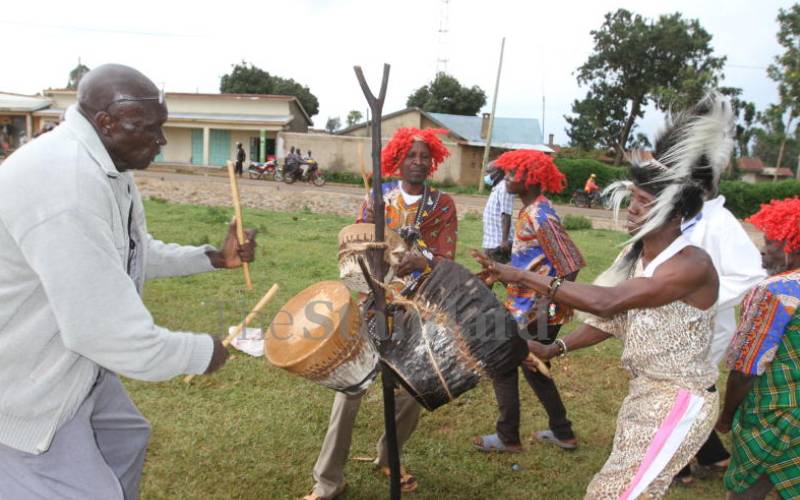 According to Atakha, men would engage in friendly wrestling matches whenever the drums were beaten as a way of settling scores maturely.
Alcohol was not allowed at such events for fear that people could misbehave.
But Atakha is worried that amabwi could soon be forgotten because the drums are hardly played.
"It is a cultural practice on the brink of extinction. People appear to have forgotten about it, partly due to the Western culture influence that has permeated our society," he says.
Retired chief Andrew Nyikuri, 65, has been preserving amabwi at his home for the sake of the young generation.
He identifies respectable men to play the drums during cultural events and festive season.
"The drums cannot be taken out until a cock is given to the custodian. A pole on which the drums were mounted at a given venue also has to be uprooted. Usually, the cock is eaten in the home of the person keeping the drums," says Nyikuri.
According to elders, not everyone is allowed to keep the drums due to their cultural significance.
"Those who play amabwi could have inherited the talent from their forefathers because it is something that flows in the family lineage," said Nyikuri.
A passionate drummer, Nyikuri recently demonstrated his skills during an exhibition at the Bukura market in Lurambi Sub-county.
The drumbeats attracted several elders. "I was at home when I heard a familiar sound of amabwi, and I came to find out why it was being played," says Atakha.
"You see, this thing is in my blood. I cannot run away from it because it is the culture we grew up practising."
But Atakha is quick to note that the number of people capable of playing amabwi has reduced drastically as most of those who possessed the skill have died.
"We remain with the responsibility of training and encouraging young people in society to embrace this culture so that the tradition can live on for many more years."
Morris Omukanda says he usually engages his peers in wrestling at events when amabwi is played. "I can't resist dancing to the tune and wrestling people of my age," says the 56-year-old.
Unlike isukuti, which is made from a monitor lizard skin, amabwi is made from a mature bull's skin.
"Usually, we drill a hollow section in the trunk of a special tree called omurembe (Erythrina Abyssinia) before covering the top with the bull's skin," says Nyikuri.
Nyikuri has taken it upon himself to showcase amabwi during December festive season.
However, the elders want the county government set aside funds to preserve and promote cultural activities.
"We would like our children to experience our culture and traditions that are critical in raising an upright society," said Atakha.
Kakamega Governor Wycliffe Oparanya says his administration is keen on promoting culture and turning it into a tourism attraction.