Man's handiwork that has driven tempo of Sunday church services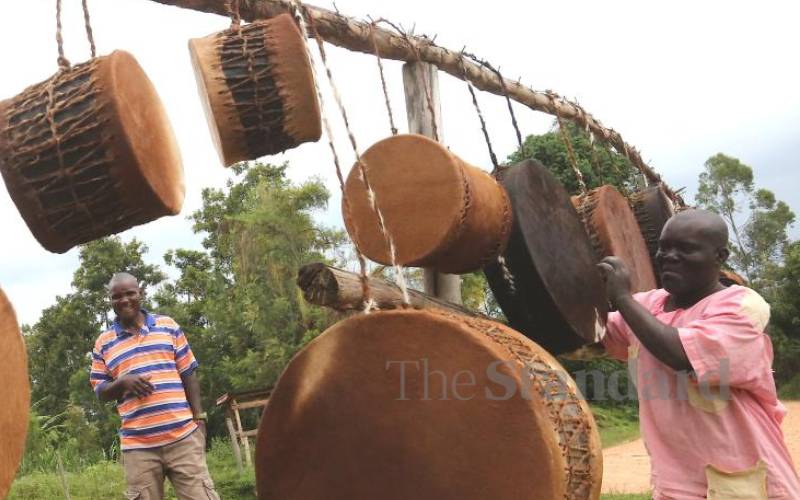 American musician cum producer Fred Armisen once said: "Everyone knows deep in their hearts that the drums are the coolest instrument and that a band is only as good as its drummer. I am all for drummers hamming it up."
At Mukhuyu market on the Shibuli-Bukura road, Josephat Musundi Anyembe does not only share Armisen's view but also makes a living out of musical drums.
We find him sitting behind a Seagull sewing machine on a shop veranda from where he has a panoramic view of the area. With a faint smile playing on his lips, he watches as we approach him.
In front of him, next to the main road, there is a wooden stand shaped like a goal post on which drums of various sizes repose.
"I started making drums in 2000. Since then, my life has revolved around these drums," he says.
Anyembe sat his Form Four exams at Shivagala Secondary School in 1992, and scored grade C plain. A few days after the tests, his mother died. With that, his chances of furthering his education also died.
"My dad was polygamous and paid little attention to our education. It was my mother who saw me and my siblings through school. We had no option but to fend for ourselves," he said.
That bleak prospect compelled him to go job-hunting, and he left home for Mombasa in 1993.
"After fruitless years of searching for a job, I realised getting formal employment was difficult. I had almost given up when, one day, I came upon someone who had soaked a cow's skin in a river in Malindi. That caught my attention, and I became interested in what he was doing. I noticed he was preparing to make a drum. I watched him work and challenged myself to do the same for a living," Anyembe reminisces.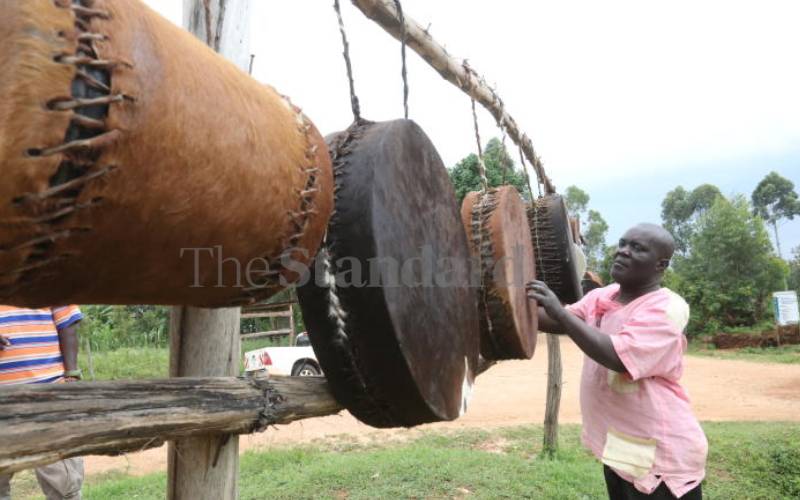 He grew up dancing to drum beats in church, but never imagined he could be making drums.
In 2000, he successfully made his first drum and sold it to a Malindi-based Baptist Church for Sh250.
"That was my turning point, and I have never looked back. It is now over 20 years in this trade. I must admit it has been of great help to me. I bought a sewing machine and set up this shop from the proceeds of drums. I did this business in Mombasa for 17 years before relocating here in 2018," says Anyembe.
He says through the business, he has paid school fees for his children. "My firstborn is studying electronics at Bukura College."
According to Anyembe, there is ready market for drums, and since he does not have any serious competition, business is good.
"The greatest advantage I have is this strategic location. I ply my trade along a busy road that connects many regions. As you can see, the drums are prominently displayed. People stop here to buy them. Most of my customers are churches. Prices of drums are negotiable, but the smallest goes for Sh350 while the biggest goes for Sh2,000," he says.
Pastor Johnson Khainga of PEFA church is full of praise for Anyembe. "He makes good quality drums. Many churches around here buy theirs from him."
While some churches are reserved in the use of drums, Pentecostal church drummers have mastered the art of the fast-paced, rhythmic drum beats.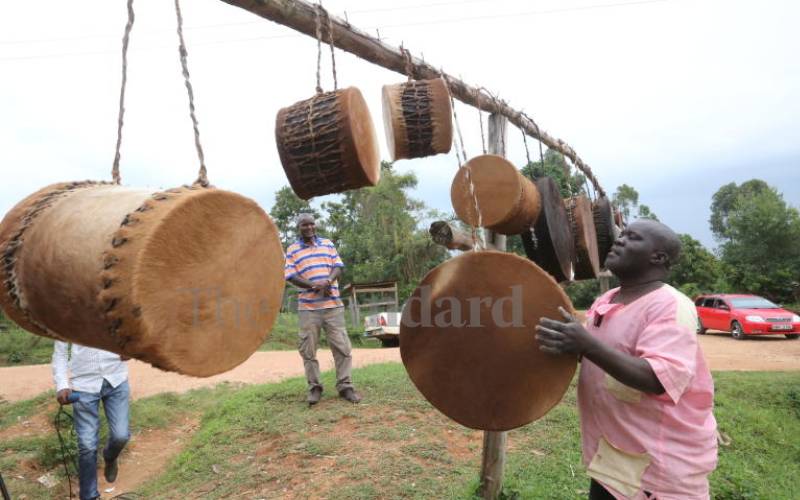 Congregants often get engrossed in the harmonious and rhythmic beating of multiple drums amid choruses that are soul-soothing.
For the Divine churchgoers, the steady trot and gyrating in conformity with the drum beatings is entertaining and therapeutic, but it requires a level of physical fitness to indulge. Making a drum requires hide and metal drums. Anyembe has the option of buying skin from slaughterhouses or individuals who slaughter cows privately.
"From a slaughterhouse, a kilo of skin goes for Sh50. In the village, I can get a whole skin at Sh200. After purchasing the skin, I dry it for two days before soaking it in water for 12 hours to get the desired elasticity and dryness. Thereafter, I fit it over a piece of a metal drum, cut according to the required size and let it dry to gain tautness that produces quality sound."
Abigael Aswani, a neighbour, says of Anyembe's work. "His drums are in high demand because of their quality. People travel from Eldoret, Kisumu, Kitale, Kakamega, Busia and Mumias to buy the drums. They would not come all the way if they did not get value for their money."
Gilbert Lime says Anyembe is a gifted drum maker. "He is a simple man who derives satisfaction from making drums. He sustains his family and has been able to open other businesses from these drums. He also repairs drums."
Anyembe does not to however make Isukuti, the traditional Luhya drum used in games and ceremonies. "I can easily make them, but they are demanding. It is difficult to get the special softwood that is normally hollowed out to make the Isukuti. However, I do repair them whenever they are brought to me."