Joy as office gives birth certificates in 24 hours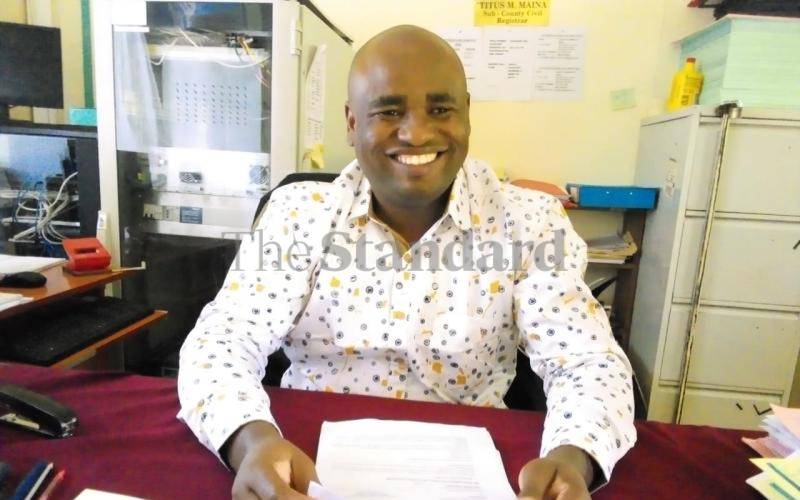 Two years ago, Brenda Wawire spent six months trying to get a birth certificate for her daughter who was to sit the Kenya Certificate of Primary Education (KCPE) examination.
She made endless visits to the county registration offices but in vain, and by the time she secured it, it was just three days to the registration deadline.
"There were long queues of parents, but it was next to an impossibility to be issued with the document. I paid Sh2,000, and in 10 minutes, I had the birth certificate of my daughter," said Wawire. "Cartels were all over defrauding unsuspecting parents."
For Anne Wanjala, she gave out the Sh150 certificate of birth application fee and an extra Sh1,000, and after two days, she had the document.
"I was lucky I knew one of the officers working at the civil registration. He connected me to someone who helped in speeding up the process. Without a broker, you would wait for months before you can get one," said Wanjala.
According to Wanjala, it is not just in Kakamega where brokers would work with civil registration to frustrate applicants.
"My sister in Kisii took eight months. His son was locked out of the registration," she said.
However, since the arrival of Titus Maina, the current county civil registration officer, in January last year, parents can now smile after he kicked out brokers.
Maina said he found a backlog of applications going back to 2017. "There was a backlog of 135,153 certificates that had not been issued out between 2017 to 2019 for Navakholo, Lurambi, Shinyalu and Ikolomani sub-counties. I initiated a Rapid Response Initiative with the help of county commissioner Pauline Dola. We finished the exercise in May this year," said Maina.
Maina said after the exercise, his office had 10,000 uncollected certificates, which were handed over to chiefs to distribute.
Maina said he visited Lugari, Mumias and Butere sub-county offices and found they had the same challenges. "We have adopted a 24-hour policy in which when you apply for a birth certificate, you will pick it the following day," said Maina.