Mighty Mwibale wa Mwanja rock where visitors swim, meditate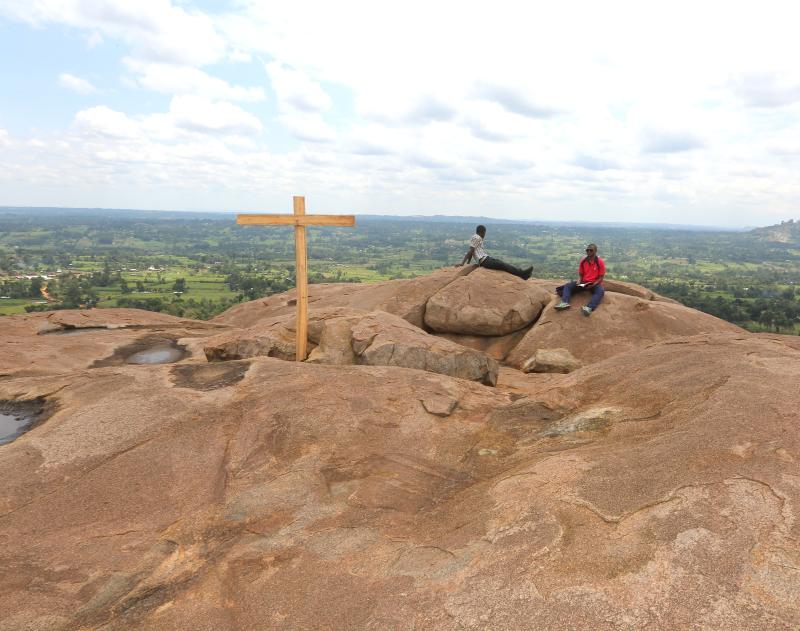 The long and expansive Mwibale wa Mwanja rock at Situti village in Bungoma County is an important landmark for residents and visitors alike.
The rock has been a part of the history of the county for many years, and plays a significant role to locals in many ways.
It is on top of this mighty rock that many people prefer to go to when they need a moment of peace.
Another attraction is the natural pool atop the rock, where residents and visitors enjoy swimming escapades. After a refreshing swim, they lie down on the rock and bask under the sun, while enjoying a beautiful view of the horizon.
The mighty Mwibale wa Mwanja rock sits right in the middle of homes, churches, commercial centres, and schools, with some named after it.
With a host of green vegetation surrounding the rock, it creates a perfect habitat for wild animals such as monkeys, bats, and many species of snakes that live within crevices in the rock.
In 1968, elders, with the help of some European travellers, managed to build a concrete wall on the rock to guide the flow of rain water and prevent flooding whenever it rained. The wall is intact to date.
The rock is a source of three major rivers in the area - Fuchani, Mulondo, and Namasera. There are also many springs which originate from there.
When The Standard visited the site, we found a vibrant team that had already got there before us; a young Catholic priest enjoying a quiet moment, a group of teenage boys basking in the sun after a swim, a group of happy lactating mothers, and a troop of students from Sang'alo Institute of Science and Technology on a field trip.
Spiritual significance
The rock has spiritual significance to residents. For instance, Dini ya Msambwa spiritual leader Elijah Masinde, who is said to have had supernatural powers, is said to have frequented it.
A tale is told of Masinde, who ordered the rock to create an opening during one of his visits. He went through and it closed immediately he got to the other side.
"Elijah Masinde was a living mystery. He interacted with people freely. Sometimes he would perform miracles that mesmerised many people. He, however, never revealed who he really was," says Levi Wekesa, 83, whose family owns the land occupied by the rock.
Wekesa says Mwibale wa Mwanja was once known as 'Namakanda Rock', but he does not know when the name changed and why. The rock covers a vast area of land, surrounded by fields of grass, which locals use to thatch their houses.
"When I was young, my parents would send me to harvest the grass. People still go there to cut the grass even today," Wekesa says.
Adding that: "The rock also served as a hideout for the Bukusu whenever they were under attack. Members of the community faced constant attacks, especially from Maasai herders who raided their homes to steal cattle. We used to hide in the caves in the rock and lay in wait before striking the enemy with spears."
He recalls swimming in the pool on top of the rock with his friends, with whom he also hunted with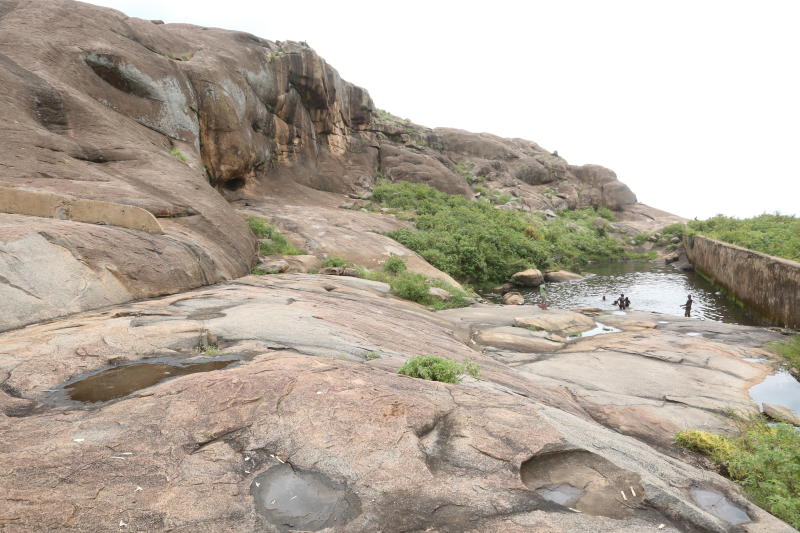 "Those days, hyenas, lions, snakes, monkeys, and wild goats lived here. Today, we only have monkeys and snakes. The other animals left as human activity increased in this place," says Wekesa.
Gaping caves
Villagers continue to harvest thatching grass at the base of the rock to date. Some of the vegetation that grows there includes medicinal plants. There are also gaping caves in the rock where residents collect bat droppings.
"We use the bat dropping to plant crops, it is better than fertiliser," says Patman Kanyanya, whose farm borders the rock.
"We stopped growing grains because of the monkeys, they are very destructive. They would destroy everything, especially maize," he says.
He says locals normally ask visitors to pay Sh50 for children, and Sh100 for adults to tour the rock.
However, this is only for those who are able and are willing to pay.
But despite the popularity of the massive rock, Kanyanya says it is yet to be recognised as a tourist attraction.
"The only time we came close to turning it into a revenue stream was when Senate Speaker Ken Lusaka was governor," he says, adding that those plans fizzled out after Lusaka failed to defend his governorship bid in 2017.
Residents say the rock is a treasure that if fully exploited, would improve the economy of the region thereby improving their quality of life.
"We urge the county and national governments to work together and make something out of this magnificent rock. It is a resource that has been left to waste away," says Khisa.