Family with a big heart offers flood victims place to call home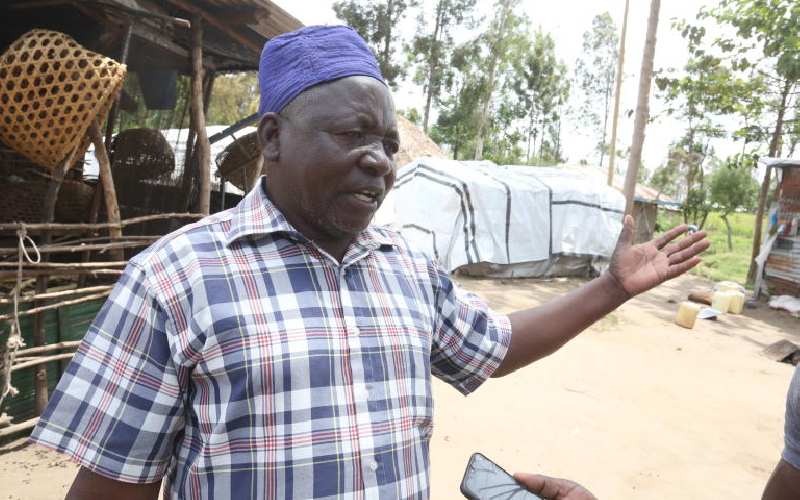 Alfred Oduaro has a golden heart. He is soft-spoken and compassionate.
Despite not being rich, the man, who hails from Bunyala village in Bundang'i, Busia County, believes in the saying 'the hand that gives, receives'.
Every year, he hosts flood victims, giving them food and a place to call home.
Currently, over 45 families are living on his one-and-a-half-acre land. They have been living on the land for the past two years after their houses were swept away by raging floods.
In 2019, many homes were submerged following heavy rains and the backflow of water from rivers Yala and Nzoia and Lake Victoria. Hundreds were left homeless.
Oduaro decided to accommodate 165 people on his farm.
"My father also used to accommodate victims of floods on this land about 60 years ago. They are in need and I have no reason to deny them a place to stay," he told The Standard.
Oduaro, 65, says growing up, their home was a safe refuge and his parents were accommodating.
"We do not know what the future holds. Something similar might happen to my kin and they might need someone to help them," he said, adding, " My land is safe since it is on higher ground. I have never been a victim of floods," he said.
The father of eight said it has not been easy to guarantee the families food, shelter and clothing.
"Floods left these people homeless and helpless, it is quite difficult to make them comfortable. We do not have enough food and shelter and there is minimal support from the county government," he said.
Oduaro says there is fear of waterborne diseases outbreak "because there is no space to sink pit latrines and hygiene is a big issue."
He said Kenya Red Cross used to support them with relief food and other building material, but this has since stopped.
Millicent Odeli, 65, said she has been in the camp for the last two years.
The mother of 10, says her house was submerged and she lost everything.
"If it were not for Oduaro's generosity, I do not know where I would be right now, together with my family."
Ms Odeli said she was grateful to God that her family has a place to live. "Our only worries are where to get food and disease risk," she said.
Odeli and the other displaced families work on beaches near Lake Victoria to earn a living.
"I lost everything. I cannot cultivate my two-acre land because it is submerged. Whatever crop that existed there was swept away. We call upon the county government to give us alternative land to settle on. We are tired of living in tents," she said.
Evans Ouma, 81, says he is lucky to have been welcomed by Oduaro.
"The last time such serious floods occurred was 60 years ago and I was lucky because I was not affected then. Unfortunately, this time my house, crops and livestock were swept away by raging floods," said Ouma.
Red Cross estimates that some 7,000 households were affected by the floods.