Man returns home after 47 years, annoyed to find his two wives remarried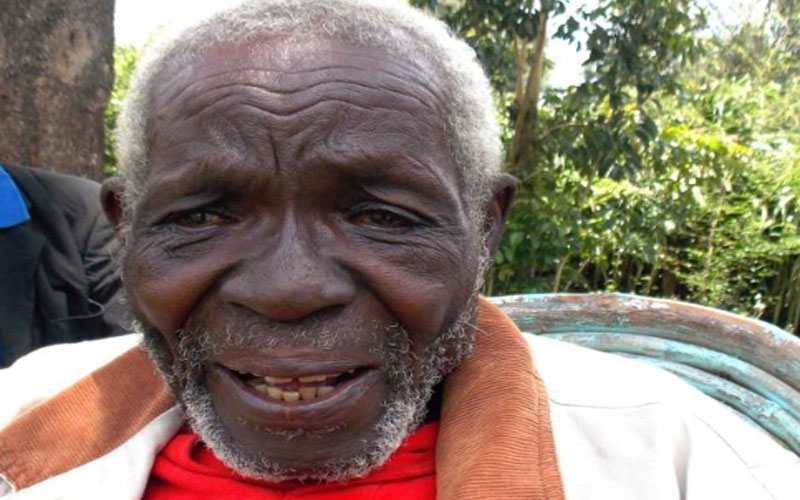 An 84-year-old man is disappointed after discovering that his two wives, whom he left behind 47 years ago, have remarried.
Peter Oyuka left his Makale Village home in Malava, Kakamega County in 1974, and has now returned, with only few residents able to recognise him.
In the 1970s, he said, he was leaving the village for the urban centre in search of a well-paying job to look after his two wives and five children.
He made brief returns to Kakamega in 1983, 1992 and 1996, but did not visit home.
His wives, companionless and lonely, decided to remarry shortly after Oyuka deserted them in 1974.
On Tuesday, September 21, 2021 – forty-seven years later – Oyuka returned home, to a handful of relatives who recognised him.
"I wish my wives were here today to welcome me home," he said, shifting his expression from delight to regret, almost instantly.
One of Oyuka's daughter-in-law had, actually, mistaken him for a trespasser.
Rituals were performed to welcome home the prodigal son. A white goat was sacrificed to appease the ancestors.
Aged 37 in 1974, Oyuka left Kakamega for an undisclosed urban centre to look for a well-paying job. He did not tell his wives where he was going to, or when he would return.
His return home would be triggered by a Facebook post by a Good Samaritan in Oloitoktok, Kajiado County, who was asking for leads to Oyuka's relatives.
"I have been in Nairobi, Oloitoktok and Tanzania a better part of the 47 years," Oyuka told The Standard.
The octogenarian said he'd been engaging in construction work for a living.
"I worked for an Indian businessman in Nairobi, before being transferred to Tanzania, where I spent 13 years," the occasionally nonplussed Oyuka said.
While in the neighbouring country, Oyuka fell in love with a female Tanzanian national, with whom he got a child.
"After I returned to Kenya years ago, my Tanzanian lover stopped communicating with me, and is yet to allow me to meet our son," he said.
Oyuka is "heartbroken" after learning that his wives in Kenya remarried after his disappearance.
Oyuka said he found a new home in Oloitoktok, Kajiado County after his return to Kenya.
"I do onion farming in Oloitoktok. While in Tanzania, I learnt that there was a high demand for onions, yet supply was limited."
The father of five said he sold the onions in bulk to both Kenyan and Tanzanian traders.
Oyuka says he has been sickly, of late, leading to depletion of his money.
"I was desperate to return home. So, I got in touch with a member of Luhya People in Oloitoktok Facebook page, who promised to send a public alert about my whereabouts. It was through the alert, that one of my sons, Aggrey Osanji, found me," he said, adding: "How he did that, I don't know."
Osanji, who is now 53 years old, says his father abandoned him and his mother when he was six years old.
"My mother fled her matrimonial home, leaving me under the care of my paternal grandmother," said Osanji, adding that he briefly met his dad when he returned to Kakamega in 1983.
After chancing upon the Facebook alert about his father's whereabouts, Osanji sent his number to the author of the post, and was able to trace his father to Oloitoktok.
The 53-year-old travelled to Loitoktok on Sunday, September 19 to bring his father home.
"I thank my family for accepting me back. I wish my two wives well in their marriages. However, I'd like them to know that I'm still alive and that they should create time and visit me."