Police in a spot as sick baby dies in cell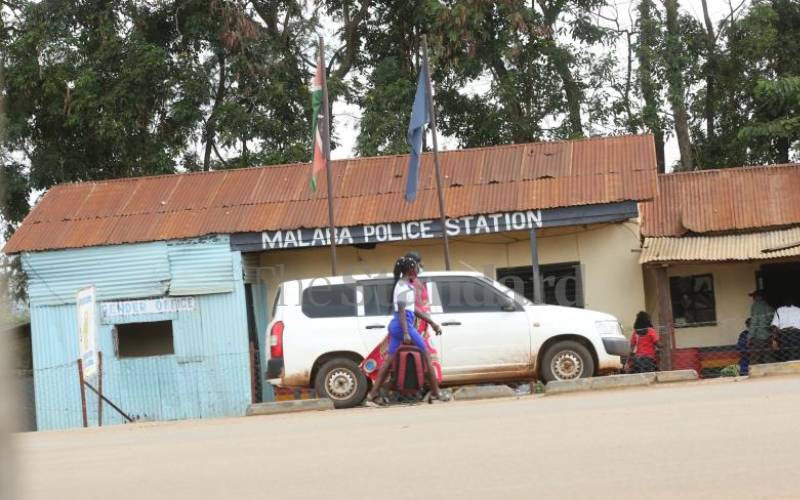 A family in Aleles village, Kakapel location of Busia County is mourning their one-year-old child who died at Malaba police station.
Evelyn Emoyot, the mother said she was arrested on Wednesday at around 3pm by her area chief, assistant chief and vigilantes for being in possession of chang'aa.
"On Wednesday, my son fell sick and was attended to by community health workers. He was given anti-malarial drugs and painkillers," Emoyot said.
She said while waiting for the child's fever to reduce so that she could take him to hospital for further treatment, the chief came and arrested her for being in possession of the brew.
"The chief refused to release me even after my son started vomiting while I was being taken to the police station. The chief then called for a vehicle that took me to GSU Camp Amagoro. At around 7pm, a police vehicle came to take me to Malaba police station," she said.
The distraught mother said no amount of pleading could convince the officers on duty at Malaba police station to consider her plight.
"By morning, my child's condition had worsened. He vomited again and convulsed. It was only then that a female police officer took note and notified her seniors," she said. Emoyot believes her child died the moment he convulsed and went limp while at the police station.
Malaba police station OCS George Ooka acknowledged that Emoyot was detained at the police station overnight for being in possession of the illicit brew.
He could not, however, state the condition of the child at the time that he and his mother were brought to the station.
Asked why Emolot was released unconditionally after the death of her child, the deputy OCS said: "The case is still on. In fact, we had written to the court to release her under section 87A of the Penal Code."
However, the OCS said the child died while undergoing treatment at Kocholya hospital. Staff at the hospital, where the child's body is currently being held, did not comment on the matter.