Khwisero gold diggers brave hazardous river to get rich quick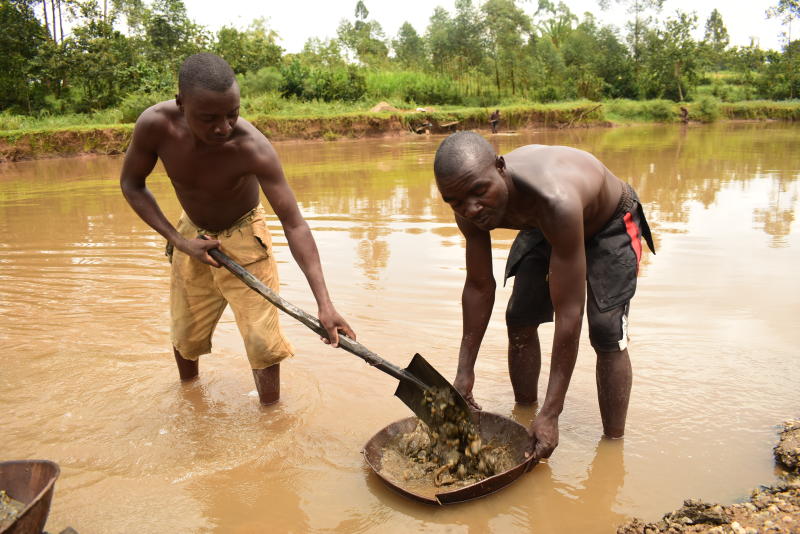 Tens of ponds, some surrounded by fresh mud, dot the banks of River Yala at Emakuche in Khwisero sub-County, Kakamega County.
You would be forgiven for thinking they are fish ponds.
The pits, usually hidden from view due to overgrown vegetation, are illuminated by sunlight.
Villagers have been digging the shallow pits in a desperate search for gold deposits for over five decades.
Unlike in Ikolomani, Rosterman, Shinyalu and Vihiga, where artisanal miners dig deeper shafts in search of gold, here the pits are the size of a standard fish pond.
Julius Musta, 54, says he risks getting attacked by hippopotamus and snakes while looking for gold in River Yala.
"It is something we found our fathers doing, and we picked up from where they left. I have been frequenting the river and supervising those digging the pits for over 30 years," he says.
Initially, Musta and his peers would not be allowed to wade through the river because they lacked the experience.
They were only allowed after they had learned the ropes from their seniors.
"We have hundreds of young men mining gold from River Yala, their only tools of the trade are improvised spades with unusually long handles, ladders that are usually lowered in the water and basins used to transport sand scooped out to the river banks," says Musta, the chair of Emakuche Artisanal Miners Group.
He says at one point, the government had to ban gold mining activities in the river because many children below the age of 15 had dropped out of school in search of quick money and riches.
"Chiefs and assistant chiefs continue with impromptu visits along the river to ensure there are no minors involved in gold mining.
"You will only see them around when they come to take a bath in the river, which is normal," says Musta.
Kisa East chief Walter Mukungu said it took a multi-agency team to discourage children from abandoning school to venture into gold mining.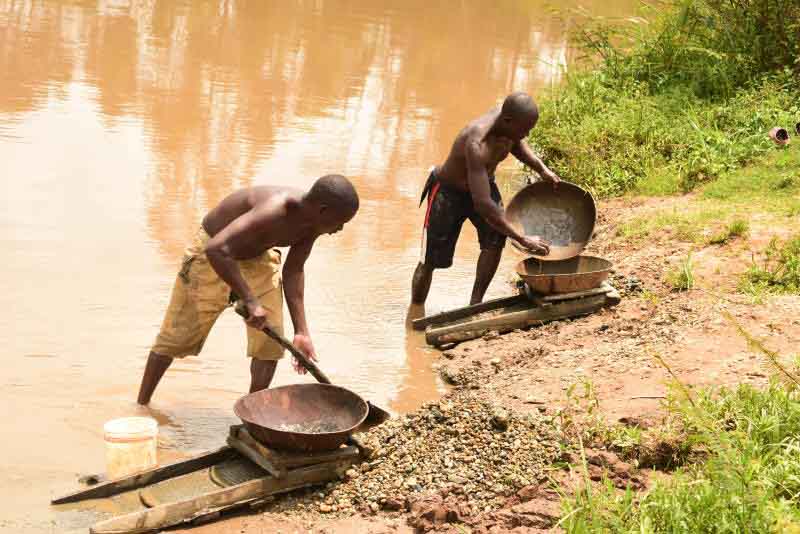 "We first talked to the minors at the river and used those who agreed to go back to school to talk to their friends who were still reluctant to quit mining," says Mukungu.
Sometimes chiefs would arrest parents whose children were involved in gold mining.
"We also enlightened our people about the importance of ensuring children go to school and embarked on patrols."
Musta unwraps a piece of paper and displays some glittering stuff and says that it would take them a whole day to achieve a half gram of gold dust.
"You have to put in a lot of effort to get anything. At times, we are lucky to strike between two and five grams of gold dust on a good day," he says.
Usually, brokers offer the miners between Sh4,000 and Sh5,000 for one gram of gold, depending on the market forces.
"Sometimes, the brokers tell us the international prices have fallen and offer too little," says Musta.
The villagers find it time-wasting and uneconomical travelling to Kisumu to look for buyers who could offer them more for the same quantity.
Isaac Omkoko and James Namayi joined the trade about three years ago.
Toiling for hours
"At first, I thought it was not possible to get gold in the river, but after some time, I got used to the job. It enables me to feed my family," says Omkoko.
They scoop the sand from the river and then sieve it on a piece of cloth that retains the minute gold dust.
From a distance are brokers waiting for the miners to collect enough dust after toiling for hours.
"I would rather do this job than steal someone's property. The river has become my office," says Namayi.
According to the miners, the white men who used to search for gold in the river decades ago left behind beacons in some areas, which led them to huge deposits of gold.
"Some of the villagers on whose land the beacons were discovered struck huge amounts of gold and have become rich," says Musta.
But the mining business has not been without challenges.
Musta says some villagers never allow them to dig ponds on their farms through which River Yala meanders.
The miners are also compelled by chiefs and National Environment Management Authority (Nema) officials to refill the ponds dug and plant indigenous trees to avert environmental degradation.
"We work in small, organised groups that are registered, and this has made our work easier," says Musta.
Abraham Kutswa, a resident, says the artisanal gold miners have made the village lively.
"I am a horticulture farmer and usually sell some of my produce to them. The activity has led to reduced crime in the village," says Kutswa.