The dare-devil tactics of Kakamega small-scale miners in search of gold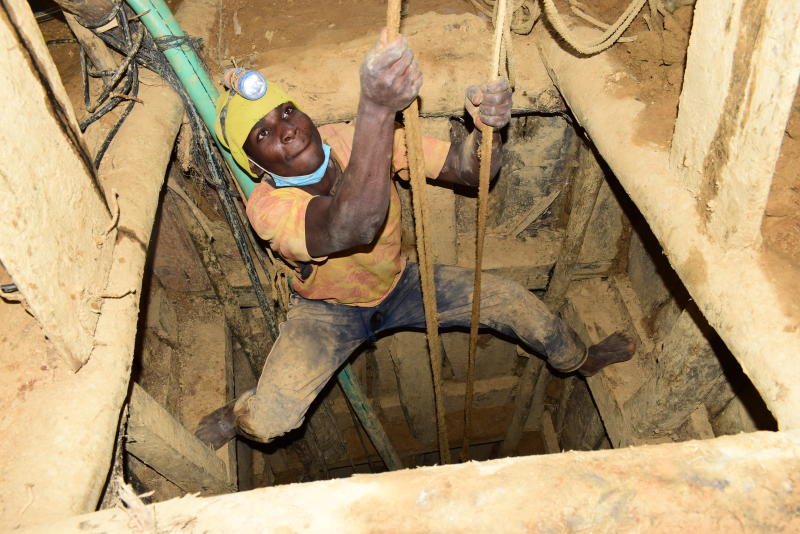 It is 10am and as he swings back and forth on a rope into a 150-foot mine shaft, a spotlight perched on his forehead, Aggrey Mulayi is not sure he will come out alive. But he remains hopeful.
Mulayi remembers how many of his fellow artisanal gold miners went into such pits and did not make it out alive. But he has to do it. After all, gold mining is the only source of income he knows. This is what he has done all his life.
Mulayi has gone into such mining pits many times before and made it out and this is what gives him confidence that all will be well as he sets out for the assignment.
Statistics from the Ministry of Petroleum and Mining show that at least two gold miners die in mines in Vihiga and Kakamega counties every month.
The 27-year-old could not go beyond primary education due to lack of school fees.
"There are many of my colleagues who were disadvantaged and could not get education just like me and are now forced by circumstances to do this risky job. One has focus while tearing rocks apart for gold," says Mulayi.
He has survived minor accidents in the shafts twice. There is a day, while inside a shaft, Mulayi says he heard a mine collapse. He doesn't want to talk much about the incident because of the fright it gave him.
"Every job has its own occupational hazards, even the most lucrative ones. Even pilots and university professors, you name them, face certain risks associated with their jobs," Mulayi consoles himself.
He adds: "If I don't mine gold, what else will I do with my modest education? I don't want to steal; I cannot steal to survive and support my family. It's better to be a gold miner than do nothing or get killed or jailed for stealing."
"I make as much as Sh200,000 from the pits in a month whenever luck is on my side and there are times I get nothing. I have been able to buy a motorbike out of this dirty job," Mulayi says as a smile beams his dark and dusty face. "I must work hard in the mines to support my wife and three children."
Owning a motorcycle, which he uses for boda boda business, is no mean feat in Rosterman village, Lurambi Sub-county, where the 2020 Kenya National Bureau of Statistics data said at least 36 out of every 100 people are "absolutely poor".
Gold mining in the region is a largely informal sector with about 8,000 artisanal miners.
Western Region Mining Officer Samuel Too said most of the miners are youth. Some of them work as casual labourers in the mines.
Just a handful – those employed by registered miners - have access to credit services.
Some of the miners have organised themselves into groups, just like the one headed by 40-year-old Justus Khakabo in Lurambi. It has 27 members.
Those who spoke to The Standard and are working in Kakamega come from as far as Siaya, Bungoma and Migori counties. Most of them are aged between 18 and 40. They said joblessness drove them into gold mining.
At least 5,341,182, or 38.9 per cent of the 13,777,600 youth in Kakamega are unemployed, according to the 2019 census.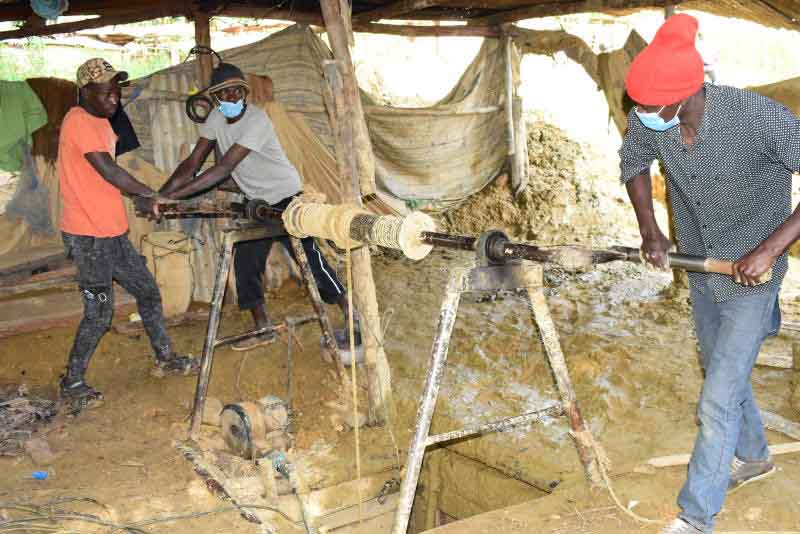 "We hire an already sunk pit or land where we sink a pit to mine gold. We pay rent of between Sh80,000 and Sh200,000 per month to the pit or land owner. At times, instead of paying rent, we agree to share the soil containing gold with the land or pit owner in the ratio of 1:3, where the land or pit owner gets one bag while the miner keeps three," says Khakabo, who has been mining gold since he was a teenager.
The miners process the soil using mercury. Most of them said they would get at least two grammes of gold from one bag. They sell a gramme for between Sh4,700 and Sh5,000 to middlemen.
"We have about 172 mining groups in Kakamega, some are registered while others are not. Most of them lack modern mining tools. Our immediate need for cash forces us to sell the gold to middlemen, most of who offer poor prices. I wish we didn't have to deal with middlemen, then the actual buyers would be paying us better," says Timothy Muteshi, the Kakamega Artisanal Gold Miners chairman.
But what most troubles Muteshi, who has been mining for 30 years in different sites in Kakamega, is that informal miners may soon be rendered jobless due to restrictions that have come with laws on licensing of miners.
Disadvantage miners
"Whenever we identify a mine we are told we are encroaching on a registered miner's territory. We have even been informed some of the areas where we have worked for many years belong to some registered miners," he says.
Too said his office was working to address the issue so it doesn't disadvantage artisanal miners in the Lirhanda mining corridor that is under him.
The corridor that cuts through Vihiga, Kakamega and parts of Siaya has four registered miners with Shanta Gold Mining Company being the most active, according to Too.
"It is true the law recommends a licensed dealer works in a specified area but we are in the process of negotiating with Shanta Gold, the major dealer in this area, to cede some ground to the thousands of artisanal miners," says Too, adding; "That's on humanitarian grounds."
He adds: "The mining sector has witnessed growth under the 2010 Constitution and the results would be tremendous with the full implementation of the Mining Act 2016 geared towards overhauling the sector."
"The Act recommends that informal miners operate in registered mining committees set up in every county. That way, it will be easy for them to get financial partners who can loan them money to buy modern mining machines and get subsidised health cover through their contributions. This would also give them a platform to lobby for their rights, sell gold and even get education on the best practices in mining," says Too.
The biggest challenge, however, according to Too, is that the government is yet to release funds to enable running of these committees.
"In Tanzania, the informal mining sector is superbly organised because they have implemented their revolutionary mining laws, which are largely like ours. It is just that they started early but I am sure we are headed the same direction, especially when we start funding of these committees," he says. Too says most deaths occur during rainy seasons. That is when loose soil easily caves in, burying gold miners alive.
"In May alone, we lost five miners in Kakamega and one in Vihiga this month. The toll could be higher because the unlicensed miners often fail to report deaths over fears the government will shut down their mines."
He wants miners to work in groups, saying this will make their work easier since through the same teams, they will get social support.
"Through such groups, the miners will also be able to share their challenges with my office, including death of miners, even as we work to make mines safer for them through offering advice such as mine shaft maintenance. He says many mines is Western are in Vihiga and Kakamega. "They have employed many people and getting true statistics of deaths that sometimes occur in them is hard."
A 2018 report by the Alliance for Responsible Mining, done in conjunction with the United Kingdom, says artisanal and small-scale mining remains a significant source of employment for many Kenyans.
"About 146,000 people were working in small-scale mining by 2012 in Kenya as large-scale mining companies employed about 9,000 workers," said the report published in 2018.
The report estimated that the mining sector in Kenya is largely informal but produced around 60 per cent of the country's gemstones, gold, quarried stones and other construction materials.
In 2015, the mining share to the country's GDP was 0.8 per cent. The government is targeting a 10 per cent share in the Vision 2030 through value addition, implementation of mining and minerals policy and the Mining Act 2016.
But as they await good tidings from gold mining, Mulayi and the 8,000 artisanal miners in Kakamega will continue to operate in the risky sector that remains under-researched and poorly understood by decision makers who also appear to care less about it or the miners.
Before going to press, we called Mulayi to find out if he emerged from the Rosterman mine safely. That was at 5.30pm and he was fine. He has a request: "Let the government implement all laws and regulations that will make the mining sector safer. We want mining to bring us better returns. Most of us are keen on this because mining gold puts food on the table and pays the bills. And I am not about to quit."